Yoga Nidra is often loosely translated as 'psychic sleep'. It is a profound practice that works on our ability to absorb information through our subconscious. In this 100hr course we introduce a range of subtle practices aimed to open and balance your energy centers and activate your latent energy. After practicing Yoga Nidra seriously you will begin to notice huge changes in yourself – feeling more energized and quickly entering meditative states. Over the duration of the course you will observe your personality transform, becoming a friend, philosopher and spiritual guide to whoever crosses your path in life.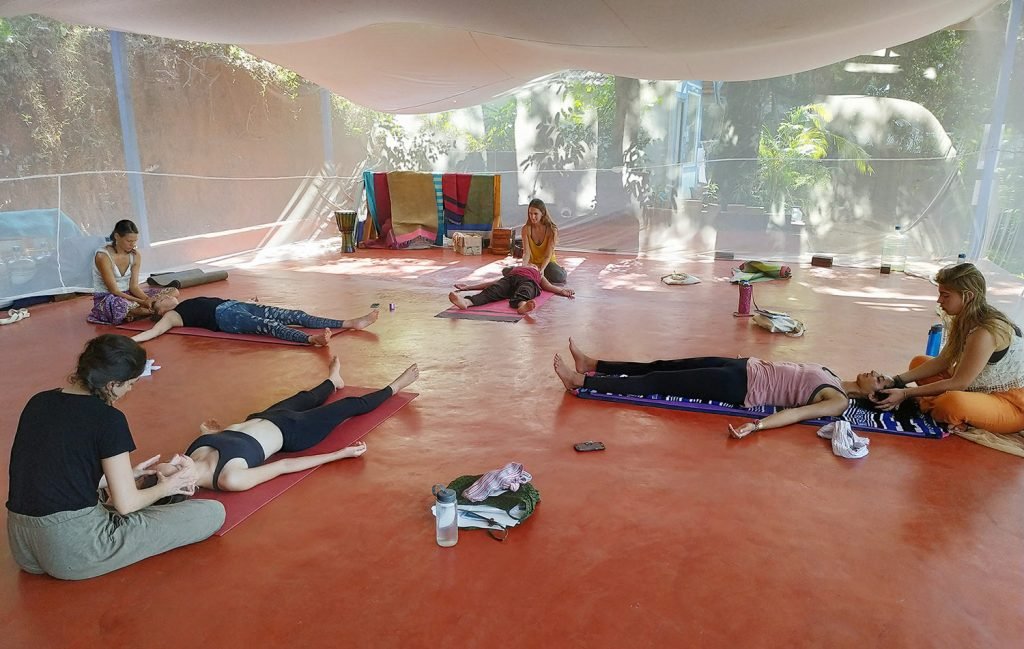 Who can join?
This program is open to anyone with a genuine interest and desire to learn more about this fascinating branch of yoga. Because of the gentle nature of the practice, you don't need any prior yoga experience. It may be helpful if you have already completed another teacher training, but it is by no means a requirement.
Course Outline
Modules on the 100 hour Yoga Nidra program include:
Yogic Anatomy: three bodies, five layers of human personality, chakras, the energy centers.

Breathing practice to activate chakras

Chakra based Meditation with Cosmic Energy.

Classical Meditation connecting with Cosmic Energy

Importance of a value based lifestyle

Encouragement in keeping a spiritual diary

Detailed, step by step explanation of Yoga Nidra

Yoga Nidra practical sessions
Daily Schedule
Here you can find a sample schedule to give you an idea of how you'll be spending your time here at Shree Hari Yoga. You will be involved in your studies and practice from 06:30am to 17:30pm, Monday to Friday. Saturday is a half day of classes and Sunday is a day of rest for students and teachers.
| | |
| --- | --- |
| 06:30 – 08:30 | Prayer/Asana practice/Pranayama/Meditation |
| 08:30 – 10:00 | Breakfast |
| 10:00 – 12:00 | 2 lectures/practices of 50 mins each (pranayama and meditation) |
| 12:00 – 15:00 | Lunch break, relaxation, self studies |
| 15:00 – 17:00 | 2 lectures/practices of 50 mins each (pranayama and meditation) |
| 17:00 – 17:30 | Refreshment |
| 17:30 – 19:00 | Asana/Pranayama/Meditation |
| 19:00 – 20:00 | Dinner |
| | |
Accommodation and Food
Our priority is to provide you with comfortable, safe and clean accommodation that is located close to the yoga shala. Rooms are either shared between two people, or private, depending on your preference.  Our simple, cosy rooms are the perfect respite for rest and relaxation. Step out of your door straight into nature, and fall asleep with the sound of the ocean, or trees blowing in the breeze. Warm, salty breeze from the ocean or the fresh air with its mountain energy will fill your soul with happiness and calm.
We provide 3 healthy, energy-boosting meals per day, from Monday to Saturday. Sunday is a holiday for staff and students and we encourage you to try some of the delicious food on offer in the surrounding area. Our kitchen staff pride themselves on their local, fresh, seasonally-appropriate ingredients. We aim to give you all the energy you need for this intensive time. Let us nourish your soul and fill your body with prana-supporting meals!
Karma Yoga (selfless service)
In the weekdays you will be engaged in voluntary karma yoga. This will be a short time either before or after classes. Karma Yoga, the Yoga of selfless action, will help you to learn and practice yoga holistically.
Check-in & Check-out
Please feel free to check-in any time from 10 am. The day is dedicated for you to settle in. We will hold an introduction and orientation opening ceremony for your information, followed by a welcome dinner from 5:30 pm onwards.
On the last day, we will hold a closing ceremony before your departure, where you will get your certificates. You have time to prepare everything to leave on this day. We welcome any feedback at the end. Check-out time is 1 pm, but you may join activities throughout the day as desired. We will hold your belongings safely.
For more information please feel free to contact us and we'll be happy to assist you!
100 Hour Yoga Nidra TTC
V I P:

$1100
Exclusive:

$1000
Regular:

$900
Economy:

$800
V I P:

$1100
Exclusive:

$1000
Regular:

$900
Economy:

$800
V I P:

$1100
Exclusive:

$1000
Regular:

$900
Economy:

$800
V I P:

$1100
Exclusive:

$1000
Regular:

$900
Economy:

$800
V I P:

$1100
Exclusive:

$1000
Regular:

$900
Economy:

$800
V I P:

$1100
Exclusive:

$1000
Regular:

$900
Economy:

$800
V I P:

$1100
Exclusive:

$1000
Regular:

$900
Economy:

$800
V I P:

$1100
Exclusive:

$1000
Regular:

$900
Economy:

$800
V I P:

$1100
Exclusive:

$1000
Regular:

$900
Economy:

$800
V I P:

$1100
Exclusive:

$1000
Regular:

$900
Economy:

$800
V I P:

$1100
Exclusive:

$1000
Regular:

$900
Economy:

$800
V I P:

$1100
Exclusive:

$1000
Regular:

$900
Economy:

$800
V I P:

$1100
Exclusive:

$1000
Regular:

$900
Economy:

$800
V I P:

$1100
Exclusive:

$1000
Regular:

$900
Economy:

$800