Join this 100-hour yoga teacher training to receive your first foundational knowledge for teaching yoga.
Yoga goes beyond the posture. That is why the classes include diverse topics such as Hatha, Ashtanga, and Vinyasa. You will also learn Anatomy, Philosophy, Meditation, Art of teaching, and much more. You will learn yoga according to the ancient Himalayan.
Shree Hari Yoga School preserves what is lost by many schools who see yoga as mere exercise. Shree Hari Yoga School is a small school with a big message. We see our students and teachers as a divine family who live and breath yoga and wants to pass it on.
Our training is founded on the 4 streams of yoga.
Bhakti Yoga (union through love and devotion)
Kirtan – music of love

Mantra – experiencing the power of Sanskrit sound

Satsang – group discussion
Jnana Yoga (knowledge)
Philosophy

Anatomy

Art of Teaching

Ayurveda

Yoga Therapy
Karma Yoga (selfless action)
Raja Yoga (practice and self-discipline)
Asana (Hatha, Ashtanga & Multi Style yoga practice)

Pranayama (breathing practice activating energy streams within the body)

Meditation (a variety of active & passive meditations)
We also offer the opportunity to experience Shatkarma (Yogic Cleansing Techniques).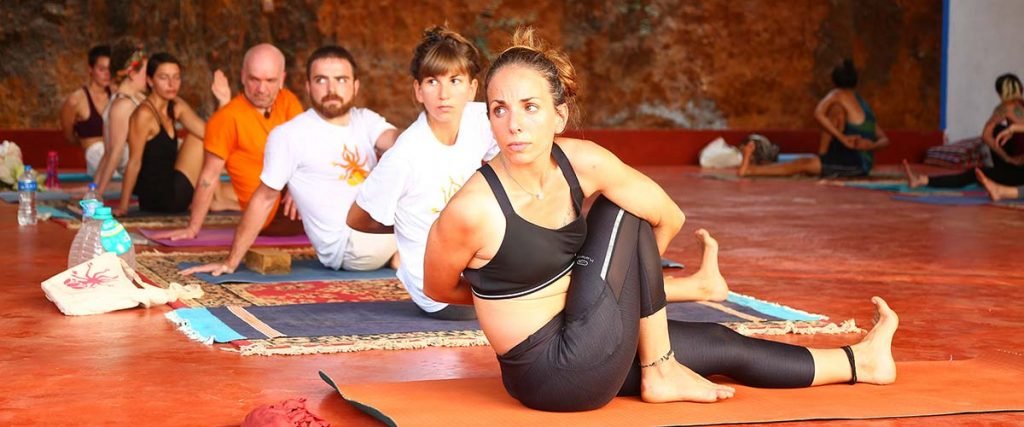 Accommodation and Food
Accommodation offered is simple but comfortable and clean, and close to the school. Our menu is healthy and energy boosting, made up of fresh, seasonal ingredients.
Teachers
We employ Indian and Western specialists in all fields, ranging from life-long yogis to yoga university graduates. Please click on the link below to learn more about our team.
More than just a qualification…
At the end of the course, you will hold an Internationally Certified Yoga Alliance 100hr Teacher Training Certificate. Your rigorous training in sequences and adjustments will inspire you to create your own teaching style.
More importantly, your body and mind will have been intensely exercised and expanded. At Shree Hari Yoga School, we aim to bring our students the motivation and tools to continue a life-long yoga practice.
Upcoming 100 hour Courses 2018/19