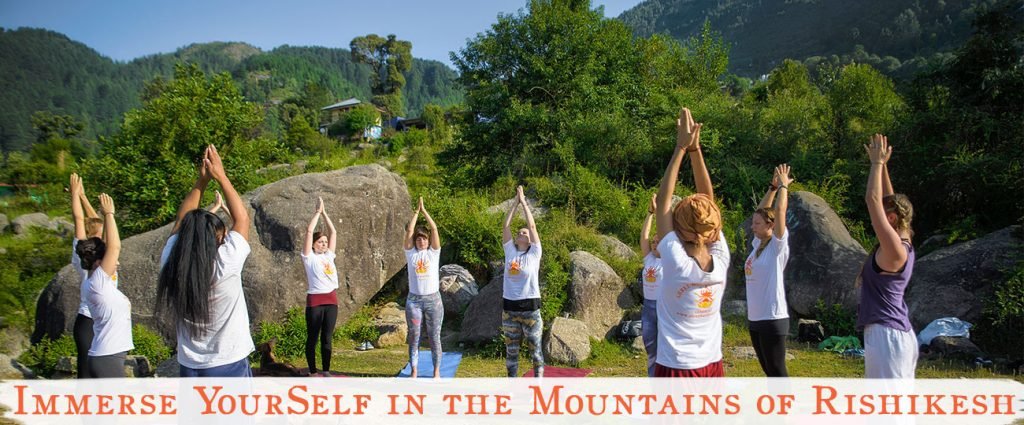 Rishikesh is a beautiful holy city at the foothills of the Himalayan mountain range. The famous Ganga river flows through it, providing the city with a deeply spiritual ambience. Rishikesh is known as the yoga capital of the world, and it's easy to see why! There are many ashrams, yoga schools and meditation centres, and many seekers and sadhus occupy the streets. It's a pilgrimage town with beautiful nature and a deep spiritual connection – what better place to immerse yourself deep into yogic studies.
Accommodation
ॐ  Accommodation offered is simple, comfortable, safe & clean
ॐ  Close to the Yoga Shala and fellow students
ॐ  Rooms can either be shared between 2 people or booked as a single room
ॐ  The rooms are the perfect place for resting and relaxing
Food
ॐ  The diet is healthy and energy-boosting. It is specially prepared for our Yoga students so that you can enjoy your magical time in the Himalayas and focus on the training.
ॐ  We serve you 3 vegetarian meals per day during studying time from Monday to Saturday. We prepare our meals always with local fresh cooked vegetables. Enjoy daily fresh, seasonally-appropriate ingredients. A yogic selection based on fruits, and vegetables, traditional Indian Thali and warming soups.
ॐ  Our food will give you the energy you need for the day. Let us nourish your soul and fill your body with prana-supporting meals.
Activities in the Rishikesh area:
Due to its location on the river and proximity to nature, Rishikesh has far more to it than its multitude of yoga offerings. Waterfalls, treks and white water rafting await you here, not to mention plenty of delicious restaurants, cafes and chill out spots. Here are some of the activities you might like to partake in during your free time:
Ganga Aarti (ritual of worshipping the Ganges)
Visit temples and ashrams
Visit nearby waterfalls
Goa Beach (no, not an actual Goa beach! It's a place on the river bank frequented by people who come to sit, read, meditate, or chant)
Shopping at local markets
Hiking/walking
Rishikesh is also renowned for adventure sports. A few of the main activities offered are:
Bungee jumping
Mountain biking
White water rafting
Kayaking
Rock climbing
The nearest railway station is Rishikesh, from which you can take a rickshaw to the centre. Rishikesh is well connected to all major North Indian cities (e.g. Delhi, Gurgaon, Noida) by bus. The nearest airport is Dehradun, just 15km away. We can assist you in arranging a taxi from the airport.
Pricing & Packages
★ Learn about wha's included in our packages: VIP, Exclusive, Regular or Economy in our Packages site
200 Hour RYT Course 2019
V I P:

$850
Exclusive:

$1200
Regular:

$900
Economy:

$1000
V I P:

$1850
Exclusive:

$1750
Regular:

$1500
Economy:

$1000
V I P:

$1850
Exclusive:

$1750
Regular:

$1500
Economy:

$1000
V I P:

$1850
Exclusive:

$1750
Regular:

$1500
Economy:

$1000
V I P:

$1850
Exclusive:

$1750
Regular:

$1500
Economy:

$1000
V I P:

$1850
Exclusive:

$1750
Regular:

$1500
Economy:

$1000
V I P:

$1850
Exclusive:

$1750
Regular:

$1500
Economy:

$1000
300 Hour RYT Course 2019
V I P:

$2450
Exclusive:

$2350
Regular:

$2100
Economy:

$1500
V I P:

$2450
Exclusive:

$2350
Regular:

$2100
Economy:

$1500
V I P:

$2450
Exclusive:

$2350
Regular:

$2100
Economy:

$1500
V I P:

$2450
Exclusive:

$2350
Regular:

$2100
Economy:

$1500
V I P:

$2450
Exclusive:

$2350
Regular:

$2100
Economy:

$1500
V I P:

$2450
Exclusive:

$2350
Regular:

$2100
Economy:

$1500