300 Hour Yoga Teacher Training
Expand your knowledge and capabilities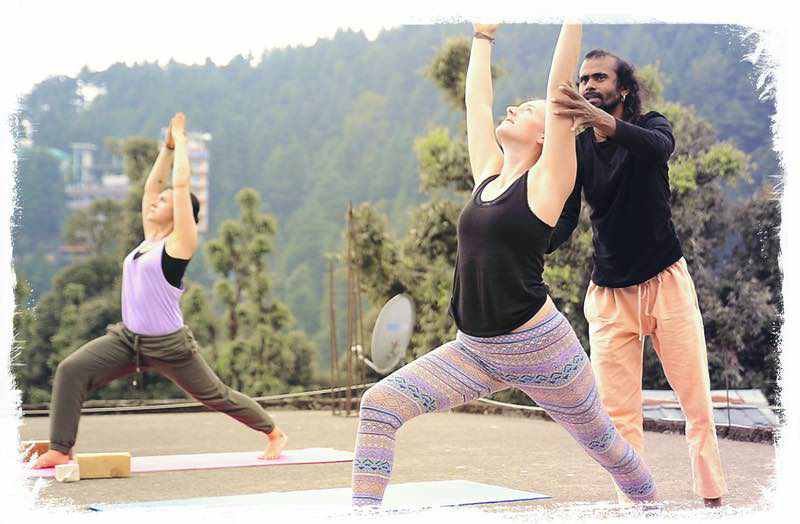 Course Introduction
The Shree Hari 300-Hour Yoga Teacher Training Course (TTC) is designed as a program to provide an advanced layer of study in the history, philosophy, and practice of yoga. Within the 30 day training, you will engage in a deeper education of the spiritual origins of yoga, read and understand the philosophical texts related to yoga, and practice the methodologies that make up the realm of yoga. With these deeper layers, you will gain the wisdom of yoga and how it can be applied in the modern form of teaching.
Who Can Join?
This 300 hour advanced yoga training is open to those who have completed a 200 Hour course and wish to go beyond the fundamental concepts of the teaching and practice of yoga. You will gain more details and insight into the yoga philosophy in order to develop highly constructive, informative, and meaningful yoga classes for your potential students. Upon completion of this course, you will qualify to expand your Yoga Alliance registration to the 500-hour level (RYT-500).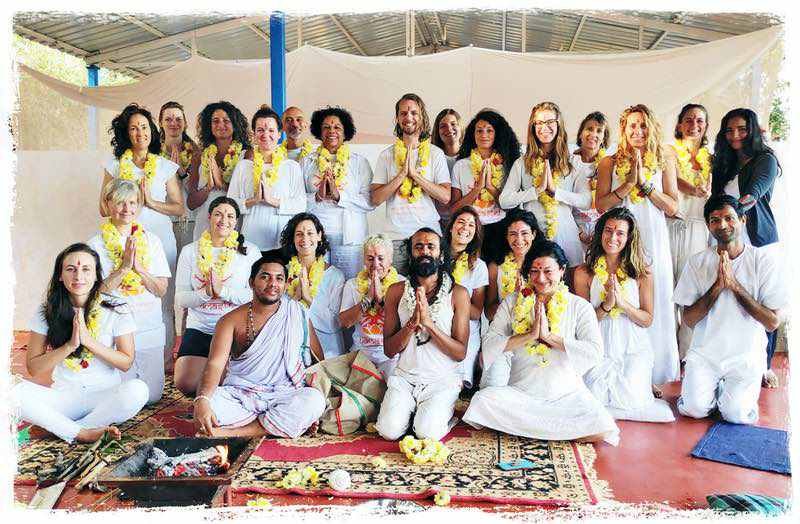 300 Hour Yoga Teacher Training Overview
The 300 Hour Yoga Teacher Training offered by Shree Hari Yoga School is a comprehensive program. Not only will you receive the fundamental components of yoga, but you'll also learn how to share these aspects to your students as well as deepen your own yogic lifestyle. Rooted in the history and philosophical sources of yoga, you will obtain the necessary tools and information to fully understand the practice and share it with others.
300 Hour Yin Yoga Teacher Training
Yin Yoga is a slow-paced style of yoga and can feel like more of a mental challenge rather than a physical one, due to to the stillness and release. Yin Yoga incorporates the principle of traditional Chinese medicine with asanas. A posture is held for longer periods of time than in other styles allowing for gentle stretching of joints and fascia.
There are three simple principles of Yin Yoga.
Come into the pose to an appropriate depth,
Give the body space to open up and invite self to go deeper,
Resolve to be still,
Once you have found the edge, you settle into the pose and let go of the movement. Rest in the posture for some time.
This Teacher Training Certificate enables you to share this wonderful releasing practice in a safe and knowledgeable way.
300 Hour Restorative Yoga Teacher Training
Shree Hari offers the unique style of 300hr restorative yoga ttc in his 300hr yoga teacher training course. Restorative yoga is based on the traditional classical Hatha Yoga and have the attributes of Iyengar yoga.
This form of yoga offers the flexibility to yoga beginners as well as who has done advanced yoga. This is a different experience from other types of yoga.
There are many props of doing restorative yoga as it helps in healing the injuries and getting inner soul peace.
Shree Hari Yoga offers the specialization in 300hr restorative yoga ttc, which helps to flex the body slowly and help to restore the health.
Many times you may experience the dullness in body and mind as well. In yoga teacher training to delve in 300hour Restorative Yoga you will be calm and your mind will reset which will help with physical, mental and emotional relaxation.
This is the slow-paced style of yoga with different postures and asanas for long time.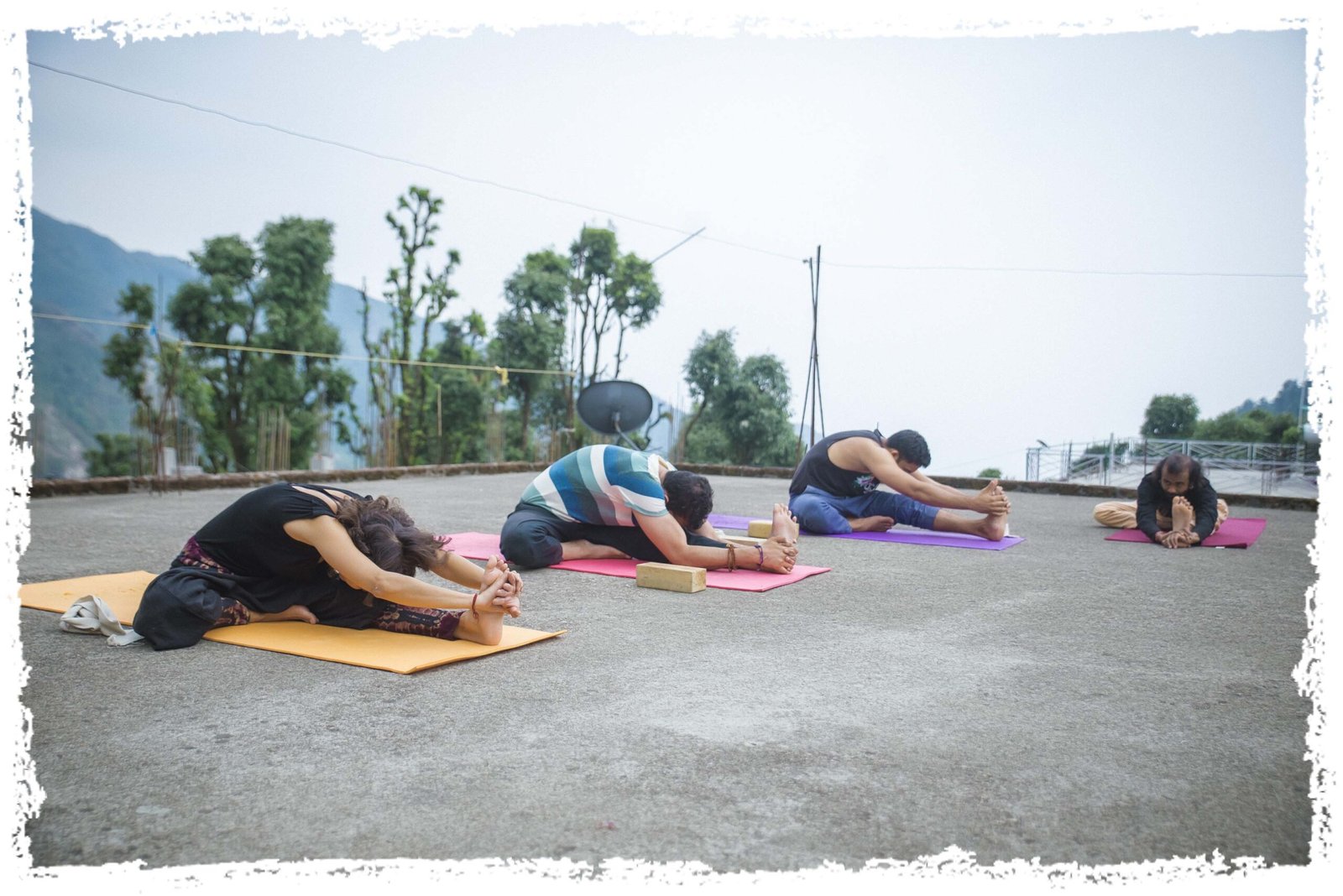 300 Hour Therapeutic Yoga Teacher Training
The benefits of Therapeutic Yoga are the improvement of mental and physical health by using yoga posture, breathing exercises, meditation, and guided imagery. Therapeutic Yoga's holistic focus encourages the integration of mind, body, and spirit.
Through the application of the Therapeutic yoga processes, the individual empowers to progress towards improved health and well-being.
300 Hour Vinyasa Yoga Teacher Training
Vinyasa Yoga involves great energy. The Vinyasa style uses movement to breath flow while changing postures. It requires deep practice. Vinyasa refers to "Arranging in a special way". This form is different from Hatha Yoga in that it moves with the breath continuously.
300 hours of Vinyasa Yoga Teacher Training Certificate allows you to focus on developing a personal practice while learning about the wider and deeper implications of this traditional form of Yoga.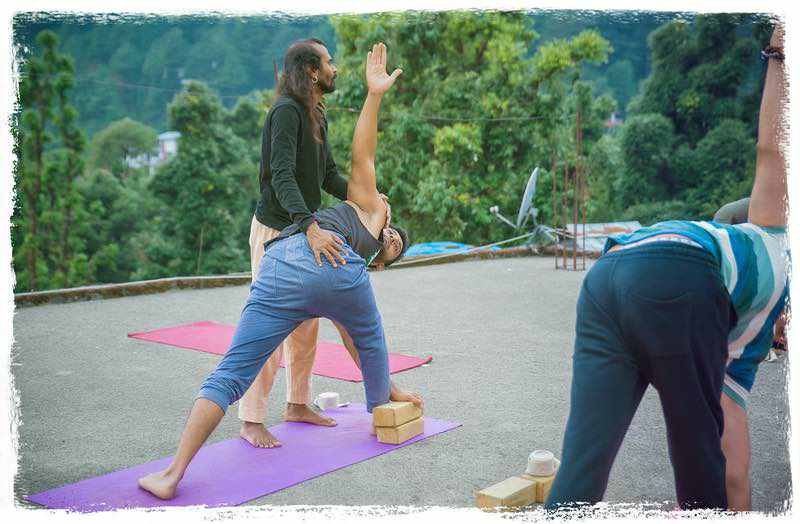 300 Hour Ashtanga Yoga Teacher Training
Ashtanga yoga is a dynamic, powerful form of practice that involves following a set sequence.
Based on the 8 limb philosophy outlined in Patanjali's Yoga Sutras, Ashtanga follows a lineage tradition that originated in Mysore, South India but has now spread globally due to it's highly purifying effect on the body and mind. Ashtanga can be an incredibly beneficial practice to develop strength, coordination, flexibility, focus and discipline.
This 300 Hour Ashtanga Yoga TTC opportunity allows you to focus on developing your personal practice, while also learning about the wider and deeper implications of this traditional form of yoga.
300 Hour Hatha Yoga Teacher Training
Learn traditional asana alignment, pranayama practices, kriya cleansing techniques and traditional yogic philosophy.
Hatha yoga provides the foundational basis for your yoga path to begin, with a strong focus on safe alignment and modifications for every level of practitioner.
Our 300hour course is perfect for those who want to broaden their knowledge to include this traditional yoga path.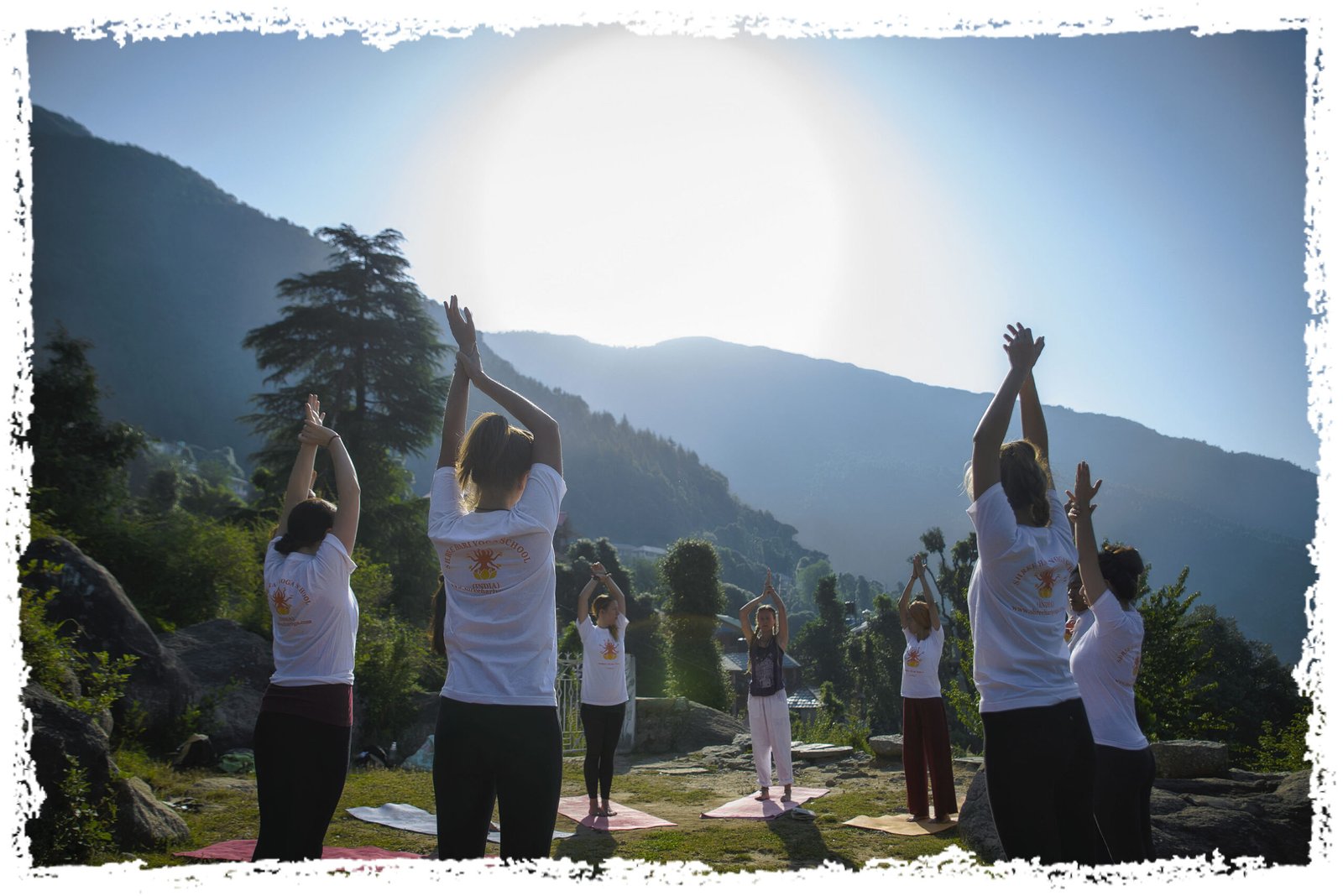 300 Hour Multistyle Yoga Teacher Training
Struggling to choose a style? Then here is the answer. Multi style yoga training is for all to learn fundamentals in a short span of time.
Multi style yoga covers a wide range of subjects within one course, and it follows a constant approach that can help the students enhance their knowledge of yoga theory and practice. Learning about different styles and schools of yoga also helps the you to explore on your own and create distinctive training techniques.
— Training Lifestyle —
Accommodations & Food

In this immersive 30-day yoga training experience, you will be living in a peaceful community environment while developing friendships with your fellow trainees. You will engage in a regular daily routine that includes meditation, asana practice sessions, theory classes, practice teaching, self-study, and plenty of free time to enjoy the natural surroundings. Your tuition includes accommodations and meals. You will sleep in a clean, comfortable, and safe room and enjoy three fresh healthy vegetarian meals each day prepared by our kitchen staff.
(See in the link below our Curriculum and Schedule for this course)
— What You Take Home
What You will Gain from this Training
Training Locations
Our courses are offered in four carefully selected locations in India. We schedule each of our start dates in alignment with the best weather in each place. From April to September we operate our training in Dharamshala and Rishikesh; from October to March we are located in Gokarna and Goa.
300 Hour Course Dates & Fees
A 300 Hour Yoga Teacher Training in India is an opportunity to dive deeper into the culture and authentic history of yoga. Expand your yoga instructor qualifications while enhancing your personal practice with a intensive course of yoga philosophy, methodology, and lifestyle. Choose from a variety of dates that suit your schedule. We also provide several payment options and discounts to help you invest in this transformative journey of self growth.
What is Included:
Yoga Course Tuition
Course Handbook
Overnight Accommodation**
3 Vegetarian Meals on Full Days, 2 Meals on Saturdays**
All Teaching Materials
WIFI**
T-shirts, Bags, Note Pads, and Pens
What is Not Included:
Airfare
Visa Fees
Dinner on Saturday, Meals on Sunday**
Excursions
Airport Pickup (available at an additional fee)
Laundry (available at an additional fee)
**Applies to residential courses only
Dates
Course
Locations
Shared Room
Private Room
Book Early Discount*
1701385200
500
December 2023
12/01/2023
01 Dec 2023 - 24 Jan 2024
500 Hour Ashtanga Yoga Teacher Training
Rishikesh
€3,300
€3,600
SAVE €200*

Contact

1703545200
500
December 2023
12/26/2023
26 Dec 2023 - 18 Feb 2024
500 Hour Ashtanga Yoga Teacher Training
Rishikesh
€3,300
€3,600
SAVE €200*

Contact

1705705200
500
January 2024
01/20/2024
20 Jan 2024 - 14 Mar 2024
500 Hour Ashtanga Yoga Teacher Training
Rishikesh
€3,300
€3,600
SAVE €200*

Contact

1707865200
500
February 2024
02/14/2024
14 Feb 2024 - 08 Apr 2024
500 Hour Ashtanga Yoga Teacher Training
Rishikesh
€3,300
€3,600
SAVE €200*

Contact

1710025200
500
March 2024
03/10/2024
10 Mar 2024 - 03 May 2024
500 Hour Ashtanga Yoga Teacher Training
Rishikesh
€3,300
€3,600
SAVE €200*

Contact

1712181600
500
April 2024
04/04/2024
04 Apr 2024 - 28 May 2024
500 Hour Ashtanga Yoga Teacher Training
Rishikesh
€3,300
€3,600
SAVE €200*

Contact

1714341600
500
April 2024
04/29/2024
29 Apr 2024 - 22 Jun 2024
500 Hour Ashtanga Yoga Teacher Training
Rishikesh
€3,300
€3,600
SAVE €200*

Contact

1716501600
500
May 2024
05/24/2024
24 May 2024 - 17 Jul 2024
500 Hour Ashtanga Yoga Teacher Training
Rishikesh
€3,300
€3,600
SAVE €200*

Contact

1718661600
500
June 2024
06/18/2024
18 Jun 2024 - 11 Aug 2024
500 Hour Ashtanga Yoga Teacher Training
Rishikesh
€3,300
€3,600
SAVE €200*

Contact

1720821600
500
July 2024
07/13/2024
13 Jul 2024 - 05 Sep 2024
500 Hour Ashtanga Yoga Teacher Training
Rishikesh
€3,300
€3,600
SAVE €200*

Contact

1722981600
500
August 2024
08/07/2024
07 Aug 2024 - 30 Sep 2024
500 Hour Ashtanga Yoga Teacher Training
Rishikesh
€3,300
€3,600
SAVE €200*

Contact

1725141600
500
September 2024
09/01/2024
01 Sep 2024 - 25 Oct 2024
500 Hour Ashtanga Yoga Teacher Training
Rishikesh
€3,300
€3,600
SAVE €200*

Contact

1727301600
500
September 2024
09/26/2024
26 Sep 2024 - 19 Nov 2024
500 Hour Ashtanga Yoga Teacher Training
Rishikesh
€3,300
€3,600
SAVE €200*

Contact

1729461600
500
October 2024
10/21/2024
21 Oct 2024 - 14 Dec 2024
500 Hour Ashtanga Yoga Teacher Training
Rishikesh
€3,300
€3,600
SAVE €200*

Contact

1731625200
500
November 2024
11/15/2024
15 Nov 2024 - 08 Jan 2025
500 Hour Ashtanga Yoga Teacher Training
Rishikesh
€3,300
€3,600
SAVE €200*

Contact

1733785200
500
December 2024
12/10/2024
10 Dec 2024 - 02 Feb 2025
500 Hour Ashtanga Yoga Teacher Training
Rishikesh
€3,300
€3,600
SAVE €200*

Contact

1701385200
500
December 2023
12/01/2023
01 Dec 2023 - 24 Jan 2024
500 Hour Hatha Yoga Teacher Training
Rishikesh
€3,300
€3,600
SAVE €200*

Contact

1703545200
500
December 2023
12/26/2023
26 Dec 2023 - 18 Feb 2024
500 Hour Hatha Yoga Teacher Training
Rishikesh
€3,300
€3,600
SAVE €200*

Contact

1705705200
500
January 2024
01/20/2024
20 Jan 2024 - 14 Mar 2024
500 Hour Hatha Yoga Teacher Training
Rishikesh
€3,300
€3,600
SAVE €200*

Contact

1707865200
500
February 2024
02/14/2024
14 Feb 2024 - 08 Apr 2024
500 Hour Hatha Yoga Teacher Training
Rishikesh
€3,300
€3,600
SAVE €200*

Contact

1710025200
500
March 2024
03/10/2024
10 Mar 2024 - 03 May 2024
500 Hour Hatha Yoga Teacher Training
Rishikesh
€3,300
€3,600
SAVE €200*

Contact

1712181600
500
April 2024
04/04/2024
04 Apr 2024 - 28 May 2024
500 Hour Hatha Yoga Teacher Training
Rishikesh
€3,300
€3,600
SAVE €200*

Contact

1714341600
500
April 2024
04/29/2024
29 Apr 2024 - 22 Jun 2024
500 Hour Hatha Yoga Teacher Training
Rishikesh
€3,300
€3,600
SAVE €200*

Contact

1716501600
500
May 2024
05/24/2024
24 May 2024 - 17 Jul 2024
500 Hour Hatha Yoga Teacher Training
Rishikesh
€3,300
€3,600
SAVE €200*

Contact

1718661600
500
June 2024
06/18/2024
18 Jun 2024 - 11 Aug 2024
500 Hour Hatha Yoga Teacher Training
Rishikesh
€3,300
€3,600
SAVE €200*

Contact

1720821600
500
July 2024
07/13/2024
13 Jul 2024 - 05 Sep 2024
500 Hour Hatha Yoga Teacher Training
Rishikesh
€3,300
€3,600
SAVE €200*

Contact

1722981600
500
August 2024
08/07/2024
07 Aug 2024 - 30 Sep 2024
500 Hour Hatha Yoga Teacher Training
Rishikesh
€3,300
€3,600
SAVE €200*

Contact

1725141600
500
September 2024
09/01/2024
01 Sep 2024 - 25 Oct 2024
500 Hour Hatha Yoga Teacher Training
Rishikesh
€3,300
€3,600
SAVE €200*

Contact

1727301600
500
September 2024
09/26/2024
26 Sep 2024 - 19 Nov 2024
500 Hour Hatha Yoga Teacher Training
Rishikesh
€3,300
€3,600
SAVE €200*

Contact

1729461600
500
October 2024
10/21/2024
21 Oct 2024 - 14 Dec 2024
500 Hour Hatha Yoga Teacher Training
Rishikesh
€3,300
€3,600
SAVE €200*

Contact

1731625200
500
November 2024
11/15/2024
15 Nov 2024 - 08 Jan 2025
500 Hour Hatha Yoga Teacher Training
Rishikesh
€3,300
€3,600
SAVE €200*

Contact

1733785200
500
December 2024
12/10/2024
10 Dec 2024 - 02 Feb 2025
500 Hour Hatha Yoga Teacher Training
Rishikesh
€3,300
€3,600
SAVE €200*

Contact

1701385200
500
December 2023
12/01/2023
01 Dec 2023 - 24 Jan 2024
500 Hour Multistyle Yoga Teacher Training
Rishikesh
€3,300
€3,600
SAVE €200*

Contact

1703545200
500
December 2023
12/26/2023
26 Dec 2023 - 18 Feb 2024
500 Hour Multistyle Yoga Teacher Training
Rishikesh
€3,300
€3,600
SAVE €200*

Contact

1705705200
500
January 2024
01/20/2024
20 Jan 2024 - 14 Mar 2024
500 Hour Multistyle Yoga Teacher Training
Rishikesh
€3,300
€3,600
SAVE €200*

Contact

1707865200
500
February 2024
02/14/2024
14 Feb 2024 - 08 Apr 2024
500 Hour Multistyle Yoga Teacher Training
Rishikesh
€3,300
€3,600
SAVE €200*

Contact

1710025200
500
March 2024
03/10/2024
10 Mar 2024 - 03 May 2024
500 Hour Multistyle Yoga Teacher Training
Rishikesh
€3,300
€3,600
SAVE €200*

Contact

1712181600
500
April 2024
04/04/2024
04 Apr 2024 - 28 May 2024
500 Hour Multistyle Yoga Teacher Training
Rishikesh
€3,300
€3,600
SAVE €200*

Contact

1714341600
500
April 2024
04/29/2024
29 Apr 2024 - 22 Jun 2024
500 Hour Multistyle Yoga Teacher Training
Rishikesh
€3,300
€3,600
SAVE €200*

Contact

1716501600
500
May 2024
05/24/2024
24 May 2024 - 17 Jul 2024
500 Hour Multistyle Yoga Teacher Training
Rishikesh
€3,300
€3,600
SAVE €200*

Contact

1718661600
500
June 2024
06/18/2024
18 Jun 2024 - 11 Aug 2024
500 Hour Multistyle Yoga Teacher Training
Rishikesh
€3,300
€3,600
SAVE €200*

Contact

1720821600
500
July 2024
07/13/2024
13 Jul 2024 - 05 Sep 2024
500 Hour Multistyle Yoga Teacher Training
Rishikesh
€3,300
€3,600
SAVE €200*

Contact

1722981600
500
August 2024
08/07/2024
07 Aug 2024 - 30 Sep 2024
500 Hour Multistyle Yoga Teacher Training
Rishikesh
€3,300
€3,600
SAVE €200*

Contact

1725141600
500
September 2024
09/01/2024
01 Sep 2024 - 25 Oct 2024
500 Hour Multistyle Yoga Teacher Training
Rishikesh
€3,300
€3,600
SAVE €200*

Contact

1727301600
500
September 2024
09/26/2024
26 Sep 2024 - 19 Nov 2024
500 Hour Multistyle Yoga Teacher Training
Rishikesh
€3,300
€3,600
SAVE €200*

Contact

1729461600
500
October 2024
10/21/2024
21 Oct 2024 - 14 Dec 2024
500 Hour Multistyle Yoga Teacher Training
Rishikesh
€3,300
€3,600
SAVE €200*

Contact

1731625200
500
November 2024
11/15/2024
15 Nov 2024 - 08 Jan 2025
500 Hour Multistyle Yoga Teacher Training
Rishikesh
€3,300
€3,600
SAVE €200*

Contact

1733785200
500
December 2024
12/10/2024
10 Dec 2024 - 02 Feb 2025
500 Hour Multistyle Yoga Teacher Training
Rishikesh
€3,300
€3,600
SAVE €200*

Contact

1701385200
500
December 2023
12/01/2023
01 Dec 2023 - 24 Jan 2024
500 Hour Restorative Yoga Teacher Training
Rishikesh
€3,300
€3,600
SAVE €200*

Contact

1703545200
500
December 2023
12/26/2023
26 Dec 2023 - 18 Feb 2024
500 Hour Restorative Yoga Teacher Training
Rishikesh
€3,300
€3,600
SAVE €200*

Contact

1705705200
500
January 2024
01/20/2024
20 Jan 2024 - 14 Mar 2024
500 Hour Restorative Yoga Teacher Training
Rishikesh
€3,300
€3,600
SAVE €200*

Contact

1707865200
500
February 2024
02/14/2024
14 Feb 2024 - 08 Apr 2024
500 Hour Restorative Yoga Teacher Training
Rishikesh
€3,300
€3,600
SAVE €200*

Contact

1710025200
500
March 2024
03/10/2024
10 Mar 2024 - 03 May 2024
500 Hour Restorative Yoga Teacher Training
Rishikesh
€3,300
€3,600
SAVE €200*

Contact

1712181600
500
April 2024
04/04/2024
04 Apr 2024 - 28 May 2024
500 Hour Restorative Yoga Teacher Training
Rishikesh
€3,300
€3,600
SAVE €200*

Contact

1714341600
500
April 2024
04/29/2024
29 Apr 2024 - 22 Jun 2024
500 Hour Restorative Yoga Teacher Training
Rishikesh
€3,300
€3,600
SAVE €200*

Contact

1716501600
500
May 2024
05/24/2024
24 May 2024 - 17 Jul 2024
500 Hour Restorative Yoga Teacher Training
Rishikesh
€3,300
€3,600
SAVE €200*

Contact

1718661600
500
June 2024
06/18/2024
18 Jun 2024 - 11 Aug 2024
500 Hour Restorative Yoga Teacher Training
Rishikesh
€3,300
€3,600
SAVE €200*

Contact

1720821600
500
July 2024
07/13/2024
13 Jul 2024 - 05 Sep 2024
500 Hour Restorative Yoga Teacher Training
Rishikesh
€3,300
€3,600
SAVE €200*

Contact

1722981600
500
August 2024
08/07/2024
07 Aug 2024 - 30 Sep 2024
500 Hour Restorative Yoga Teacher Training
Rishikesh
€3,300
€3,600
SAVE €200*

Contact

1725141600
500
September 2024
09/01/2024
01 Sep 2024 - 25 Oct 2024
500 Hour Restorative Yoga Teacher Training
Rishikesh
€3,300
€3,600
SAVE €200*

Contact

1727301600
500
September 2024
09/26/2024
26 Sep 2024 - 19 Nov 2024
500 Hour Restorative Yoga Teacher Training
Rishikesh
€3,300
€3,600
SAVE €200*

Contact

1729461600
500
October 2024
10/21/2024
21 Oct 2024 - 14 Dec 2024
500 Hour Restorative Yoga Teacher Training
Rishikesh
€3,300
€3,600
SAVE €200*

Contact

1731625200
500
November 2024
11/15/2024
15 Nov 2024 - 08 Jan 2025
500 Hour Restorative Yoga Teacher Training
Rishikesh
€3,300
€3,600
SAVE €200*

Contact

1733785200
500
December 2024
12/10/2024
10 Dec 2024 - 02 Feb 2025
500 Hour Restorative Yoga Teacher Training
Rishikesh
€3,300
€3,600
SAVE €200*

Contact

1701385200
500
December 2023
12/01/2023
01 Dec 2023 - 24 Jan 2024
500 Hour Therapeutic Yoga Teacher Training
Rishikesh
€3,300
€3,600
SAVE €200*

Contact

1703545200
500
December 2023
12/26/2023
26 Dec 2023 - 18 Feb 2024
500 Hour Therapeutic Yoga Teacher Training
Rishikesh
€3,300
€3,600
SAVE €200*

Contact

1705705200
500
January 2024
01/20/2024
20 Jan 2024 - 14 Mar 2024
500 Hour Therapeutic Yoga Teacher Training
Rishikesh
€3,300
€3,600
SAVE €200*

Contact

1707865200
500
February 2024
02/14/2024
14 Feb 2024 - 08 Apr 2024
500 Hour Therapeutic Yoga Teacher Training
Rishikesh
€3,300
€3,600
SAVE €200*

Contact

1710025200
500
March 2024
03/10/2024
10 Mar 2024 - 03 May 2024
500 Hour Therapeutic Yoga Teacher Training
Rishikesh
€3,300
€3,600
SAVE €200*

Contact

1712181600
500
April 2024
04/04/2024
04 Apr 2024 - 28 May 2024
500 Hour Therapeutic Yoga Teacher Training
Rishikesh
€3,300
€3,600
SAVE €200*

Contact

1714341600
500
April 2024
04/29/2024
29 Apr 2024 - 22 Jun 2024
500 Hour Therapeutic Yoga Teacher Training
Rishikesh
€3,300
€3,600
SAVE €200*

Contact

1716501600
500
May 2024
05/24/2024
24 May 2024 - 17 Jul 2024
500 Hour Therapeutic Yoga Teacher Training
Rishikesh
€3,300
€3,600
SAVE €200*

Contact

1718661600
500
June 2024
06/18/2024
18 Jun 2024 - 11 Aug 2024
500 Hour Therapeutic Yoga Teacher Training
Rishikesh
€3,300
€3,600
SAVE €200*

Contact

1720821600
500
July 2024
07/13/2024
13 Jul 2024 - 05 Sep 2024
500 Hour Therapeutic Yoga Teacher Training
Rishikesh
€3,300
€3,600
SAVE €200*

Contact

1722981600
500
August 2024
08/07/2024
07 Aug 2024 - 30 Sep 2024
500 Hour Therapeutic Yoga Teacher Training
Rishikesh
€3,300
€3,600
SAVE €200*

Contact

1725141600
500
September 2024
09/01/2024
01 Sep 2024 - 25 Oct 2024
500 Hour Therapeutic Yoga Teacher Training
Rishikesh
€3,300
€3,600
SAVE €200*

Contact

1727301600
500
September 2024
09/26/2024
26 Sep 2024 - 19 Nov 2024
500 Hour Therapeutic Yoga Teacher Training
Rishikesh
€3,300
€3,600
SAVE €200*

Contact

1729461600
500
October 2024
10/21/2024
21 Oct 2024 - 14 Dec 2024
500 Hour Therapeutic Yoga Teacher Training
Rishikesh
€3,300
€3,600
SAVE €200*

Contact

1731625200
500
November 2024
11/15/2024
15 Nov 2024 - 08 Jan 2025
500 Hour Therapeutic Yoga Teacher Training
Rishikesh
€3,300
€3,600
SAVE €200*

Contact

1733785200
500
December 2024
12/10/2024
10 Dec 2024 - 02 Feb 2025
500 Hour Therapeutic Yoga Teacher Training
Rishikesh
€3,300
€3,600
SAVE €200*

Contact

1701385200
500
December 2023
12/01/2023
01 Dec 2023 - 24 Jan 2024
500 Hour Vinyasa Yoga Teacher Training
Rishikesh
€3,300
€3,600
SAVE €200*

Contact

1703545200
500
December 2023
12/26/2023
26 Dec 2023 - 18 Feb 2024
500 Hour Vinyasa Yoga Teacher Training
Rishikesh
€3,300
€3,600
SAVE €200*

Contact

1705705200
500
January 2024
01/20/2024
20 Jan 2024 - 14 Mar 2024
500 Hour Vinyasa Yoga Teacher Training
Rishikesh
€3,300
€3,600
SAVE €200*

Contact

1707865200
500
February 2024
02/14/2024
14 Feb 2024 - 08 Apr 2024
500 Hour Vinyasa Yoga Teacher Training
Rishikesh
€3,300
€3,600
SAVE €200*

Contact

1710025200
500
March 2024
03/10/2024
10 Mar 2024 - 03 May 2024
500 Hour Vinyasa Yoga Teacher Training
Rishikesh
€3,300
€3,600
SAVE €200*

Contact

1712181600
500
April 2024
04/04/2024
04 Apr 2024 - 28 May 2024
500 Hour Vinyasa Yoga Teacher Training
Rishikesh
€3,300
€3,600
SAVE €200*

Contact

1714341600
500
April 2024
04/29/2024
29 Apr 2024 - 22 Jun 2024
500 Hour Vinyasa Yoga Teacher Training
Rishikesh
€3,300
€3,600
SAVE €200*

Contact

1716501600
500
May 2024
05/24/2024
24 May 2024 - 17 Jul 2024
500 Hour Vinyasa Yoga Teacher Training
Rishikesh
€3,300
€3,600
SAVE €200*

Contact

1718661600
500
June 2024
06/18/2024
18 Jun 2024 - 11 Aug 2024
500 Hour Vinyasa Yoga Teacher Training
Rishikesh
€3,300
€3,600
SAVE €200*

Contact

1720821600
500
July 2024
07/13/2024
13 Jul 2024 - 05 Sep 2024
500 Hour Vinyasa Yoga Teacher Training
Rishikesh
€3,300
€3,600
SAVE €200*

Contact

1722981600
500
August 2024
08/07/2024
07 Aug 2024 - 30 Sep 2024
500 Hour Vinyasa Yoga Teacher Training
Rishikesh
€3,300
€3,600
SAVE €200*

Contact

1725141600
500
September 2024
09/01/2024
01 Sep 2024 - 25 Oct 2024
500 Hour Vinyasa Yoga Teacher Training
Rishikesh
€3,300
€3,600
SAVE €200*

Contact

1727301600
500
September 2024
09/26/2024
26 Sep 2024 - 19 Nov 2024
500 Hour Vinyasa Yoga Teacher Training
Rishikesh
€3,300
€3,600
SAVE €200*

Contact

1729461600
500
October 2024
10/21/2024
21 Oct 2024 - 14 Dec 2024
500 Hour Vinyasa Yoga Teacher Training
Rishikesh
€3,300
€3,600
SAVE €200*

Contact

1731625200
500
November 2024
11/15/2024
15 Nov 2024 - 08 Jan 2025
500 Hour Vinyasa Yoga Teacher Training
Rishikesh
€3,300
€3,600
SAVE €200*

Contact

1733785200
500
December 2024
12/10/2024
10 Dec 2024 - 02 Feb 2025
500 Hour Vinyasa Yoga Teacher Training
Rishikesh
€3,300
€3,600
SAVE €200*

Contact

1701385200
500
December 2023
12/01/2023
01 Dec 2023 - 24 Jan 2024
500 Hour Yin Yoga Teacher Training
Rishikesh
€3,300
€3,600
SAVE €200*

Contact

1703545200
500
December 2023
12/26/2023
26 Dec 2023 - 18 Feb 2024
500 Hour Yin Yoga Teacher Training
Rishikesh
€3,300
€3,600
SAVE €200*

Contact

1705705200
500
January 2024
01/20/2024
20 Jan 2024 - 14 Mar 2024
500 Hour Yin Yoga Teacher Training
Rishikesh
€3,300
€3,600
SAVE €200*

Contact

1707865200
500
February 2024
02/14/2024
14 Feb 2024 - 08 Apr 2024
500 Hour Yin Yoga Teacher Training
Rishikesh
€3,300
€3,600
SAVE €200*

Contact

1710025200
500
March 2024
03/10/2024
10 Mar 2024 - 03 May 2024
500 Hour Yin Yoga Teacher Training
Rishikesh
€3,300
€3,600
SAVE €200*

Contact

1712181600
500
April 2024
04/04/2024
04 Apr 2024 - 28 May 2024
500 Hour Yin Yoga Teacher Training
Rishikesh
€3,300
€3,600
SAVE €200*

Contact

1714341600
500
April 2024
04/29/2024
29 Apr 2024 - 22 Jun 2024
500 Hour Yin Yoga Teacher Training
Rishikesh
€3,300
€3,600
SAVE €200*

Contact

1716501600
500
May 2024
05/24/2024
24 May 2024 - 17 Jul 2024
500 Hour Yin Yoga Teacher Training
Rishikesh
€3,300
€3,600
SAVE €200*

Contact

1718661600
500
June 2024
06/18/2024
18 Jun 2024 - 11 Aug 2024
500 Hour Yin Yoga Teacher Training
Rishikesh
€3,300
€3,600
SAVE €200*

Contact

1720821600
500
July 2024
07/13/2024
13 Jul 2024 - 05 Sep 2024
500 Hour Yin Yoga Teacher Training
Rishikesh
€3,300
€3,600
SAVE €200*

Contact

1722981600
500
August 2024
08/07/2024
07 Aug 2024 - 30 Sep 2024
500 Hour Yin Yoga Teacher Training
Rishikesh
€3,300
€3,600
SAVE €200*

Contact

1725141600
500
September 2024
09/01/2024
01 Sep 2024 - 25 Oct 2024
500 Hour Yin Yoga Teacher Training
Rishikesh
€3,300
€3,600
SAVE €200*

Contact

1727301600
500
September 2024
09/26/2024
26 Sep 2024 - 19 Nov 2024
500 Hour Yin Yoga Teacher Training
Rishikesh
€3,300
€3,600
SAVE €200*

Contact

1729461600
500
October 2024
10/21/2024
21 Oct 2024 - 14 Dec 2024
500 Hour Yin Yoga Teacher Training
Rishikesh
€3,300
€3,600
SAVE €200*

Contact

1731625200
500
November 2024
11/15/2024
15 Nov 2024 - 08 Jan 2025
500 Hour Yin Yoga Teacher Training
Rishikesh
€3,300
€3,600
SAVE €200*

Contact

1733785200
500
December 2024
12/10/2024
10 Dec 2024 - 02 Feb 2025
500 Hour Yin Yoga Teacher Training
Rishikesh
€3,300
€3,600
SAVE €200*

Contact

1696111200
300
October 2023
10/01/2023
01 Oct 2023 - 30 Oct 2023
300 Hour Ashtanga Yoga Teacher Training
Rishikesh
€2,100
€2,350
SAVE €150*

Contact

1698793200
300
November 2023
11/01/2023
01 Nov 2023 - 30 Nov 2023
300 Hour Ashtanga Yoga Teacher Training
Rishikesh
€2,100
€2,350
SAVE €150*

Contact

1701385200
300
December 2023
12/01/2023
01 Dec 2023 - 30 Dec 2023
300 Hour Ashtanga Yoga Teacher Training
Rishikesh
€2,100
€2,350
SAVE €150*

Contact

1704063600
300
January 2024
01/01/2024
01 Jan 2024 - 30 Jan 2024
300 Hour Ashtanga Yoga Teacher Training
Rishikesh
€2,100
€2,350
SAVE €150*

Contact

1706742000
300
February 2024
02/01/2024
01 Feb 2024 - 01 Mar 2024
300 Hour Ashtanga Yoga Teacher Training
Rishikesh
€2,100
€2,350
SAVE €150*

Contact

1709247600
300
March 2024
03/01/2024
01 Mar 2024 - 30 Mar 2024
300 Hour Ashtanga Yoga Teacher Training
Rishikesh
€2,100
€2,350
SAVE €150*

Contact

1711922400
300
April 2024
04/01/2024
01 Apr 2024 - 30 Apr 2024
300 Hour Ashtanga Yoga Teacher Training
Rishikesh
€2,100
€2,350
SAVE €150*

Contact

1714514400
300
May 2024
05/01/2024
01 May 2024 - 30 May 2024
300 Hour Ashtanga Yoga Teacher Training
Rishikesh
€2,100
€2,350
SAVE €150*

Contact

1717192800
300
June 2024
06/01/2024
01 Jun 2024 - 30 Jun 2024
300 Hour Ashtanga Yoga Teacher Training
Rishikesh
€2,100
€2,350
SAVE €150*

Contact

1719784800
300
July 2024
07/01/2024
01 Jul 2024 - 30 Jul 2024
300 Hour Ashtanga Yoga Teacher Training
Rishikesh
€2,100
€2,350
SAVE €150*

Contact

1722463200
300
August 2024
08/01/2024
01 Aug 2024 - 30 Aug 2024
300 Hour Ashtanga Yoga Teacher Training
Rishikesh
€2,100
€2,350
SAVE €150*

Contact

1725141600
300
September 2024
09/01/2024
01 Sep 2024 - 30 Sep 2024
300 Hour Ashtanga Yoga Teacher Training
Rishikesh
€2,100
€2,350
SAVE €150*

Contact

1727733600
300
October 2024
10/01/2024
01 Oct 2024 - 30 Oct 2024
300 Hour Ashtanga Yoga Teacher Training
Rishikesh
€2,100
€2,350
SAVE €150*

Contact

1730415600
300
November 2024
11/01/2024
01 Nov 2024 - 30 Nov 2024
300 Hour Ashtanga Yoga Teacher Training
Rishikesh
€2,100
€2,350
SAVE €150*

Contact

1733007600
300
December 2024
12/01/2024
01 Dec 2024 - 30 Dec 2024
300 Hour Ashtanga Yoga Teacher Training
Rishikesh
€2,100
€2,350
SAVE €150*

Contact

1696111200
300
October 2023
10/01/2023
01 Oct 2023 - 30 Oct 2023
300 Hour Hatha Yoga Teacher Training
Rishikesh
€2,100
€2,350
SAVE €150*

Contact

1698793200
300
November 2023
11/01/2023
01 Nov 2023 - 30 Nov 2023
300 Hour Hatha Yoga Teacher Training
Rishikesh
€2,100
€2,350
SAVE €150*

Contact

1701385200
300
December 2023
12/01/2023
01 Dec 2023 - 30 Dec 2023
300 Hour Hatha Yoga Teacher Training
Rishikesh
€2,100
€2,350
SAVE €150*

Contact

1704063600
300
January 2024
01/01/2024
01 Jan 2024 - 30 Jan 2024
300 Hour Hatha Yoga Teacher Training
Rishikesh
€2,100
€2,350
SAVE €150*

Contact

1706742000
300
February 2024
02/01/2024
01 Feb 2024 - 01 Mar 2024
300 Hour Hatha Yoga Teacher Training
Rishikesh
€2,100
€2,350
SAVE €150*

Contact

1709247600
300
March 2024
03/01/2024
01 Mar 2024 - 30 Mar 2024
300 Hour Hatha Yoga Teacher Training
Rishikesh
€2,100
€2,350
SAVE €150*

Contact

1711922400
300
April 2024
04/01/2024
01 Apr 2024 - 30 Apr 2024
300 Hour Hatha Yoga Teacher Training
Rishikesh
€2,100
€2,350
SAVE €150*

Contact

1714514400
300
May 2024
05/01/2024
01 May 2024 - 30 May 2024
300 Hour Hatha Yoga Teacher Training
Rishikesh
€2,100
€2,350
SAVE €150*

Contact

1717192800
300
June 2024
06/01/2024
01 Jun 2024 - 30 Jun 2024
300 Hour Hatha Yoga Teacher Training
Rishikesh
€2,100
€2,350
SAVE €150*

Contact

1719784800
300
July 2024
07/01/2024
01 Jul 2024 - 30 Jul 2024
300 Hour Hatha Yoga Teacher Training
Rishikesh
€2,100
€2,350
SAVE €150*

Contact

1722463200
300
August 2024
08/01/2024
01 Aug 2024 - 30 Aug 2024
300 Hour Hatha Yoga Teacher Training
Rishikesh
€2,100
€2,350
SAVE €150*

Contact

1725141600
300
September 2024
09/01/2024
01 Sep 2024 - 30 Sep 2024
300 Hour Hatha Yoga Teacher Training
Rishikesh
€2,100
€2,350
SAVE €150*

Contact

1727733600
300
October 2024
10/01/2024
01 Oct 2024 - 30 Oct 2024
300 Hour Hatha Yoga Teacher Training
Rishikesh
€2,100
€2,350
SAVE €150*

Contact

1730415600
300
November 2024
11/01/2024
01 Nov 2024 - 30 Nov 2024
300 Hour Hatha Yoga Teacher Training
Rishikesh
€2,100
€2,350
SAVE €150*

Contact

1733007600
300
December 2024
12/01/2024
01 Dec 2024 - 30 Dec 2024
300 Hour Hatha Yoga Teacher Training
Rishikesh
€2,100
€2,350
SAVE €150*

Contact

1696111200
300
October 2023
10/01/2023
01 Oct 2023 - 30 Oct 2023
300 Hour Multistyle Yoga Teacher Training
Rishikesh
€2,100
€2,350
SAVE €150*

Contact

1698793200
300
November 2023
11/01/2023
01 Nov 2023 - 30 Nov 2023
300 Hour Multistyle Yoga Teacher Training
Rishikesh
€2,100
€2,350
SAVE €150*

Contact

1701385200
300
December 2023
12/01/2023
01 Dec 2023 - 30 Dec 2023
300 Hour Multistyle Yoga Teacher Training
Rishikesh
€2,100
€2,350
SAVE €150*

Contact

1704063600
300
January 2024
01/01/2024
01 Jan 2024 - 30 Jan 2024
300 Hour Multistyle Yoga Teacher Training
Rishikesh
€2,100
€2,350
SAVE €150*

Contact

1706742000
300
February 2024
02/01/2024
01 Feb 2024 - 01 Mar 2024
300 Hour Multistyle Yoga Teacher Training
Rishikesh
€2,100
€2,350
SAVE €150*

Contact

1709247600
300
March 2024
03/01/2024
01 Mar 2024 - 30 Mar 2024
300 Hour Multistyle Yoga Teacher Training
Rishikesh
€2,100
€2,350
SAVE €150*

Contact

1711922400
300
April 2024
04/01/2024
01 Apr 2024 - 30 Apr 2024
300 Hour Multistyle Yoga Teacher Training
Rishikesh
€2,100
€2,350
SAVE €150*

Contact

1714514400
300
May 2024
05/01/2024
01 May 2024 - 30 May 2024
300 Hour Multistyle Yoga Teacher Training
Rishikesh
€2,100
€2,350
SAVE €150*

Contact

1717192800
300
June 2024
06/01/2024
01 Jun 2024 - 30 Jun 2024
300 Hour Multistyle Yoga Teacher Training
Rishikesh
€2,100
€2,350
SAVE €150*

Contact

1719784800
300
July 2024
07/01/2024
01 Jul 2024 - 30 Jul 2024
300 Hour Multistyle Yoga Teacher Training
Rishikesh
€2,100
€2,350
SAVE €150*

Contact

1722463200
300
August 2024
08/01/2024
01 Aug 2024 - 30 Aug 2024
300 Hour Multistyle Yoga Teacher Training
Rishikesh
€2,100
€2,350
SAVE €150*

Contact

1725141600
300
September 2024
09/01/2024
01 Sep 2024 - 30 Sep 2024
300 Hour Multistyle Yoga Teacher Training
Rishikesh
€2,100
€2,350
SAVE €150*

Contact

1727733600
300
October 2024
10/01/2024
01 Oct 2024 - 30 Oct 2024
300 Hour Multistyle Yoga Teacher Training
Rishikesh
€2,100
€2,350
SAVE €150*

Contact

1730415600
300
November 2024
11/01/2024
01 Nov 2024 - 30 Nov 2024
300 Hour Multistyle Yoga Teacher Training
Rishikesh
€2,100
€2,350
SAVE €150*

Contact

1733007600
300
December 2024
12/01/2024
01 Dec 2024 - 30 Dec 2024
300 Hour Multistyle Yoga Teacher Training
Rishikesh
€2,100
€2,350
SAVE €150*

Contact

1696111200
300
October 2023
10/01/2023
01 Oct 2023 - 30 Oct 2023
300 Hour Restorative Yoga Teacher Training
Rishikesh
€2,100
€2,350
SAVE €150*

Contact

1698793200
300
November 2023
11/01/2023
01 Nov 2023 - 30 Nov 2023
300 Hour Restorative Yoga Teacher Training
Rishikesh
€2,100
€2,350
SAVE €150*

Contact

1701385200
300
December 2023
12/01/2023
01 Dec 2023 - 30 Dec 2023
300 Hour Restorative Yoga Teacher Training
Rishikesh
€2,100
€2,350
SAVE €150*

Contact

1704063600
300
January 2024
01/01/2024
01 Jan 2024 - 30 Jan 2024
300 Hour Restorative Yoga Teacher Training
Rishikesh
€2,100
€2,350
SAVE €150*

Contact

1706742000
300
February 2024
02/01/2024
01 Feb 2024 - 01 Mar 2024
300 Hour Restorative Yoga Teacher Training
Rishikesh
€2,100
€2,350
SAVE €150*

Contact

1709247600
300
March 2024
03/01/2024
01 Mar 2024 - 30 Mar 2024
300 Hour Restorative Yoga Teacher Training
Rishikesh
€2,100
€2,350
SAVE €150*

Contact

1711922400
300
April 2024
04/01/2024
01 Apr 2024 - 30 Apr 2024
300 Hour Restorative Yoga Teacher Training
Rishikesh
€2,100
€2,350
SAVE €150*

Contact

1714514400
300
May 2024
05/01/2024
01 May 2024 - 30 May 2024
300 Hour Restorative Yoga Teacher Training
Rishikesh
€2,100
€2,350
SAVE €150*

Contact

1717192800
300
June 2024
06/01/2024
01 Jun 2024 - 30 Jun 2024
300 Hour Restorative Yoga Teacher Training
Rishikesh
€2,100
€2,350
SAVE €150*

Contact

1719784800
300
July 2024
07/01/2024
01 Jul 2024 - 30 Jul 2024
300 Hour Restorative Yoga Teacher Training
Rishikesh
€2,100
€2,350
SAVE €150*

Contact

1722463200
300
August 2024
08/01/2024
01 Aug 2024 - 30 Aug 2024
300 Hour Restorative Yoga Teacher Training
Rishikesh
€2,100
€2,350
SAVE €150*

Contact

1725141600
300
September 2024
09/01/2024
01 Sep 2024 - 30 Sep 2024
300 Hour Restorative Yoga Teacher Training
Rishikesh
€2,100
€2,350
SAVE €150*

Contact

1727733600
300
October 2024
10/01/2024
01 Oct 2024 - 30 Oct 2024
300 Hour Restorative Yoga Teacher Training
Rishikesh
€2,100
€2,350
SAVE €150*

Contact

1730415600
300
November 2024
11/01/2024
01 Nov 2024 - 30 Nov 2024
300 Hour Restorative Yoga Teacher Training
Rishikesh
€2,100
€2,350
SAVE €150*

Contact

1733007600
300
December 2024
12/01/2024
01 Dec 2024 - 30 Dec 2024
300 Hour Restorative Yoga Teacher Training
Rishikesh
€2,100
€2,350
SAVE €150*

Contact

1696111200
300
October 2023
10/01/2023
01 Oct 2023 - 30 Oct 2023
300 Hour Therapeutic Yoga Teacher Training
Rishikesh
€2,100
€2,350
SAVE €150*

Contact

1698793200
300
November 2023
11/01/2023
01 Nov 2023 - 30 Nov 2023
300 Hour Therapeutic Yoga Teacher Training
Rishikesh
€2,100
€2,350
SAVE €150*

Contact

1701385200
300
December 2023
12/01/2023
01 Dec 2023 - 30 Dec 2023
300 Hour Therapeutic Yoga Teacher Training
Rishikesh
€2,100
€2,350
SAVE €150*

Contact

1704063600
300
January 2024
01/01/2024
01 Jan 2024 - 30 Jan 2024
300 Hour Therapeutic Yoga Teacher Training
Rishikesh
€2,100
€2,350
SAVE €150*

Contact

1706742000
300
February 2024
02/01/2024
01 Feb 2024 - 01 Mar 2024
300 Hour Therapeutic Yoga Teacher Training
Rishikesh
€2,100
€2,350
SAVE €150*

Contact

1709247600
300
March 2024
03/01/2024
01 Mar 2024 - 30 Mar 2024
300 Hour Therapeutic Yoga Teacher Training
Rishikesh
€2,100
€2,350
SAVE €150*

Contact

1711922400
300
April 2024
04/01/2024
01 Apr 2024 - 30 Apr 2024
300 Hour Therapeutic Yoga Teacher Training
Rishikesh
€2,100
€2,350
SAVE €150*

Contact

1714514400
300
May 2024
05/01/2024
01 May 2024 - 30 May 2024
300 Hour Therapeutic Yoga Teacher Training
Rishikesh
€2,100
€2,350
SAVE €150*

Contact

1717192800
300
June 2024
06/01/2024
01 Jun 2024 - 30 Jun 2024
300 Hour Therapeutic Yoga Teacher Training
Rishikesh
€2,100
€2,350
SAVE €150*

Contact

1719784800
300
July 2024
07/01/2024
01 Jul 2024 - 30 Jul 2024
300 Hour Therapeutic Yoga Teacher Training
Rishikesh
€2,100
€2,350
SAVE €150*

Contact

1722463200
300
August 2024
08/01/2024
01 Aug 2024 - 30 Aug 2024
300 Hour Therapeutic Yoga Teacher Training
Rishikesh
€2,100
€2,350
SAVE €150*

Contact

1725141600
300
September 2024
09/01/2024
01 Sep 2024 - 30 Sep 2024
300 Hour Therapeutic Yoga Teacher Training
Rishikesh
€2,100
€2,350
SAVE €150*

Contact

1727733600
300
October 2024
10/01/2024
01 Oct 2024 - 30 Oct 2024
300 Hour Therapeutic Yoga Teacher Training
Rishikesh
€2,100
€2,350
SAVE €150*

Contact

1730415600
300
November 2024
11/01/2024
01 Nov 2024 - 30 Nov 2024
300 Hour Therapeutic Yoga Teacher Training
Rishikesh
€2,100
€2,350
SAVE €150*

Contact

1733007600
300
December 2024
12/01/2024
01 Dec 2024 - 30 Dec 2024
300 Hour Therapeutic Yoga Teacher Training
Rishikesh
€2,100
€2,350
SAVE €150*

Contact

1696111200
300
October 2023
10/01/2023
01 Oct 2023 - 30 Oct 2023
300 Hour Vinyasa Yoga Teacher Training
Rishikesh
€2,100
€2,350
SAVE €150*

Contact

1698793200
300
November 2023
11/01/2023
01 Nov 2023 - 30 Nov 2023
300 Hour Vinyasa Yoga Teacher Training
Rishikesh
€2,100
€2,350
SAVE €150*

Contact

1701385200
300
December 2023
12/01/2023
01 Dec 2023 - 30 Dec 2023
300 Hour Vinyasa Yoga Teacher Training
Rishikesh
€2,100
€2,350
SAVE €150*

Contact

1704063600
300
January 2024
01/01/2024
01 Jan 2024 - 30 Jan 2024
300 Hour Vinyasa Yoga Teacher Training
Rishikesh
€2,100
€2,350
SAVE €150*

Contact

1706742000
300
February 2024
02/01/2024
01 Feb 2024 - 01 Mar 2024
300 Hour Vinyasa Yoga Teacher Training
Rishikesh
€2,100
€2,350
SAVE €150*

Contact

1709247600
300
March 2024
03/01/2024
01 Mar 2024 - 30 Mar 2024
300 Hour Vinyasa Yoga Teacher Training
Rishikesh
€2,100
€2,350
SAVE €150*

Contact

1711922400
300
April 2024
04/01/2024
01 Apr 2024 - 30 Apr 2024
300 Hour Vinyasa Yoga Teacher Training
Rishikesh
€2,100
€2,350
SAVE €150*

Contact

1714514400
300
May 2024
05/01/2024
01 May 2024 - 30 May 2024
300 Hour Vinyasa Yoga Teacher Training
Rishikesh
€2,100
€2,350
SAVE €150*

Contact

1717192800
300
June 2024
06/01/2024
01 Jun 2024 - 30 Jun 2024
300 Hour Vinyasa Yoga Teacher Training
Rishikesh
€2,100
€2,350
SAVE €150*

Contact

1719784800
300
July 2024
07/01/2024
01 Jul 2024 - 30 Jul 2024
300 Hour Vinyasa Yoga Teacher Training
Rishikesh
€2,100
€2,350
SAVE €150*

Contact

1722463200
300
August 2024
08/01/2024
01 Aug 2024 - 30 Aug 2024
300 Hour Vinyasa Yoga Teacher Training
Rishikesh
€2,100
€2,350
SAVE €150*

Contact

1725141600
300
September 2024
09/01/2024
01 Sep 2024 - 30 Sep 2024
300 Hour Vinyasa Yoga Teacher Training
Rishikesh
€2,100
€2,350
SAVE €150*

Contact

1727733600
300
October 2024
10/01/2024
01 Oct 2024 - 30 Oct 2024
300 Hour Vinyasa Yoga Teacher Training
Rishikesh
€2,100
€2,350
SAVE €150*

Contact

1730415600
300
November 2024
11/01/2024
01 Nov 2024 - 30 Nov 2024
300 Hour Vinyasa Yoga Teacher Training
Rishikesh
€2,100
€2,350
SAVE €150*

Contact

1733007600
300
December 2024
12/01/2024
01 Dec 2024 - 30 Dec 2024
300 Hour Vinyasa Yoga Teacher Training
Rishikesh
€2,100
€2,350
SAVE €150*

Contact

1696111200
300
October 2023
10/01/2023
01 Oct 2023 - 30 Oct 2023
300 Hour Yin Yoga Teacher Training
Rishikesh
€2,100
€2,350
SAVE €150*

Contact

1698793200
300
November 2023
11/01/2023
01 Nov 2023 - 30 Nov 2023
300 Hour Yin Yoga Teacher Training
Rishikesh
€2,100
€2,350
SAVE €150*

Contact

1701385200
300
December 2023
12/01/2023
01 Dec 2023 - 30 Dec 2023
300 Hour Yin Yoga Teacher Training
Rishikesh
€2,100
€2,350
SAVE €150*

Contact

1704063600
300
January 2024
01/01/2024
01 Jan 2024 - 30 Jan 2024
300 Hour Yin Yoga Teacher Training
Rishikesh
€2,100
€2,350
SAVE €150*

Contact

1706742000
300
February 2024
02/01/2024
01 Feb 2024 - 01 Mar 2024
300 Hour Yin Yoga Teacher Training
Rishikesh
€2,100
€2,350
SAVE €150*

Contact

1709247600
300
March 2024
03/01/2024
01 Mar 2024 - 30 Mar 2024
300 Hour Yin Yoga Teacher Training
Rishikesh
€2,100
€2,350
SAVE €150*

Contact

1711922400
300
April 2024
04/01/2024
01 Apr 2024 - 30 Apr 2024
300 Hour Yin Yoga Teacher Training
Rishikesh
€2,100
€2,350
SAVE €150*

Contact

1714514400
300
May 2024
05/01/2024
01 May 2024 - 30 May 2024
300 Hour Yin Yoga Teacher Training
Rishikesh
€2,100
€2,350
SAVE €150*

Contact

1717192800
300
June 2024
06/01/2024
01 Jun 2024 - 30 Jun 2024
300 Hour Yin Yoga Teacher Training
Rishikesh
€2,100
€2,350
SAVE €150*

Contact

1719784800
300
July 2024
07/01/2024
01 Jul 2024 - 30 Jul 2024
300 Hour Yin Yoga Teacher Training
Rishikesh
€2,100
€2,350
SAVE €150*

Contact

1722463200
300
August 2024
08/01/2024
01 Aug 2024 - 30 Aug 2024
300 Hour Yin Yoga Teacher Training
Rishikesh
€2,100
€2,350
SAVE €150*

Contact

1725141600
300
September 2024
09/01/2024
01 Sep 2024 - 30 Sep 2024
300 Hour Yin Yoga Teacher Training
Rishikesh
€2,100
€2,350
SAVE €150*

Contact

1727733600
300
October 2024
10/01/2024
01 Oct 2024 - 30 Oct 2024
300 Hour Yin Yoga Teacher Training
Rishikesh
€2,100
€2,350
SAVE €150*

Contact

1730415600
300
November 2024
11/01/2024
01 Nov 2024 - 30 Nov 2024
300 Hour Yin Yoga Teacher Training
Rishikesh
€2,100
€2,350
SAVE €150*

Contact

1733007600
300
December 2024
12/01/2024
01 Dec 2024 - 30 Dec 2024
300 Hour Yin Yoga Teacher Training
Rishikesh
€2,100
€2,350
SAVE €150*

Contact

1701385200
200
December 2023
12/01/2023
01 Dec 2023 - 25 Dec 2023
200 Hour Ashtanga Teacher Training
Rishikesh
€1,500
€1,750
SAVE €100*

Contact

1703545200
200
December 2023
12/26/2023
26 Dec 2023 - 19 Jan 2024
200 Hour Ashtanga Teacher Training
Rishikesh
€1,500
€1,750
SAVE €100*

Contact

1705705200
200
January 2024
01/20/2024
20 Jan 2024 - 13 Feb 2024
200 Hour Ashtanga Teacher Training
Rishikesh
€1,500
€1,750
SAVE €100*

Contact

1707865200
200
February 2024
02/14/2024
14 Feb 2024 - 09 Mar 2024
200 Hour Ashtanga Teacher Training
Rishikesh
€1,500
€1,750
SAVE €100*

Contact

1710025200
200
March 2024
03/10/2024
10 Mar 2024 - 03 Apr 2024
200 Hour Ashtanga Teacher Training
Rishikesh
€1,500
€1,750
SAVE €100*

Contact

1712181600
200
April 2024
04/04/2024
04 Apr 2024 - 28 Apr 2024
200 Hour Ashtanga Teacher Training
Rishikesh
€1,500
€1,750
SAVE €100*

Contact

1714341600
200
April 2024
04/29/2024
29 Apr 2024 - 23 May 2024
200 Hour Ashtanga Teacher Training
Rishikesh
€1,500
€1,750
SAVE €100*

Contact

1716501600
200
May 2024
05/24/2024
24 May 2024 - 17 Jun 2024
200 Hour Ashtanga Teacher Training
Rishikesh
€1,500
€1,750
SAVE €100*

Contact

1718661600
200
June 2024
06/18/2024
18 Jun 2024 - 12 Jul 2024
200 Hour Ashtanga Teacher Training
Rishikesh
€1,500
€1,750
SAVE €100*

Contact

1720821600
200
July 2024
07/13/2024
13 Jul 2024 - 06 Aug 2024
200 Hour Ashtanga Teacher Training
Rishikesh
€1,500
€1,750
SAVE €100*

Contact

1722981600
200
August 2024
08/07/2024
07 Aug 2024 - 31 Aug 2024
200 Hour Ashtanga Teacher Training
Rishikesh
€1,500
€1,750
SAVE €100*

Contact

1725141600
200
September 2024
09/01/2024
01 Sep 2024 - 25 Sep 2024
200 Hour Ashtanga Teacher Training
Rishikesh
€1,500
€1,750
SAVE €100*

Contact

1727301600
200
September 2024
09/26/2024
26 Sep 2024 - 20 Oct 2024
200 Hour Ashtanga Teacher Training
Rishikesh
€1,500
€1,750
SAVE €100*

Contact

1729461600
200
October 2024
10/21/2024
21 Oct 2024 - 14 Nov 2024
200 Hour Ashtanga Teacher Training
Rishikesh
€1,500
€1,750
SAVE €100*

Contact

1731625200
200
November 2024
11/15/2024
15 Nov 2024 - 09 Dec 2024
200 Hour Ashtanga Teacher Training
Rishikesh
€1,500
€1,750
SAVE €100*

Contact

1733785200
200
December 2024
12/10/2024
10 Dec 2024 - 03 Jan 2025
200 Hour Ashtanga Teacher Training
Rishikesh
€1,500
€1,750
SAVE €100*

Contact

1701385200
200
December 2023
12/01/2023
01 Dec 2023 - 25 Dec 2023
200 Hour Hatha Teacher Training
Rishikesh
€1,500
€1,750
SAVE €100*

Contact

1703545200
200
December 2023
12/26/2023
26 Dec 2023 - 19 Jan 2024
200 Hour Hatha Teacher Training
Rishikesh
€1,500
€1,750
SAVE €100*

Contact

1705705200
200
January 2024
01/20/2024
20 Jan 2024 - 13 Feb 2024
200 Hour Hatha Teacher Training
Rishikesh
€1,500
€1,750
SAVE €100*

Contact

1707865200
200
February 2024
02/14/2024
14 Feb 2024 - 09 Mar 2024
200 Hour Hatha Teacher Training
Rishikesh
€1,500
€1,750
SAVE €100*

Contact

1710025200
200
March 2024
03/10/2024
10 Mar 2024 - 03 Apr 2024
200 Hour Hatha Teacher Training
Rishikesh
€1,500
€1,750
SAVE €100*

Contact

1712181600
200
April 2024
04/04/2024
04 Apr 2024 - 28 Apr 2024
200 Hour Hatha Teacher Training
Rishikesh
€1,500
€1,750
SAVE €100*

Contact

1714341600
200
April 2024
04/29/2024
29 Apr 2024 - 23 May 2024
200 Hour Hatha Teacher Training
Rishikesh
€1,500
€1,750
SAVE €100*

Contact

1716501600
200
May 2024
05/24/2024
24 May 2024 - 17 Jun 2024
200 Hour Hatha Teacher Training
Rishikesh
€1,500
€1,750
SAVE €100*

Contact

1718661600
200
June 2024
06/18/2024
18 Jun 2024 - 12 Jul 2024
200 Hour Hatha Teacher Training
Rishikesh
€1,500
€1,750
SAVE €100*

Contact

1720821600
200
July 2024
07/13/2024
13 Jul 2024 - 06 Aug 2024
200 Hour Hatha Teacher Training
Rishikesh
€1,500
€1,750
SAVE €100*

Contact

1722981600
200
August 2024
08/07/2024
07 Aug 2024 - 31 Aug 2024
200 Hour Hatha Teacher Training
Rishikesh
€1,500
€1,750
SAVE €100*

Contact

1725141600
200
September 2024
09/01/2024
01 Sep 2024 - 25 Sep 2024
200 Hour Hatha Teacher Training
Rishikesh
€1,500
€1,750
SAVE €100*

Contact

1727301600
200
September 2024
09/26/2024
26 Sep 2024 - 20 Oct 2024
200 Hour Hatha Teacher Training
Rishikesh
€1,500
€1,750
SAVE €100*

Contact

1729461600
200
October 2024
10/21/2024
21 Oct 2024 - 14 Nov 2024
200 Hour Hatha Teacher Training
Rishikesh
€1,500
€1,750
SAVE €100*

Contact

1731625200
200
November 2024
11/15/2024
15 Nov 2024 - 09 Dec 2024
200 Hour Hatha Teacher Training
Rishikesh
€1,500
€1,750
SAVE €100*

Contact

1733785200
200
December 2024
12/10/2024
10 Dec 2024 - 03 Jan 2025
200 Hour Hatha Teacher Training
Rishikesh
€1,500
€1,750
SAVE €100*

Contact

1701385200
200
December 2023
12/01/2023
01 Dec 2023 - 25 Dec 2023
200 Hour Multistyle Teacher Training
Rishikesh
€1,500
€1,750
SAVE €100*

Contact

1703545200
200
December 2023
12/26/2023
26 Dec 2023 - 19 Jan 2024
200 Hour Multistyle Teacher Training
Rishikesh
€1,500
€1,750
SAVE €100*

Contact

1705705200
200
January 2024
01/20/2024
20 Jan 2024 - 13 Feb 2024
200 Hour Multistyle Teacher Training
Rishikesh
€1,500
€1,750
SAVE €100*

Contact

1707865200
200
February 2024
02/14/2024
14 Feb 2024 - 09 Mar 2024
200 Hour Multistyle Teacher Training
Rishikesh
€1,500
€1,750
SAVE €100*

Contact

1710025200
200
March 2024
03/10/2024
10 Mar 2024 - 03 Apr 2024
200 Hour Multistyle Teacher Training
Rishikesh
€1,500
€1,750
SAVE €100*

Contact

1712181600
200
April 2024
04/04/2024
04 Apr 2024 - 28 Apr 2024
200 Hour Multistyle Teacher Training
Rishikesh
€1,500
€1,750
SAVE €100*

Contact

1714341600
200
April 2024
04/29/2024
29 Apr 2024 - 23 May 2024
200 Hour Multistyle Teacher Training
Rishikesh
€1,500
€1,750
SAVE €100*

Contact

1716501600
200
May 2024
05/24/2024
24 May 2024 - 17 Jun 2024
200 Hour Multistyle Teacher Training
Rishikesh
€1,500
€1,750
SAVE €100*

Contact

1718661600
200
June 2024
06/18/2024
18 Jun 2024 - 12 Jul 2024
200 Hour Multistyle Teacher Training
Rishikesh
€1,500
€1,750
SAVE €100*

Contact

1720821600
200
July 2024
07/13/2024
13 Jul 2024 - 06 Aug 2024
200 Hour Multistyle Teacher Training
Rishikesh
€1,500
€1,750
SAVE €100*

Contact

1722981600
200
August 2024
08/07/2024
07 Aug 2024 - 31 Aug 2024
200 Hour Multistyle Teacher Training
Rishikesh
€1,500
€1,750
SAVE €100*

Contact

1725141600
200
September 2024
09/01/2024
01 Sep 2024 - 25 Sep 2024
200 Hour Multistyle Teacher Training
Rishikesh
€1,500
€1,750
SAVE €100*

Contact

1727301600
200
September 2024
09/26/2024
26 Sep 2024 - 20 Oct 2024
200 Hour Multistyle Teacher Training
Rishikesh
€1,500
€1,750
SAVE €100*

Contact

1729461600
200
October 2024
10/21/2024
21 Oct 2024 - 14 Nov 2024
200 Hour Multistyle Teacher Training
Rishikesh
€1,500
€1,750
SAVE €100*

Contact

1731625200
200
November 2024
11/15/2024
15 Nov 2024 - 09 Dec 2024
200 Hour Multistyle Teacher Training
Rishikesh
€1,500
€1,750
SAVE €100*

Contact

1733785200
200
December 2024
12/10/2024
10 Dec 2024 - 03 Jan 2025
200 Hour Multistyle Teacher Training
Rishikesh
€1,500
€1,750
SAVE €100*

Contact

1701385200
200
December 2023
12/01/2023
01 Dec 2023 - 25 Dec 2023
200 Hour Restorative Teacher Training
Rishikesh
€1,500
€1,750
SAVE €100*

Contact

1703545200
200
December 2023
12/26/2023
26 Dec 2023 - 19 Jan 2024
200 Hour Restorative Teacher Training
Rishikesh
€1,500
€1,750
SAVE €100*

Contact

1705705200
200
January 2024
01/20/2024
20 Jan 2024 - 13 Feb 2024
200 Hour Restorative Teacher Training
Rishikesh
€1,500
€1,750
SAVE €100*

Contact

1707865200
200
February 2024
02/14/2024
14 Feb 2024 - 09 Mar 2024
200 Hour Restorative Teacher Training
Rishikesh
€1,500
€1,750
SAVE €100*

Contact

1710025200
200
March 2024
03/10/2024
10 Mar 2024 - 03 Apr 2024
200 Hour Restorative Teacher Training
Rishikesh
€1,500
€1,750
SAVE €100*

Contact

1712181600
200
April 2024
04/04/2024
04 Apr 2024 - 28 Apr 2024
200 Hour Restorative Teacher Training
Rishikesh
€1,500
€1,750
SAVE €100*

Contact

1714341600
200
April 2024
04/29/2024
29 Apr 2024 - 23 May 2024
200 Hour Restorative Teacher Training
Rishikesh
€1,500
€1,750
SAVE €100*

Contact

1716501600
200
May 2024
05/24/2024
24 May 2024 - 17 Jun 2024
200 Hour Restorative Teacher Training
Rishikesh
€1,500
€1,750
SAVE €100*

Contact

1718661600
200
June 2024
06/18/2024
18 Jun 2024 - 12 Jul 2024
200 Hour Restorative Teacher Training
Rishikesh
€1,500
€1,750
SAVE €100*

Contact

1720821600
200
July 2024
07/13/2024
13 Jul 2024 - 06 Aug 2024
200 Hour Restorative Teacher Training
Rishikesh
€1,500
€1,750
SAVE €100*

Contact

1722981600
200
August 2024
08/07/2024
07 Aug 2024 - 31 Aug 2024
200 Hour Restorative Teacher Training
Rishikesh
€1,500
€1,750
SAVE €100*

Contact

1725141600
200
September 2024
09/01/2024
01 Sep 2024 - 25 Sep 2024
200 Hour Restorative Teacher Training
Rishikesh
€1,500
€1,750
SAVE €100*

Contact

1727301600
200
September 2024
09/26/2024
26 Sep 2024 - 20 Oct 2024
200 Hour Restorative Teacher Training
Rishikesh
€1,500
€1,750
SAVE €100*

Contact

1729461600
200
October 2024
10/21/2024
21 Oct 2024 - 14 Nov 2024
200 Hour Restorative Teacher Training
Rishikesh
€1,500
€1,750
SAVE €100*

Contact

1731625200
200
November 2024
11/15/2024
15 Nov 2024 - 09 Dec 2024
200 Hour Restorative Teacher Training
Rishikesh
€1,500
€1,750
SAVE €100*

Contact

1733785200
200
December 2024
12/10/2024
10 Dec 2024 - 03 Jan 2025
200 Hour Restorative Teacher Training
Rishikesh
€1,500
€1,750
SAVE €100*

Contact

1701385200
200
December 2023
12/01/2023
01 Dec 2023 - 25 Dec 2023
200 Hour Therapeutic Teacher Training
Rishikesh
€1,500
€1,750
SAVE €100*

Contact

1703545200
200
December 2023
12/26/2023
26 Dec 2023 - 19 Jan 2024
200 Hour Therapeutic Teacher Training
Rishikesh
€1,500
€1,750
SAVE €100*

Contact

1705705200
200
January 2024
01/20/2024
20 Jan 2024 - 13 Feb 2024
200 Hour Therapeutic Teacher Training
Rishikesh
€1,500
€1,750
SAVE €100*

Contact

1707865200
200
February 2024
02/14/2024
14 Feb 2024 - 09 Mar 2024
200 Hour Therapeutic Teacher Training
Rishikesh
€1,500
€1,750
SAVE €100*

Contact

1710025200
200
March 2024
03/10/2024
10 Mar 2024 - 03 Apr 2024
200 Hour Therapeutic Teacher Training
Rishikesh
€1,500
€1,750
SAVE €100*

Contact

1712181600
200
April 2024
04/04/2024
04 Apr 2024 - 28 Apr 2024
200 Hour Therapeutic Teacher Training
Rishikesh
€1,500
€1,750
SAVE €100*

Contact

1714341600
200
April 2024
04/29/2024
29 Apr 2024 - 23 May 2024
200 Hour Therapeutic Teacher Training
Rishikesh
€1,500
€1,750
SAVE €100*

Contact

1716501600
200
May 2024
05/24/2024
24 May 2024 - 17 Jun 2024
200 Hour Therapeutic Teacher Training
Rishikesh
€1,500
€1,750
SAVE €100*

Contact

1718661600
200
June 2024
06/18/2024
18 Jun 2024 - 12 Jul 2024
200 Hour Therapeutic Teacher Training
Rishikesh
€1,500
€1,750
SAVE €100*

Contact

1720821600
200
July 2024
07/13/2024
13 Jul 2024 - 06 Aug 2024
200 Hour Therapeutic Teacher Training
Rishikesh
€1,500
€1,750
SAVE €100*

Contact

1722981600
200
August 2024
08/07/2024
07 Aug 2024 - 31 Aug 2024
200 Hour Therapeutic Teacher Training
Rishikesh
€1,500
€1,750
SAVE €100*

Contact

1725141600
200
September 2024
09/01/2024
01 Sep 2024 - 25 Sep 2024
200 Hour Therapeutic Teacher Training
Rishikesh
€1,500
€1,750
SAVE €100*

Contact

1727301600
200
September 2024
09/26/2024
26 Sep 2024 - 20 Oct 2024
200 Hour Therapeutic Teacher Training
Rishikesh
€1,500
€1,750
SAVE €100*

Contact

1729461600
200
October 2024
10/21/2024
21 Oct 2024 - 14 Nov 2024
200 Hour Therapeutic Teacher Training
Rishikesh
€1,500
€1,750
SAVE €100*

Contact

1731625200
200
November 2024
11/15/2024
15 Nov 2024 - 09 Dec 2024
200 Hour Therapeutic Teacher Training
Rishikesh
€1,500
€1,750
SAVE €100*

Contact

1733785200
200
December 2024
12/10/2024
10 Dec 2024 - 03 Jan 2025
200 Hour Therapeutic Teacher Training
Rishikesh
€1,500
€1,750
SAVE €100*

Contact

1701385200
200
December 2023
12/01/2023
01 Dec 2023 - 25 Dec 2023
200 Hour Vinyasa Teacher Training
Rishikesh
€1,500
€1,750
SAVE €100*

Contact

1703545200
200
December 2023
12/26/2023
26 Dec 2023 - 19 Jan 2024
200 Hour Vinyasa Teacher Training
Rishikesh
€1,500
€1,750
SAVE €100*

Contact

1705705200
200
January 2024
01/20/2024
20 Jan 2024 - 13 Feb 2024
200 Hour Vinyasa Teacher Training
Rishikesh
€1,500
€1,750
SAVE €100*

Contact

1707865200
200
February 2024
02/14/2024
14 Feb 2024 - 09 Mar 2024
200 Hour Vinyasa Teacher Training
Rishikesh
€1,500
€1,750
SAVE €100*

Contact

1710025200
200
March 2024
03/10/2024
10 Mar 2024 - 03 Apr 2024
200 Hour Vinyasa Teacher Training
Rishikesh
€1,500
€1,750
SAVE €100*

Contact

1712181600
200
April 2024
04/04/2024
04 Apr 2024 - 28 Apr 2024
200 Hour Vinyasa Teacher Training
Rishikesh
€1,500
€1,750
SAVE €100*

Contact

1714341600
200
April 2024
04/29/2024
29 Apr 2024 - 23 May 2024
200 Hour Vinyasa Teacher Training
Rishikesh
€1,500
€1,750
SAVE €100*

Contact

1716501600
200
May 2024
05/24/2024
24 May 2024 - 17 Jun 2024
200 Hour Vinyasa Teacher Training
Rishikesh
€1,500
€1,750
SAVE €100*

Contact

1718661600
200
June 2024
06/18/2024
18 Jun 2024 - 12 Jul 2024
200 Hour Vinyasa Teacher Training
Rishikesh
€1,500
€1,750
SAVE €100*

Contact

1720821600
200
July 2024
07/13/2024
13 Jul 2024 - 06 Aug 2024
200 Hour Vinyasa Teacher Training
Rishikesh
€1,500
€1,750
SAVE €100*

Contact

1722981600
200
August 2024
08/07/2024
07 Aug 2024 - 31 Aug 2024
200 Hour Vinyasa Teacher Training
Rishikesh
€1,500
€1,750
SAVE €100*

Contact

1725141600
200
September 2024
09/01/2024
01 Sep 2024 - 25 Sep 2024
200 Hour Vinyasa Teacher Training
Rishikesh
€1,500
€1,750
SAVE €100*

Contact

1727301600
200
September 2024
09/26/2024
26 Sep 2024 - 20 Oct 2024
200 Hour Vinyasa Teacher Training
Rishikesh
€1,500
€1,750
SAVE €100*

Contact

1729461600
200
October 2024
10/21/2024
21 Oct 2024 - 14 Nov 2024
200 Hour Vinyasa Teacher Training
Rishikesh
€1,500
€1,750
SAVE €100*

Contact

1731625200
200
November 2024
11/15/2024
15 Nov 2024 - 09 Dec 2024
200 Hour Vinyasa Teacher Training
Rishikesh
€1,500
€1,750
SAVE €100*

Contact

1733785200
200
December 2024
12/10/2024
10 Dec 2024 - 03 Jan 2025
200 Hour Vinyasa Teacher Training
Rishikesh
€1,500
€1,750
SAVE €100*

Contact

1701385200
200
December 2023
12/01/2023
01 Dec 2023 - 25 Dec 2023
200 Hour Yin Yoga Teacher Training
Rishikesh
€1,500
€1,750
SAVE €100*

Contact

1703545200
200
December 2023
12/26/2023
26 Dec 2023 - 19 Jan 2024
200 Hour Yin Yoga Teacher Training
Rishikesh
€1,500
€1,750
SAVE €100*

Contact

1705705200
200
January 2024
01/20/2024
20 Jan 2024 - 13 Feb 2024
200 Hour Yin Yoga Teacher Training
Rishikesh
€1,500
€1,750
SAVE €100*

Contact

1707865200
200
February 2024
02/14/2024
14 Feb 2024 - 09 Mar 2024
200 Hour Yin Yoga Teacher Training
Rishikesh
€1,500
€1,750
SAVE €100*

Contact

1710025200
200
March 2024
03/10/2024
10 Mar 2024 - 03 Apr 2024
200 Hour Yin Yoga Teacher Training
Rishikesh
€1,500
€1,750
SAVE €100*

Contact

1712181600
200
April 2024
04/04/2024
04 Apr 2024 - 28 Apr 2024
200 Hour Yin Yoga Teacher Training
Rishikesh
€1,500
€1,750
SAVE €100*

Contact

1714341600
200
April 2024
04/29/2024
29 Apr 2024 - 23 May 2024
200 Hour Yin Yoga Teacher Training
Rishikesh
€1,500
€1,750
SAVE €100*

Contact

1716501600
200
May 2024
05/24/2024
24 May 2024 - 17 Jun 2024
200 Hour Yin Yoga Teacher Training
Rishikesh
€1,500
€1,750
SAVE €100*

Contact

1718661600
200
June 2024
06/18/2024
18 Jun 2024 - 12 Jul 2024
200 Hour Yin Yoga Teacher Training
Rishikesh
€1,500
€1,750
SAVE €100*

Contact

1720821600
200
July 2024
07/13/2024
13 Jul 2024 - 06 Aug 2024
200 Hour Yin Yoga Teacher Training
Rishikesh
€1,500
€1,750
SAVE €100*

Contact

1722981600
200
August 2024
08/07/2024
07 Aug 2024 - 31 Aug 2024
200 Hour Yin Yoga Teacher Training
Rishikesh
€1,500
€1,750
SAVE €100*

Contact

1725141600
200
September 2024
09/01/2024
01 Sep 2024 - 25 Sep 2024
200 Hour Yin Yoga Teacher Training
Rishikesh
€1,500
€1,750
SAVE €100*

Contact

1727301600
200
September 2024
09/26/2024
26 Sep 2024 - 20 Oct 2024
200 Hour Yin Yoga Teacher Training
Rishikesh
€1,500
€1,750
SAVE €100*

Contact

1729461600
200
October 2024
10/21/2024
21 Oct 2024 - 14 Nov 2024
200 Hour Yin Yoga Teacher Training
Rishikesh
€1,500
€1,750
SAVE €100*

Contact

1731625200
200
November 2024
11/15/2024
15 Nov 2024 - 09 Dec 2024
200 Hour Yin Yoga Teacher Training
Rishikesh
€1,500
€1,750
SAVE €100*

Contact

1733785200
200
December 2024
12/10/2024
10 Dec 2024 - 03 Jan 2025
200 Hour Yin Yoga Teacher Training
Rishikesh
€1,500
€1,750
SAVE €100*

Contact

1701385200
100
December 2023
12/01/2023
01 Dec 2023 - 12 Dec 2023
100 Hour Ashtanga Teacher Training
Rishikesh
€800
€925
SAVE €50*

Contact

1702940400
100
December 2023
12/19/2023
19 Dec 2023 - 30 Dec 2023
100 Hour Ashtanga Teacher Training
Rishikesh
€800
€925
SAVE €50*

Contact

1704063600
100
January 2024
01/01/2024
01 Jan 2024 - 12 Jan 2024
100 Hour Ashtanga Teacher Training
Rishikesh
€800
€925
SAVE €50*

Contact

1705618800
100
January 2024
01/19/2024
19 Jan 2024 - 30 Jan 2024
100 Hour Ashtanga Teacher Training
Rishikesh
€800
€925
SAVE €50*

Contact

1706742000
100
February 2024
02/01/2024
01 Feb 2024 - 12 Feb 2024
100 Hour Ashtanga Teacher Training
Rishikesh
€800
€925
SAVE €50*

Contact

1708297200
100
February 2024
02/19/2024
19 Feb 2024 - 01 Mar 2024
100 Hour Ashtanga Teacher Training
Rishikesh
€800
€925
SAVE €50*

Contact

1709247600
100
March 2024
03/01/2024
01 Mar 2024 - 12 Mar 2024
100 Hour Ashtanga Teacher Training
Rishikesh
€800
€925
SAVE €50*

Contact

1710802800
100
March 2024
03/19/2024
19 Mar 2024 - 30 Mar 2024
100 Hour Ashtanga Teacher Training
Rishikesh
€800
€925
SAVE €50*

Contact

1711922400
100
April 2024
04/01/2024
01 Apr 2024 - 12 Apr 2024
100 Hour Ashtanga Teacher Training
Rishikesh
€800
€925
SAVE €50*

Contact

1713477600
100
April 2024
04/19/2024
19 Apr 2024 - 30 Apr 2024
100 Hour Ashtanga Teacher Training
Rishikesh
€800
€925
SAVE €50*

Contact

1714514400
100
May 2024
05/01/2024
01 May 2024 - 12 May 2024
100 Hour Ashtanga Teacher Training
Rishikesh
€800
€925
SAVE €50*

Contact

1716069600
100
May 2024
05/19/2024
19 May 2024 - 30 May 2024
100 Hour Ashtanga Teacher Training
Rishikesh
€800
€925
SAVE €50*

Contact

1717192800
100
June 2024
06/01/2024
01 Jun 2024 - 12 Jun 2024
100 Hour Ashtanga Teacher Training
Rishikesh
€800
€925
SAVE €50*

Contact

1718748000
100
June 2024
06/19/2024
19 Jun 2024 - 30 Jun 2024
100 Hour Ashtanga Teacher Training
Rishikesh
€800
€925
SAVE €50*

Contact

1719784800
100
July 2024
07/01/2024
01 Jul 2024 - 12 Jul 2024
100 Hour Ashtanga Teacher Training
Rishikesh
€800
€925
SAVE €50*

Contact

1721340000
100
July 2024
07/19/2024
19 Jul 2024 - 30 Jul 2024
100 Hour Ashtanga Teacher Training
Rishikesh
€800
€925
SAVE €50*

Contact

1722463200
100
August 2024
08/01/2024
01 Aug 2024 - 12 Aug 2024
100 Hour Ashtanga Teacher Training
Rishikesh
€800
€925
SAVE €50*

Contact

1724018400
100
August 2024
08/19/2024
19 Aug 2024 - 30 Aug 2024
100 Hour Ashtanga Teacher Training
Rishikesh
€800
€925
SAVE €50*

Contact

1725141600
100
September 2024
09/01/2024
01 Sep 2024 - 12 Sep 2024
100 Hour Ashtanga Teacher Training
Rishikesh
€800
€925
SAVE €50*

Contact

1726696800
100
September 2024
09/19/2024
19 Sep 2024 - 30 Sep 2024
100 Hour Ashtanga Teacher Training
Rishikesh
€800
€925
SAVE €50*

Contact

1727733600
100
October 2024
10/01/2024
01 Oct 2024 - 12 Oct 2024
100 Hour Ashtanga Teacher Training
Rishikesh
€800
€925
SAVE €50*

Contact

1701385200
100
December 2023
12/01/2023
01 Dec 2023 - 12 Dec 2023
100 Hour Hatha Teacher Training
Rishikesh
€800
€925
SAVE €50*

Contact

1702940400
100
December 2023
12/19/2023
19 Dec 2023 - 30 Dec 2023
100 Hour Hatha Teacher Training
Rishikesh
€800
€925
SAVE €50*

Contact

1704063600
100
January 2024
01/01/2024
01 Jan 2024 - 12 Jan 2024
100 Hour Hatha Teacher Training
Rishikesh
€800
€925
SAVE €50*

Contact

1705618800
100
January 2024
01/19/2024
19 Jan 2024 - 30 Jan 2024
100 Hour Hatha Teacher Training
Rishikesh
€800
€925
SAVE €50*

Contact

1706742000
100
February 2024
02/01/2024
01 Feb 2024 - 12 Feb 2024
100 Hour Hatha Teacher Training
Rishikesh
€800
€925
SAVE €50*

Contact

1708297200
100
February 2024
02/19/2024
19 Feb 2024 - 01 Mar 2024
100 Hour Hatha Teacher Training
Rishikesh
€800
€925
SAVE €50*

Contact

1709247600
100
March 2024
03/01/2024
01 Mar 2024 - 12 Mar 2024
100 Hour Hatha Teacher Training
Rishikesh
€800
€925
SAVE €50*

Contact

1710802800
100
March 2024
03/19/2024
19 Mar 2024 - 30 Mar 2024
100 Hour Hatha Teacher Training
Rishikesh
€800
€925
SAVE €50*

Contact

1711922400
100
April 2024
04/01/2024
01 Apr 2024 - 12 Apr 2024
100 Hour Hatha Teacher Training
Rishikesh
€800
€925
SAVE €50*

Contact

1713477600
100
April 2024
04/19/2024
19 Apr 2024 - 30 Apr 2024
100 Hour Hatha Teacher Training
Rishikesh
€800
€925
SAVE €50*

Contact

1714514400
100
May 2024
05/01/2024
01 May 2024 - 12 May 2024
100 Hour Hatha Teacher Training
Rishikesh
€800
€925
SAVE €50*

Contact

1716069600
100
May 2024
05/19/2024
19 May 2024 - 30 May 2024
100 Hour Hatha Teacher Training
Rishikesh
€800
€925
SAVE €50*

Contact

1717192800
100
June 2024
06/01/2024
01 Jun 2024 - 12 Jun 2024
100 Hour Hatha Teacher Training
Rishikesh
€800
€925
SAVE €50*

Contact

1718748000
100
June 2024
06/19/2024
19 Jun 2024 - 30 Jun 2024
100 Hour Hatha Teacher Training
Rishikesh
€800
€925
SAVE €50*

Contact

1719784800
100
July 2024
07/01/2024
01 Jul 2024 - 12 Jul 2024
100 Hour Hatha Teacher Training
Rishikesh
€800
€925
SAVE €50*

Contact

1721340000
100
July 2024
07/19/2024
19 Jul 2024 - 30 Jul 2024
100 Hour Hatha Teacher Training
Rishikesh
€800
€925
SAVE €50*

Contact

1722463200
100
August 2024
08/01/2024
01 Aug 2024 - 12 Aug 2024
100 Hour Hatha Teacher Training
Rishikesh
€800
€925
SAVE €50*

Contact

1724018400
100
August 2024
08/19/2024
19 Aug 2024 - 30 Aug 2024
100 Hour Hatha Teacher Training
Rishikesh
€800
€925
SAVE €50*

Contact

1725141600
100
September 2024
09/01/2024
01 Sep 2024 - 12 Sep 2024
100 Hour Hatha Teacher Training
Rishikesh
€800
€925
SAVE €50*

Contact

1726696800
100
September 2024
09/19/2024
19 Sep 2024 - 30 Sep 2024
100 Hour Hatha Teacher Training
Rishikesh
€800
€925
SAVE €50*

Contact

1727733600
100
October 2024
10/01/2024
01 Oct 2024 - 12 Oct 2024
100 Hour Hatha Teacher Training
Rishikesh
€800
€925
SAVE €50*

Contact

1701385200
100
December 2023
12/01/2023
01 Dec 2023 - 12 Dec 2023
100 Hour Vinyasa Teacher Training
Rishikesh
€800
€925
SAVE €50*

Contact

1702940400
100
December 2023
12/19/2023
19 Dec 2023 - 30 Dec 2023
100 Hour Vinyasa Teacher Training
Rishikesh
€800
€925
SAVE €50*

Contact

1704063600
100
January 2024
01/01/2024
01 Jan 2024 - 12 Jan 2024
100 Hour Vinyasa Teacher Training
Rishikesh
€800
€925
SAVE €50*

Contact

1705618800
100
January 2024
01/19/2024
19 Jan 2024 - 30 Jan 2024
100 Hour Vinyasa Teacher Training
Rishikesh
€800
€925
SAVE €50*

Contact

1706742000
100
February 2024
02/01/2024
01 Feb 2024 - 12 Feb 2024
100 Hour Vinyasa Teacher Training
Rishikesh
€800
€925
SAVE €50*

Contact

1708297200
100
February 2024
02/19/2024
19 Feb 2024 - 01 Mar 2024
100 Hour Vinyasa Teacher Training
Rishikesh
€800
€925
SAVE €50*

Contact

1709247600
100
March 2024
03/01/2024
01 Mar 2024 - 12 Mar 2024
100 Hour Vinyasa Teacher Training
Rishikesh
€800
€925
SAVE €50*

Contact

1710802800
100
March 2024
03/19/2024
19 Mar 2024 - 30 Mar 2024
100 Hour Vinyasa Teacher Training
Rishikesh
€800
€925
SAVE €50*

Contact

1711922400
100
April 2024
04/01/2024
01 Apr 2024 - 12 Apr 2024
100 Hour Vinyasa Teacher Training
Rishikesh
€800
€925
SAVE €50*

Contact

1713477600
100
April 2024
04/19/2024
19 Apr 2024 - 30 Apr 2024
100 Hour Vinyasa Teacher Training
Rishikesh
€800
€925
SAVE €50*

Contact

1714514400
100
May 2024
05/01/2024
01 May 2024 - 12 May 2024
100 Hour Vinyasa Teacher Training
Rishikesh
€800
€925
SAVE €50*

Contact

1716069600
100
May 2024
05/19/2024
19 May 2024 - 30 May 2024
100 Hour Vinyasa Teacher Training
Rishikesh
€800
€925
SAVE €50*

Contact

1717192800
100
June 2024
06/01/2024
01 Jun 2024 - 12 Jun 2024
100 Hour Vinyasa Teacher Training
Rishikesh
€800
€925
SAVE €50*

Contact

1718748000
100
June 2024
06/19/2024
19 Jun 2024 - 30 Jun 2024
100 Hour Vinyasa Teacher Training
Rishikesh
€800
€925
SAVE €50*

Contact

1719784800
100
July 2024
07/01/2024
01 Jul 2024 - 12 Jul 2024
100 Hour Vinyasa Teacher Training
Rishikesh
€800
€925
SAVE €50*

Contact

1721340000
100
July 2024
07/19/2024
19 Jul 2024 - 30 Jul 2024
100 Hour Vinyasa Teacher Training
Rishikesh
€800
€925
SAVE €50*

Contact

1722463200
100
August 2024
08/01/2024
01 Aug 2024 - 12 Aug 2024
100 Hour Vinyasa Teacher Training
Rishikesh
€800
€925
SAVE €50*

Contact

1724018400
100
August 2024
08/19/2024
19 Aug 2024 - 30 Aug 2024
100 Hour Vinyasa Teacher Training
Rishikesh
€800
€925
SAVE €50*

Contact

1725141600
100
September 2024
09/01/2024
01 Sep 2024 - 12 Sep 2024
100 Hour Vinyasa Teacher Training
Rishikesh
€800
€925
SAVE €50*

Contact

1726696800
100
September 2024
09/19/2024
19 Sep 2024 - 30 Sep 2024
100 Hour Vinyasa Teacher Training
Rishikesh
€800
€925
SAVE €50*

Contact

1727733600
100
October 2024
10/01/2024
01 Oct 2024 - 12 Oct 2024
100 Hour Vinyasa Teacher Training
Rishikesh
€800
€925
SAVE €50*

Contact

1701385200
100
December 2023
12/01/2023
01 Dec 2023 - 12 Dec 2023
100 Hour Restorative Teacher Training
Rishikesh
€800
€925
SAVE €50*

Contact

1702940400
100
December 2023
12/19/2023
19 Dec 2023 - 30 Dec 2023
100 Hour Restorative Teacher Training
Rishikesh
€800
€925
SAVE €50*

Contact

1704063600
100
January 2024
01/01/2024
01 Jan 2024 - 12 Jan 2024
100 Hour Restorative Teacher Training
Rishikesh
€800
€925
SAVE €50*

Contact

1705618800
100
January 2024
01/19/2024
19 Jan 2024 - 30 Jan 2024
100 Hour Restorative Teacher Training
Rishikesh
€800
€925
SAVE €50*

Contact

1706742000
100
February 2024
02/01/2024
01 Feb 2024 - 12 Feb 2024
100 Hour Restorative Teacher Training
Rishikesh
€800
€925
SAVE €50*

Contact

1708297200
100
February 2024
02/19/2024
19 Feb 2024 - 01 Mar 2024
100 Hour Restorative Teacher Training
Rishikesh
€800
€925
SAVE €50*

Contact

1709247600
100
March 2024
03/01/2024
01 Mar 2024 - 12 Mar 2024
100 Hour Restorative Teacher Training
Rishikesh
€800
€925
SAVE €50*

Contact

1710802800
100
March 2024
03/19/2024
19 Mar 2024 - 30 Mar 2024
100 Hour Restorative Teacher Training
Rishikesh
€800
€925
SAVE €50*

Contact

1711922400
100
April 2024
04/01/2024
01 Apr 2024 - 12 Apr 2024
100 Hour Restorative Teacher Training
Rishikesh
€800
€925
SAVE €50*

Contact

1713477600
100
April 2024
04/19/2024
19 Apr 2024 - 30 Apr 2024
100 Hour Restorative Teacher Training
Rishikesh
€800
€925
SAVE €50*

Contact

1714514400
100
May 2024
05/01/2024
01 May 2024 - 12 May 2024
100 Hour Restorative Teacher Training
Rishikesh
€800
€925
SAVE €50*

Contact

1716069600
100
May 2024
05/19/2024
19 May 2024 - 30 May 2024
100 Hour Restorative Teacher Training
Rishikesh
€800
€925
SAVE €50*

Contact

1717192800
100
June 2024
06/01/2024
01 Jun 2024 - 12 Jun 2024
100 Hour Restorative Teacher Training
Rishikesh
€800
€925
SAVE €50*

Contact

1718748000
100
June 2024
06/19/2024
19 Jun 2024 - 30 Jun 2024
100 Hour Restorative Teacher Training
Rishikesh
€800
€925
SAVE €50*

Contact

1719784800
100
July 2024
07/01/2024
01 Jul 2024 - 12 Jul 2024
100 Hour Restorative Teacher Training
Rishikesh
€800
€925
SAVE €50*

Contact

1721340000
100
July 2024
07/19/2024
19 Jul 2024 - 30 Jul 2024
100 Hour Restorative Teacher Training
Rishikesh
€800
€925
SAVE €50*

Contact

1722463200
100
August 2024
08/01/2024
01 Aug 2024 - 12 Aug 2024
100 Hour Restorative Teacher Training
Rishikesh
€800
€925
SAVE €50*

Contact

1724018400
100
August 2024
08/19/2024
19 Aug 2024 - 30 Aug 2024
100 Hour Restorative Teacher Training
Rishikesh
€800
€925
SAVE €50*

Contact

1725141600
100
September 2024
09/01/2024
01 Sep 2024 - 12 Sep 2024
100 Hour Restorative Teacher Training
Rishikesh
€800
€925
SAVE €50*

Contact

1726696800
100
September 2024
09/19/2024
19 Sep 2024 - 30 Sep 2024
100 Hour Restorative Teacher Training
Rishikesh
€800
€925
SAVE €50*

Contact

1727733600
100
October 2024
10/01/2024
01 Oct 2024 - 12 Oct 2024
100 Hour Restorative Teacher Training
Rishikesh
€800
€925
SAVE €50*

Contact

1701385200
100
December 2023
12/01/2023
01 Dec 2023 - 12 Dec 2023
100 Hour Therapeutic Teacher Training
Rishikesh
€800
€925
SAVE €50*

Contact

1702940400
100
December 2023
12/19/2023
19 Dec 2023 - 30 Dec 2023
100 Hour Therapeutic Teacher Training
Rishikesh
€800
€925
SAVE €50*

Contact

1704063600
100
January 2024
01/01/2024
01 Jan 2024 - 12 Jan 2024
100 Hour Therapeutic Teacher Training
Rishikesh
€800
€925
SAVE €50*

Contact

1705618800
100
January 2024
01/19/2024
19 Jan 2024 - 30 Jan 2024
100 Hour Therapeutic Teacher Training
Rishikesh
€800
€925
SAVE €50*

Contact

1706742000
100
February 2024
02/01/2024
01 Feb 2024 - 12 Feb 2024
100 Hour Therapeutic Teacher Training
Rishikesh
€800
€925
SAVE €50*

Contact

1708297200
100
February 2024
02/19/2024
19 Feb 2024 - 01 Mar 2024
100 Hour Therapeutic Teacher Training
Rishikesh
€800
€925
SAVE €50*

Contact

1709247600
100
March 2024
03/01/2024
01 Mar 2024 - 12 Mar 2024
100 Hour Therapeutic Teacher Training
Rishikesh
€800
€925
SAVE €50*

Contact

1710802800
100
March 2024
03/19/2024
19 Mar 2024 - 30 Mar 2024
100 Hour Therapeutic Teacher Training
Rishikesh
€800
€925
SAVE €50*

Contact

1711922400
100
April 2024
04/01/2024
01 Apr 2024 - 12 Apr 2024
100 Hour Therapeutic Teacher Training
Rishikesh
€800
€925
SAVE €50*

Contact

1713477600
100
April 2024
04/19/2024
19 Apr 2024 - 30 Apr 2024
100 Hour Therapeutic Teacher Training
Rishikesh
€800
€925
SAVE €50*

Contact

1714514400
100
May 2024
05/01/2024
01 May 2024 - 12 May 2024
100 Hour Therapeutic Teacher Training
Rishikesh
€800
€925
SAVE €50*

Contact

1716069600
100
May 2024
05/19/2024
19 May 2024 - 30 May 2024
100 Hour Therapeutic Teacher Training
Rishikesh
€800
€925
SAVE €50*

Contact

1717192800
100
June 2024
06/01/2024
01 Jun 2024 - 12 Jun 2024
100 Hour Therapeutic Teacher Training
Rishikesh
€800
€925
SAVE €50*

Contact

1718748000
100
June 2024
06/19/2024
19 Jun 2024 - 30 Jun 2024
100 Hour Therapeutic Teacher Training
Rishikesh
€800
€925
SAVE €50*

Contact

1719784800
100
July 2024
07/01/2024
01 Jul 2024 - 12 Jul 2024
100 Hour Therapeutic Teacher Training
Rishikesh
€800
€925
SAVE €50*

Contact

1721340000
100
July 2024
07/19/2024
19 Jul 2024 - 30 Jul 2024
100 Hour Therapeutic Teacher Training
Rishikesh
€800
€925
SAVE €50*

Contact

1722463200
100
August 2024
08/01/2024
01 Aug 2024 - 12 Aug 2024
100 Hour Therapeutic Teacher Training
Rishikesh
€800
€925
SAVE €50*

Contact

1724018400
100
August 2024
08/19/2024
19 Aug 2024 - 30 Aug 2024
100 Hour Therapeutic Teacher Training
Rishikesh
€800
€925
SAVE €50*

Contact

1725141600
100
September 2024
09/01/2024
01 Sep 2024 - 12 Sep 2024
100 Hour Therapeutic Teacher Training
Rishikesh
€800
€925
SAVE €50*

Contact

1726696800
100
September 2024
09/19/2024
19 Sep 2024 - 30 Sep 2024
100 Hour Therapeutic Teacher Training
Rishikesh
€800
€925
SAVE €50*

Contact

1727733600
100
October 2024
10/01/2024
01 Oct 2024 - 12 Oct 2024
100 Hour Therapeutic Teacher Training
Rishikesh
€800
€925
SAVE €50*

Contact

1701385200
100
December 2023
12/01/2023
01 Dec 2023 - 12 Dec 2023
100 Hour Yin Yoga Teacher Training
Rishikesh
€800
€925
SAVE €50*

Contact

1702940400
100
December 2023
12/19/2023
19 Dec 2023 - 30 Dec 2023
100 Hour Yin Yoga Teacher Training
Rishikesh
€800
€925
SAVE €50*

Contact

1704063600
100
January 2024
01/01/2024
01 Jan 2024 - 12 Jan 2024
100 Hour Yin Yoga Teacher Training
Rishikesh
€800
€925
SAVE €50*

Contact

1705618800
100
January 2024
01/19/2024
19 Jan 2024 - 30 Jan 2024
100 Hour Yin Yoga Teacher Training
Rishikesh
€800
€925
SAVE €50*

Contact

1706742000
100
February 2024
02/01/2024
01 Feb 2024 - 12 Feb 2024
100 Hour Yin Yoga Teacher Training
Rishikesh
€800
€925
SAVE €50*

Contact

1708297200
100
February 2024
02/19/2024
19 Feb 2024 - 01 Mar 2024
100 Hour Yin Yoga Teacher Training
Rishikesh
€800
€925
SAVE €50*

Contact

1709247600
100
March 2024
03/01/2024
01 Mar 2024 - 12 Mar 2024
100 Hour Yin Yoga Teacher Training
Rishikesh
€800
€925
SAVE €50*

Contact

1710802800
100
March 2024
03/19/2024
19 Mar 2024 - 30 Mar 2024
100 Hour Yin Yoga Teacher Training
Rishikesh
€800
€925
SAVE €50*

Contact

1711922400
100
April 2024
04/01/2024
01 Apr 2024 - 12 Apr 2024
100 Hour Yin Yoga Teacher Training
Rishikesh
€800
€925
SAVE €50*

Contact

1713477600
100
April 2024
04/19/2024
19 Apr 2024 - 30 Apr 2024
100 Hour Yin Yoga Teacher Training
Rishikesh
€800
€925
SAVE €50*

Contact

1714514400
100
May 2024
05/01/2024
01 May 2024 - 12 May 2024
100 Hour Yin Yoga Teacher Training
Rishikesh
€800
€925
SAVE €50*

Contact

1716069600
100
May 2024
05/19/2024
19 May 2024 - 30 May 2024
100 Hour Yin Yoga Teacher Training
Rishikesh
€800
€925
SAVE €50*

Contact

1717192800
100
June 2024
06/01/2024
01 Jun 2024 - 12 Jun 2024
100 Hour Yin Yoga Teacher Training
Rishikesh
€800
€925
SAVE €50*

Contact

1718748000
100
June 2024
06/19/2024
19 Jun 2024 - 30 Jun 2024
100 Hour Yin Yoga Teacher Training
Rishikesh
€800
€925
SAVE €50*

Contact

1719784800
100
July 2024
07/01/2024
01 Jul 2024 - 12 Jul 2024
100 Hour Yin Yoga Teacher Training
Rishikesh
€800
€925
SAVE €50*

Contact

1721340000
100
July 2024
07/19/2024
19 Jul 2024 - 30 Jul 2024
100 Hour Yin Yoga Teacher Training
Rishikesh
€800
€925
SAVE €50*

Contact

1722463200
100
August 2024
08/01/2024
01 Aug 2024 - 12 Aug 2024
100 Hour Yin Yoga Teacher Training
Rishikesh
€800
€925
SAVE €50*

Contact

1724018400
100
August 2024
08/19/2024
19 Aug 2024 - 30 Aug 2024
100 Hour Yin Yoga Teacher Training
Rishikesh
€800
€925
SAVE €50*

Contact

1725141600
100
September 2024
09/01/2024
01 Sep 2024 - 12 Sep 2024
100 Hour Yin Yoga Teacher Training
Rishikesh
€800
€925
SAVE €50*

Contact

1726696800
100
September 2024
09/19/2024
19 Sep 2024 - 30 Sep 2024
100 Hour Yin Yoga Teacher Training
Rishikesh
€800
€925
SAVE €50*

Contact

1727733600
100
October 2024
10/01/2024
01 Oct 2024 - 12 Oct 2024
100 Hour Yin Yoga Teacher Training
Rishikesh
€800
€925
SAVE €50*

Contact

50
January 2024,February 2024,March 2024,April 2024,May 2024,June 2024,July 2024,August 2024,September 2024,October 2023,November 2023,December 2023
Every Monday to Saturday
50 Hour Yin Yoga Teacher Training
Rishikesh
€550
€675
SAVE €50*

Contact

50
January 2024,February 2024,March 2024,April 2024,May 2024,June 2024,July 2024,August 2024,September 2024,October 2023,November 2023,December 2023
Every Monday to Saturday
50 Hour Yoga Nidra Teacher Training
Rishikesh
€550
€675
SAVE €50*

Contact

1710025200
500
March 2024
03/10/2024
10 Mar 2024 - 03 May 2024
500 Hour Ashtanga Yoga Teacher Training
Dharamsala
€3,300
€3,600
SAVE €200*

Contact

1712181600
500
April 2024
04/04/2024
04 Apr 2024 - 28 May 2024
500 Hour Ashtanga Yoga Teacher Training
Dharamsala
€3,300
€3,600
SAVE €200*

Contact

1714341600
500
April 2024
04/29/2024
29 Apr 2024 - 22 Jun 2024
500 Hour Ashtanga Yoga Teacher Training
Dharamsala
€3,300
€3,600
SAVE €200*

Contact

1716501600
500
May 2024
05/24/2024
24 May 2024 - 17 Jul 2024
500 Hour Ashtanga Yoga Teacher Training
Dharamsala
€3,300
€3,600
SAVE €200*

Contact

1718661600
500
June 2024
06/18/2024
18 Jun 2024 - 11 Aug 2024
500 Hour Ashtanga Yoga Teacher Training
Dharamsala
€3,300
€3,600
SAVE €200*

Contact

1720821600
500
July 2024
07/13/2024
13 Jul 2024 - 05 Sep 2024
500 Hour Ashtanga Yoga Teacher Training
Dharamsala
€3,300
€3,600
SAVE €200*

Contact

1722981600
500
August 2024
08/07/2024
07 Aug 2024 - 30 Sep 2024
500 Hour Ashtanga Yoga Teacher Training
Dharamsala
€3,300
€3,600
SAVE €200*

Contact

1710025200
500
March 2024
03/10/2024
10 Mar 2024 - 03 May 2024
500 Hour Hatha Yoga Teacher Training
Dharamsala
€3,300
€3,600
SAVE €200*

Contact

1712181600
500
April 2024
04/04/2024
04 Apr 2024 - 28 May 2024
500 Hour Hatha Yoga Teacher Training
Dharamsala
€3,300
€3,600
SAVE €200*

Contact

1714341600
500
April 2024
04/29/2024
29 Apr 2024 - 22 Jun 2024
500 Hour Hatha Yoga Teacher Training
Dharamsala
€3,300
€3,600
SAVE €200*

Contact

1716501600
500
May 2024
05/24/2024
24 May 2024 - 17 Jul 2024
500 Hour Hatha Yoga Teacher Training
Dharamsala
€3,300
€3,600
SAVE €200*

Contact

1718661600
500
June 2024
06/18/2024
18 Jun 2024 - 11 Aug 2024
500 Hour Hatha Yoga Teacher Training
Dharamsala
€3,300
€3,600
SAVE €200*

Contact

1720821600
500
July 2024
07/13/2024
13 Jul 2024 - 05 Sep 2024
500 Hour Hatha Yoga Teacher Training
Dharamsala
€3,300
€3,600
SAVE €200*

Contact

1722981600
500
August 2024
08/07/2024
07 Aug 2024 - 30 Sep 2024
500 Hour Hatha Yoga Teacher Training
Dharamsala
€3,300
€3,600
SAVE €200*

Contact

1710025200
500
March 2024
03/10/2024
10 Mar 2024 - 03 May 2024
500 Hour Multistyle Yoga Teacher Training
Dharamsala
€3,300
€3,600
SAVE €200*

Contact

1712181600
500
April 2024
04/04/2024
04 Apr 2024 - 28 May 2024
500 Hour Multistyle Yoga Teacher Training
Dharamsala
€3,300
€3,600
SAVE €200*

Contact

1714341600
500
April 2024
04/29/2024
29 Apr 2024 - 22 Jun 2024
500 Hour Multistyle Yoga Teacher Training
Dharamsala
€3,300
€3,600
SAVE €200*

Contact

1716501600
500
May 2024
05/24/2024
24 May 2024 - 17 Jul 2024
500 Hour Multistyle Yoga Teacher Training
Dharamsala
€3,300
€3,600
SAVE €200*

Contact

1718661600
500
June 2024
06/18/2024
18 Jun 2024 - 11 Aug 2024
500 Hour Multistyle Yoga Teacher Training
Dharamsala
€3,300
€3,600
SAVE €200*

Contact

1720821600
500
July 2024
07/13/2024
13 Jul 2024 - 05 Sep 2024
500 Hour Multistyle Yoga Teacher Training
Dharamsala
€3,300
€3,600
SAVE €200*

Contact

1722981600
500
August 2024
08/07/2024
07 Aug 2024 - 30 Sep 2024
500 Hour Multistyle Yoga Teacher Training
Dharamsala
€3,300
€3,600
SAVE €200*

Contact

1710025200
500
March 2024
03/10/2024
10 Mar 2024 - 03 May 2024
500 Hour Restorative Yoga Teacher Training
Dharamsala
€3,300
€3,600
SAVE €200*

Contact

1712181600
500
April 2024
04/04/2024
04 Apr 2024 - 28 May 2024
500 Hour Restorative Yoga Teacher Training
Dharamsala
€3,300
€3,600
SAVE €200*

Contact

1714341600
500
April 2024
04/29/2024
29 Apr 2024 - 22 Jun 2024
500 Hour Restorative Yoga Teacher Training
Dharamsala
€3,300
€3,600
SAVE €200*

Contact

1716501600
500
May 2024
05/24/2024
24 May 2024 - 17 Jul 2024
500 Hour Restorative Yoga Teacher Training
Dharamsala
€3,300
€3,600
SAVE €200*

Contact

1718661600
500
June 2024
06/18/2024
18 Jun 2024 - 11 Aug 2024
500 Hour Restorative Yoga Teacher Training
Dharamsala
€3,300
€3,600
SAVE €200*

Contact

1720821600
500
July 2024
07/13/2024
13 Jul 2024 - 05 Sep 2024
500 Hour Restorative Yoga Teacher Training
Dharamsala
€3,300
€3,600
SAVE €200*

Contact

1722981600
500
August 2024
08/07/2024
07 Aug 2024 - 30 Sep 2024
500 Hour Restorative Yoga Teacher Training
Dharamsala
€3,300
€3,600
SAVE €200*

Contact

1710025200
500
March 2024
03/10/2024
10 Mar 2024 - 03 May 2024
500 Hour Therapeutic Yoga Teacher Training
Dharamsala
€3,300
€3,600
SAVE €200*

Contact

1712181600
500
April 2024
04/04/2024
04 Apr 2024 - 28 May 2024
500 Hour Therapeutic Yoga Teacher Training
Dharamsala
€3,300
€3,600
SAVE €200*

Contact

1714341600
500
April 2024
04/29/2024
29 Apr 2024 - 22 Jun 2024
500 Hour Therapeutic Yoga Teacher Training
Dharamsala
€3,300
€3,600
SAVE €200*

Contact

1716501600
500
May 2024
05/24/2024
24 May 2024 - 17 Jul 2024
500 Hour Therapeutic Yoga Teacher Training
Dharamsala
€3,300
€3,600
SAVE €200*

Contact

1718661600
500
June 2024
06/18/2024
18 Jun 2024 - 11 Aug 2024
500 Hour Therapeutic Yoga Teacher Training
Dharamsala
€3,300
€3,600
SAVE €200*

Contact

1720821600
500
July 2024
07/13/2024
13 Jul 2024 - 05 Sep 2024
500 Hour Therapeutic Yoga Teacher Training
Dharamsala
€3,300
€3,600
SAVE €200*

Contact

1722981600
500
August 2024
08/07/2024
07 Aug 2024 - 30 Sep 2024
500 Hour Therapeutic Yoga Teacher Training
Dharamsala
€3,300
€3,600
SAVE €200*

Contact

1710025200
500
March 2024
03/10/2024
10 Mar 2024 - 03 May 2024
500 Hour Vinyasa Yoga Teacher Training
Dharamsala
€3,300
€3,600
SAVE €200*

Contact

1712181600
500
April 2024
04/04/2024
04 Apr 2024 - 28 May 2024
500 Hour Vinyasa Yoga Teacher Training
Dharamsala
€3,300
€3,600
SAVE €200*

Contact

1714341600
500
April 2024
04/29/2024
29 Apr 2024 - 22 Jun 2024
500 Hour Vinyasa Yoga Teacher Training
Dharamsala
€3,300
€3,600
SAVE €200*

Contact

1716501600
500
May 2024
05/24/2024
24 May 2024 - 17 Jul 2024
500 Hour Vinyasa Yoga Teacher Training
Dharamsala
€3,300
€3,600
SAVE €200*

Contact

1718661600
500
June 2024
06/18/2024
18 Jun 2024 - 11 Aug 2024
500 Hour Vinyasa Yoga Teacher Training
Dharamsala
€3,300
€3,600
SAVE €200*

Contact

1720821600
500
July 2024
07/13/2024
13 Jul 2024 - 05 Sep 2024
500 Hour Vinyasa Yoga Teacher Training
Dharamsala
€3,300
€3,600
SAVE €200*

Contact

1722981600
500
August 2024
08/07/2024
07 Aug 2024 - 30 Sep 2024
500 Hour Vinyasa Yoga Teacher Training
Dharamsala
€3,300
€3,600
SAVE €200*

Contact

1710025200
500
March 2024
03/10/2024
10 Mar 2024 - 03 May 2024
500 Hour Yin Yoga Teacher Training
Dharamsala
€3,300
€3,600
SAVE €200*

Contact

1712181600
500
April 2024
04/04/2024
04 Apr 2024 - 28 May 2024
500 Hour Yin Yoga Teacher Training
Dharamsala
€3,300
€3,600
SAVE €200*

Contact

1714341600
500
April 2024
04/29/2024
29 Apr 2024 - 22 Jun 2024
500 Hour Yin Yoga Teacher Training
Dharamsala
€3,300
€3,600
SAVE €200*

Contact

1716501600
500
May 2024
05/24/2024
24 May 2024 - 17 Jul 2024
500 Hour Yin Yoga Teacher Training
Dharamsala
€3,300
€3,600
SAVE €200*

Contact

1718661600
500
June 2024
06/18/2024
18 Jun 2024 - 11 Aug 2024
500 Hour Yin Yoga Teacher Training
Dharamsala
€3,300
€3,600
SAVE €200*

Contact

1720821600
500
July 2024
07/13/2024
13 Jul 2024 - 05 Sep 2024
500 Hour Yin Yoga Teacher Training
Dharamsala
€3,300
€3,600
SAVE €200*

Contact

1722981600
500
August 2024
08/07/2024
07 Aug 2024 - 30 Sep 2024
500 Hour Yin Yoga Teacher Training
Dharamsala
€3,300
€3,600
SAVE €200*

Contact

1704063600
300
January 2024
01/01/2024
01 Jan 2024 - 30 Jan 2024
300 Hour Ashtanga Yoga Teacher Training
Dharamsala
€2,100
€2,350
SAVE €150*

Contact

1706742000
300
February 2024
02/01/2024
01 Feb 2024 - 01 Mar 2024
300 Hour Ashtanga Yoga Teacher Training
Dharamsala
€2,100
€2,350
SAVE €150*

Contact

1709247600
300
March 2024
03/01/2024
01 Mar 2024 - 30 Mar 2024
300 Hour Ashtanga Yoga Teacher Training
Dharamsala
€2,100
€2,350
SAVE €150*

Contact

1711922400
300
April 2024
04/01/2024
01 Apr 2024 - 30 Apr 2024
300 Hour Ashtanga Yoga Teacher Training
Dharamsala
€2,100
€2,350
SAVE €150*

Contact

1714514400
300
May 2024
05/01/2024
01 May 2024 - 30 May 2024
300 Hour Ashtanga Yoga Teacher Training
Dharamsala
€2,100
€2,350
SAVE €150*

Contact

1717192800
300
June 2024
06/01/2024
01 Jun 2024 - 30 Jun 2024
300 Hour Ashtanga Yoga Teacher Training
Dharamsala
€2,100
€2,350
SAVE €150*

Contact

1719784800
300
July 2024
07/01/2024
01 Jul 2024 - 30 Jul 2024
300 Hour Ashtanga Yoga Teacher Training
Dharamsala
€2,100
€2,350
SAVE €150*

Contact

1722463200
300
August 2024
08/01/2024
01 Aug 2024 - 30 Aug 2024
300 Hour Ashtanga Yoga Teacher Training
Dharamsala
€2,100
€2,350
SAVE €150*

Contact

1725141600
300
September 2024
09/01/2024
01 Sep 2024 - 30 Sep 2024
300 Hour Ashtanga Yoga Teacher Training
Dharamsala
€2,100
€2,350
SAVE €150*

Contact

1727733600
300
October 2024
10/01/2024
01 Oct 2024 - 30 Oct 2024
300 Hour Ashtanga Yoga Teacher Training
Dharamsala
€2,100
€2,350
SAVE €150*

Contact

1704063600
300
January 2024
01/01/2024
01 Jan 2024 - 30 Jan 2024
300 Hour Hatha Yoga Teacher Training
Dharamsala
€2,100
€2,350
SAVE €150*

Contact

1706742000
300
February 2024
02/01/2024
01 Feb 2024 - 01 Mar 2024
300 Hour Hatha Yoga Teacher Training
Dharamsala
€2,100
€2,350
SAVE €150*

Contact

1709247600
300
March 2024
03/01/2024
01 Mar 2024 - 30 Mar 2024
300 Hour Hatha Yoga Teacher Training
Dharamsala
€2,100
€2,350
SAVE €150*

Contact

1711922400
300
April 2024
04/01/2024
01 Apr 2024 - 30 Apr 2024
300 Hour Hatha Yoga Teacher Training
Dharamsala
€2,100
€2,350
SAVE €150*

Contact

1714514400
300
May 2024
05/01/2024
01 May 2024 - 30 May 2024
300 Hour Hatha Yoga Teacher Training
Dharamsala
€2,100
€2,350
SAVE €150*

Contact

1717192800
300
June 2024
06/01/2024
01 Jun 2024 - 30 Jun 2024
300 Hour Hatha Yoga Teacher Training
Dharamsala
€2,100
€2,350
SAVE €150*

Contact

1719784800
300
July 2024
07/01/2024
01 Jul 2024 - 30 Jul 2024
300 Hour Hatha Yoga Teacher Training
Dharamsala
€2,100
€2,350
SAVE €150*

Contact

1722463200
300
August 2024
08/01/2024
01 Aug 2024 - 30 Aug 2024
300 Hour Hatha Yoga Teacher Training
Dharamsala
€2,100
€2,350
SAVE €150*

Contact

1725141600
300
September 2024
09/01/2024
01 Sep 2024 - 30 Sep 2024
300 Hour Hatha Yoga Teacher Training
Dharamsala
€2,100
€2,350
SAVE €150*

Contact

1727733600
300
October 2024
10/01/2024
01 Oct 2024 - 30 Oct 2024
300 Hour Hatha Yoga Teacher Training
Dharamsala
€2,100
€2,350
SAVE €150*

Contact

1704063600
300
January 2024
01/01/2024
01 Jan 2024 - 30 Jan 2024
300 Hour Multistyle Yoga Teacher Training
Dharamsala
€2,100
€2,350
SAVE €150*

Contact

1706742000
300
February 2024
02/01/2024
01 Feb 2024 - 01 Mar 2024
300 Hour Multistyle Yoga Teacher Training
Dharamsala
€2,100
€2,350
SAVE €150*

Contact

1709247600
300
March 2024
03/01/2024
01 Mar 2024 - 30 Mar 2024
300 Hour Multistyle Yoga Teacher Training
Dharamsala
€2,100
€2,350
SAVE €150*

Contact

1711922400
300
April 2024
04/01/2024
01 Apr 2024 - 30 Apr 2024
300 Hour Multistyle Yoga Teacher Training
Dharamsala
€2,100
€2,350
SAVE €150*

Contact

1714514400
300
May 2024
05/01/2024
01 May 2024 - 30 May 2024
300 Hour Multistyle Yoga Teacher Training
Dharamsala
€2,100
€2,350
SAVE €150*

Contact

1717192800
300
June 2024
06/01/2024
01 Jun 2024 - 30 Jun 2024
300 Hour Multistyle Yoga Teacher Training
Dharamsala
€2,100
€2,350
SAVE €150*

Contact

1719784800
300
July 2024
07/01/2024
01 Jul 2024 - 30 Jul 2024
300 Hour Multistyle Yoga Teacher Training
Dharamsala
€2,100
€2,350
SAVE €150*

Contact

1722463200
300
August 2024
08/01/2024
01 Aug 2024 - 30 Aug 2024
300 Hour Multistyle Yoga Teacher Training
Dharamsala
€2,100
€2,350
SAVE €150*

Contact

1725141600
300
September 2024
09/01/2024
01 Sep 2024 - 30 Sep 2024
300 Hour Multistyle Yoga Teacher Training
Dharamsala
€2,100
€2,350
SAVE €150*

Contact

1727733600
300
October 2024
10/01/2024
01 Oct 2024 - 30 Oct 2024
300 Hour Multistyle Yoga Teacher Training
Dharamsala
€2,100
€2,350
SAVE €150*

Contact

1704063600
300
January 2024
01/01/2024
01 Jan 2024 - 30 Jan 2024
300 Hour Restorative Yoga Teacher Training
Dharamsala
€2,100
€2,350
SAVE €150*

Contact

1706742000
300
February 2024
02/01/2024
01 Feb 2024 - 01 Mar 2024
300 Hour Restorative Yoga Teacher Training
Dharamsala
€2,100
€2,350
SAVE €150*

Contact

1709247600
300
March 2024
03/01/2024
01 Mar 2024 - 30 Mar 2024
300 Hour Restorative Yoga Teacher Training
Dharamsala
€2,100
€2,350
SAVE €150*

Contact

1711922400
300
April 2024
04/01/2024
01 Apr 2024 - 30 Apr 2024
300 Hour Restorative Yoga Teacher Training
Dharamsala
€2,100
€2,350
SAVE €150*

Contact

1714514400
300
May 2024
05/01/2024
01 May 2024 - 30 May 2024
300 Hour Restorative Yoga Teacher Training
Dharamsala
€2,100
€2,350
SAVE €150*

Contact

1717192800
300
June 2024
06/01/2024
01 Jun 2024 - 30 Jun 2024
300 Hour Restorative Yoga Teacher Training
Dharamsala
€2,100
€2,350
SAVE €150*

Contact

1719784800
300
July 2024
07/01/2024
01 Jul 2024 - 30 Jul 2024
300 Hour Restorative Yoga Teacher Training
Dharamsala
€2,100
€2,350
SAVE €150*

Contact

1722463200
300
August 2024
08/01/2024
01 Aug 2024 - 30 Aug 2024
300 Hour Restorative Yoga Teacher Training
Dharamsala
€2,100
€2,350
SAVE €150*

Contact

1725141600
300
September 2024
09/01/2024
01 Sep 2024 - 30 Sep 2024
300 Hour Restorative Yoga Teacher Training
Dharamsala
€2,100
€2,350
SAVE €150*

Contact

1727733600
300
October 2024
10/01/2024
01 Oct 2024 - 30 Oct 2024
300 Hour Restorative Yoga Teacher Training
Dharamsala
€2,100
€2,350
SAVE €150*

Contact

1704063600
300
January 2024
01/01/2024
01 Jan 2024 - 30 Jan 2024
300 Hour Therapeutic Yoga Teacher Training
Dharamsala
€2,100
€2,350
SAVE €150*

Contact

1706742000
300
February 2024
02/01/2024
01 Feb 2024 - 01 Mar 2024
300 Hour Therapeutic Yoga Teacher Training
Dharamsala
€2,100
€2,350
SAVE €150*

Contact

1709247600
300
March 2024
03/01/2024
01 Mar 2024 - 30 Mar 2024
300 Hour Therapeutic Yoga Teacher Training
Dharamsala
€2,100
€2,350
SAVE €150*

Contact

1711922400
300
April 2024
04/01/2024
01 Apr 2024 - 30 Apr 2024
300 Hour Therapeutic Yoga Teacher Training
Dharamsala
€2,100
€2,350
SAVE €150*

Contact

1714514400
300
May 2024
05/01/2024
01 May 2024 - 30 May 2024
300 Hour Therapeutic Yoga Teacher Training
Dharamsala
€2,100
€2,350
SAVE €150*

Contact

1717192800
300
June 2024
06/01/2024
01 Jun 2024 - 30 Jun 2024
300 Hour Therapeutic Yoga Teacher Training
Dharamsala
€2,100
€2,350
SAVE €150*

Contact

1719784800
300
July 2024
07/01/2024
01 Jul 2024 - 30 Jul 2024
300 Hour Therapeutic Yoga Teacher Training
Dharamsala
€2,100
€2,350
SAVE €150*

Contact

1722463200
300
August 2024
08/01/2024
01 Aug 2024 - 30 Aug 2024
300 Hour Therapeutic Yoga Teacher Training
Dharamsala
€2,100
€2,350
SAVE €150*

Contact

1725141600
300
September 2024
09/01/2024
01 Sep 2024 - 30 Sep 2024
300 Hour Therapeutic Yoga Teacher Training
Dharamsala
€2,100
€2,350
SAVE €150*

Contact

1727733600
300
October 2024
10/01/2024
01 Oct 2024 - 30 Oct 2024
300 Hour Therapeutic Yoga Teacher Training
Dharamsala
€2,100
€2,350
SAVE €150*

Contact

1704063600
300
January 2024
01/01/2024
01 Jan 2024 - 30 Jan 2024
300 Hour Vinyasa Yoga Teacher Training
Dharamsala
€2,100
€2,350
SAVE €150*

Contact

1706742000
300
February 2024
02/01/2024
01 Feb 2024 - 01 Mar 2024
300 Hour Vinyasa Yoga Teacher Training
Dharamsala
€2,100
€2,350
SAVE €150*

Contact

1709247600
300
March 2024
03/01/2024
01 Mar 2024 - 30 Mar 2024
300 Hour Vinyasa Yoga Teacher Training
Dharamsala
€2,100
€2,350
SAVE €150*

Contact

1711922400
300
April 2024
04/01/2024
01 Apr 2024 - 30 Apr 2024
300 Hour Vinyasa Yoga Teacher Training
Dharamsala
€2,100
€2,350
SAVE €150*

Contact

1714514400
300
May 2024
05/01/2024
01 May 2024 - 30 May 2024
300 Hour Vinyasa Yoga Teacher Training
Dharamsala
€2,100
€2,350
SAVE €150*

Contact

1717192800
300
June 2024
06/01/2024
01 Jun 2024 - 30 Jun 2024
300 Hour Vinyasa Yoga Teacher Training
Dharamsala
€2,100
€2,350
SAVE €150*

Contact

1719784800
300
July 2024
07/01/2024
01 Jul 2024 - 30 Jul 2024
300 Hour Vinyasa Yoga Teacher Training
Dharamsala
€2,100
€2,350
SAVE €150*

Contact

1722463200
300
August 2024
08/01/2024
01 Aug 2024 - 30 Aug 2024
300 Hour Vinyasa Yoga Teacher Training
Dharamsala
€2,100
€2,350
SAVE €150*

Contact

1725141600
300
September 2024
09/01/2024
01 Sep 2024 - 30 Sep 2024
300 Hour Vinyasa Yoga Teacher Training
Dharamsala
€2,100
€2,350
SAVE €150*

Contact

1727733600
300
October 2024
10/01/2024
01 Oct 2024 - 30 Oct 2024
300 Hour Vinyasa Yoga Teacher Training
Dharamsala
€2,100
€2,350
SAVE €150*

Contact

1704063600
300
January 2024
01/01/2024
01 Jan 2024 - 30 Jan 2024
300 Hour Yin Yoga Teacher Training
Dharamsala
€2,100
€2,350
SAVE €150*

Contact

1706742000
300
February 2024
02/01/2024
01 Feb 2024 - 01 Mar 2024
300 Hour Yin Yoga Teacher Training
Dharamsala
€2,100
€2,350
SAVE €150*

Contact

1709247600
300
March 2024
03/01/2024
01 Mar 2024 - 30 Mar 2024
300 Hour Yin Yoga Teacher Training
Dharamsala
€2,100
€2,350
SAVE €150*

Contact

1711922400
300
April 2024
04/01/2024
01 Apr 2024 - 30 Apr 2024
300 Hour Yin Yoga Teacher Training
Dharamsala
€2,100
€2,350
SAVE €150*

Contact

1714514400
300
May 2024
05/01/2024
01 May 2024 - 30 May 2024
300 Hour Yin Yoga Teacher Training
Dharamsala
€2,100
€2,350
SAVE €150*

Contact

1717192800
300
June 2024
06/01/2024
01 Jun 2024 - 30 Jun 2024
300 Hour Yin Yoga Teacher Training
Dharamsala
€2,100
€2,350
SAVE €150*

Contact

1719784800
300
July 2024
07/01/2024
01 Jul 2024 - 30 Jul 2024
300 Hour Yin Yoga Teacher Training
Dharamsala
€2,100
€2,350
SAVE €150*

Contact

1722463200
300
August 2024
08/01/2024
01 Aug 2024 - 30 Aug 2024
300 Hour Yin Yoga Teacher Training
Dharamsala
€2,100
€2,350
SAVE €150*

Contact

1725141600
300
September 2024
09/01/2024
01 Sep 2024 - 30 Sep 2024
300 Hour Yin Yoga Teacher Training
Dharamsala
€2,100
€2,350
SAVE €150*

Contact

1727733600
300
October 2024
10/01/2024
01 Oct 2024 - 30 Oct 2024
300 Hour Yin Yoga Teacher Training
Dharamsala
€2,100
€2,350
SAVE €150*

Contact

1710025200
200
March 2024
03/10/2024
10 Mar 2024 - 03 Apr 2024
200 Hour Ashtanga Teacher Training
Dharamsala
€1,500
€1,750
SAVE €100*

Contact

1712181600
200
April 2024
04/04/2024
04 Apr 2024 - 28 Apr 2024
200 Hour Ashtanga Teacher Training
Dharamsala
€1,500
€1,750
SAVE €100*

Contact

1714341600
200
April 2024
04/29/2024
29 Apr 2024 - 23 May 2024
200 Hour Ashtanga Teacher Training
Dharamsala
€1,500
€1,750
SAVE €100*

Contact

1716501600
200
May 2024
05/24/2024
24 May 2024 - 17 Jun 2024
200 Hour Ashtanga Teacher Training
Dharamsala
€1,500
€1,750
SAVE €100*

Contact

1718661600
200
June 2024
06/18/2024
18 Jun 2024 - 12 Jul 2024
200 Hour Ashtanga Teacher Training
Dharamsala
€1,500
€1,750
SAVE €100*

Contact

1720821600
200
July 2024
07/13/2024
13 Jul 2024 - 06 Aug 2024
200 Hour Ashtanga Teacher Training
Dharamsala
€1,500
€1,750
SAVE €100*

Contact

1722981600
200
August 2024
08/07/2024
07 Aug 2024 - 31 Aug 2024
200 Hour Ashtanga Teacher Training
Dharamsala
€1,500
€1,750
SAVE €100*

Contact

1725141600
200
September 2024
09/01/2024
01 Sep 2024 - 25 Sep 2024
200 Hour Ashtanga Teacher Training
Dharamsala
€1,500
€1,750
SAVE €100*

Contact

1727301600
200
September 2024
09/26/2024
26 Sep 2024 - 20 Oct 2024
200 Hour Ashtanga Teacher Training
Dharamsala
€1,500
€1,750
SAVE €100*

Contact

1710025200
200
March 2024
03/10/2024
10 Mar 2024 - 03 Apr 2024
200 Hour Hatha Teacher Training
Dharamsala
€1,500
€1,750
SAVE €100*

Contact

1712181600
200
April 2024
04/04/2024
04 Apr 2024 - 28 Apr 2024
200 Hour Hatha Teacher Training
Dharamsala
€1,500
€1,750
SAVE €100*

Contact

1714341600
200
April 2024
04/29/2024
29 Apr 2024 - 23 May 2024
200 Hour Hatha Teacher Training
Dharamsala
€1,500
€1,750
SAVE €100*

Contact

1716501600
200
May 2024
05/24/2024
24 May 2024 - 17 Jun 2024
200 Hour Hatha Teacher Training
Dharamsala
€1,500
€1,750
SAVE €100*

Contact

1718661600
200
June 2024
06/18/2024
18 Jun 2024 - 12 Jul 2024
200 Hour Hatha Teacher Training
Dharamsala
€1,500
€1,750
SAVE €100*

Contact

1720821600
200
July 2024
07/13/2024
13 Jul 2024 - 06 Aug 2024
200 Hour Hatha Teacher Training
Dharamsala
€1,500
€1,750
SAVE €100*

Contact

1722981600
200
August 2024
08/07/2024
07 Aug 2024 - 31 Aug 2024
200 Hour Hatha Teacher Training
Dharamsala
€1,500
€1,750
SAVE €100*

Contact

1725141600
200
September 2024
09/01/2024
01 Sep 2024 - 25 Sep 2024
200 Hour Hatha Teacher Training
Dharamsala
€1,500
€1,750
SAVE €100*

Contact

1727301600
200
September 2024
09/26/2024
26 Sep 2024 - 20 Oct 2024
200 Hour Hatha Teacher Training
Dharamsala
€1,500
€1,750
SAVE €100*

Contact

1710025200
200
March 2024
03/10/2024
10 Mar 2024 - 03 Apr 2024
200 Hour Multistyle Teacher Training
Dharamsala
€1,500
€1,750
SAVE €100*

Contact

1712181600
200
April 2024
04/04/2024
04 Apr 2024 - 28 Apr 2024
200 Hour Multistyle Teacher Training
Dharamsala
€1,500
€1,750
SAVE €100*

Contact

1714341600
200
April 2024
04/29/2024
29 Apr 2024 - 23 May 2024
200 Hour Multistyle Teacher Training
Dharamsala
€1,500
€1,750
SAVE €100*

Contact

1716501600
200
May 2024
05/24/2024
24 May 2024 - 17 Jun 2024
200 Hour Multistyle Teacher Training
Dharamsala
€1,500
€1,750
SAVE €100*

Contact

1718661600
200
June 2024
06/18/2024
18 Jun 2024 - 12 Jul 2024
200 Hour Multistyle Teacher Training
Dharamsala
€1,500
€1,750
SAVE €100*

Contact

1720821600
200
July 2024
07/13/2024
13 Jul 2024 - 06 Aug 2024
200 Hour Multistyle Teacher Training
Dharamsala
€1,500
€1,750
SAVE €100*

Contact

1722981600
200
August 2024
08/07/2024
07 Aug 2024 - 31 Aug 2024
200 Hour Multistyle Teacher Training
Dharamsala
€1,500
€1,750
SAVE €100*

Contact

1725141600
200
September 2024
09/01/2024
01 Sep 2024 - 25 Sep 2024
200 Hour Multistyle Teacher Training
Dharamsala
€1,500
€1,750
SAVE €100*

Contact

1727301600
200
September 2024
09/26/2024
26 Sep 2024 - 20 Oct 2024
200 Hour Multistyle Teacher Training
Dharamsala
€1,500
€1,750
SAVE €100*

Contact

1710025200
200
March 2024
03/10/2024
10 Mar 2024 - 03 Apr 2024
200 Hour Restorative Teacher Training
Dharamsala
€1,500
€1,750
SAVE €100*

Contact

1712181600
200
April 2024
04/04/2024
04 Apr 2024 - 28 Apr 2024
200 Hour Restorative Teacher Training
Dharamsala
€1,500
€1,750
SAVE €100*

Contact

1714341600
200
April 2024
04/29/2024
29 Apr 2024 - 23 May 2024
200 Hour Restorative Teacher Training
Dharamsala
€1,500
€1,750
SAVE €100*

Contact

1716501600
200
May 2024
05/24/2024
24 May 2024 - 17 Jun 2024
200 Hour Restorative Teacher Training
Dharamsala
€1,500
€1,750
SAVE €100*

Contact

1718661600
200
June 2024
06/18/2024
18 Jun 2024 - 12 Jul 2024
200 Hour Restorative Teacher Training
Dharamsala
€1,500
€1,750
SAVE €100*

Contact

1720821600
200
July 2024
07/13/2024
13 Jul 2024 - 06 Aug 2024
200 Hour Restorative Teacher Training
Dharamsala
€1,500
€1,750
SAVE €100*

Contact

1722981600
200
August 2024
08/07/2024
07 Aug 2024 - 31 Aug 2024
200 Hour Restorative Teacher Training
Dharamsala
€1,500
€1,750
SAVE €100*

Contact

1725141600
200
September 2024
09/01/2024
01 Sep 2024 - 25 Sep 2024
200 Hour Restorative Teacher Training
Dharamsala
€1,500
€1,750
SAVE €100*

Contact

1727301600
200
September 2024
09/26/2024
26 Sep 2024 - 20 Oct 2024
200 Hour Restorative Teacher Training
Dharamsala
€1,500
€1,750
SAVE €100*

Contact

1710025200
200
March 2024
03/10/2024
10 Mar 2024 - 03 Apr 2024
200 Hour Therapeutic Teacher Training
Dharamsala
€1,500
€1,750
SAVE €100*

Contact

1712181600
200
April 2024
04/04/2024
04 Apr 2024 - 28 Apr 2024
200 Hour Therapeutic Teacher Training
Dharamsala
€1,500
€1,750
SAVE €100*

Contact

1714341600
200
April 2024
04/29/2024
29 Apr 2024 - 23 May 2024
200 Hour Therapeutic Teacher Training
Dharamsala
€1,500
€1,750
SAVE €100*

Contact

1716501600
200
May 2024
05/24/2024
24 May 2024 - 17 Jun 2024
200 Hour Therapeutic Teacher Training
Dharamsala
€1,500
€1,750
SAVE €100*

Contact

1718661600
200
June 2024
06/18/2024
18 Jun 2024 - 12 Jul 2024
200 Hour Therapeutic Teacher Training
Dharamsala
€1,500
€1,750
SAVE €100*

Contact

1720821600
200
July 2024
07/13/2024
13 Jul 2024 - 06 Aug 2024
200 Hour Therapeutic Teacher Training
Dharamsala
€1,500
€1,750
SAVE €100*

Contact

1722981600
200
August 2024
08/07/2024
07 Aug 2024 - 31 Aug 2024
200 Hour Therapeutic Teacher Training
Dharamsala
€1,500
€1,750
SAVE €100*

Contact

1725141600
200
September 2024
09/01/2024
01 Sep 2024 - 25 Sep 2024
200 Hour Therapeutic Teacher Training
Dharamsala
€1,500
€1,750
SAVE €100*

Contact

1727301600
200
September 2024
09/26/2024
26 Sep 2024 - 20 Oct 2024
200 Hour Therapeutic Teacher Training
Dharamsala
€1,500
€1,750
SAVE €100*

Contact

1710025200
200
March 2024
03/10/2024
10 Mar 2024 - 03 Apr 2024
200 Hour Vinyasa Teacher Training
Dharamsala
€1,500
€1,750
SAVE €100*

Contact

1712181600
200
April 2024
04/04/2024
04 Apr 2024 - 28 Apr 2024
200 Hour Vinyasa Teacher Training
Dharamsala
€1,500
€1,750
SAVE €100*

Contact

1714341600
200
April 2024
04/29/2024
29 Apr 2024 - 23 May 2024
200 Hour Vinyasa Teacher Training
Dharamsala
€1,500
€1,750
SAVE €100*

Contact

1716501600
200
May 2024
05/24/2024
24 May 2024 - 17 Jun 2024
200 Hour Vinyasa Teacher Training
Dharamsala
€1,500
€1,750
SAVE €100*

Contact

1718661600
200
June 2024
06/18/2024
18 Jun 2024 - 12 Jul 2024
200 Hour Vinyasa Teacher Training
Dharamsala
€1,500
€1,750
SAVE €100*

Contact

1720821600
200
July 2024
07/13/2024
13 Jul 2024 - 06 Aug 2024
200 Hour Vinyasa Teacher Training
Dharamsala
€1,500
€1,750
SAVE €100*

Contact

1722981600
200
August 2024
08/07/2024
07 Aug 2024 - 31 Aug 2024
200 Hour Vinyasa Teacher Training
Dharamsala
€1,500
€1,750
SAVE €100*

Contact

1725141600
200
September 2024
09/01/2024
01 Sep 2024 - 25 Sep 2024
200 Hour Vinyasa Teacher Training
Dharamsala
€1,500
€1,750
SAVE €100*

Contact

1727301600
200
September 2024
09/26/2024
26 Sep 2024 - 20 Oct 2024
200 Hour Vinyasa Teacher Training
Dharamsala
€1,500
€1,750
SAVE €100*

Contact

1710025200
200
March 2024
03/10/2024
10 Mar 2024 - 03 Apr 2024
200 Hour Yin Yoga Teacher Training
Dharamsala
€1,500
€1,750
SAVE €100*

Contact

1712181600
200
April 2024
04/04/2024
04 Apr 2024 - 28 Apr 2024
200 Hour Yin Yoga Teacher Training
Dharamsala
€1,500
€1,750
SAVE €100*

Contact

1714341600
200
April 2024
04/29/2024
29 Apr 2024 - 23 May 2024
200 Hour Yin Yoga Teacher Training
Dharamsala
€1,500
€1,750
SAVE €100*

Contact

1716501600
200
May 2024
05/24/2024
24 May 2024 - 17 Jun 2024
200 Hour Yin Yoga Teacher Training
Dharamsala
€1,500
€1,750
SAVE €100*

Contact

1718661600
200
June 2024
06/18/2024
18 Jun 2024 - 12 Jul 2024
200 Hour Yin Yoga Teacher Training
Dharamsala
€1,500
€1,750
SAVE €100*

Contact

1720821600
200
July 2024
07/13/2024
13 Jul 2024 - 06 Aug 2024
200 Hour Yin Yoga Teacher Training
Dharamsala
€1,500
€1,750
SAVE €100*

Contact

1722981600
200
August 2024
08/07/2024
07 Aug 2024 - 31 Aug 2024
200 Hour Yin Yoga Teacher Training
Dharamsala
€1,500
€1,750
SAVE €100*

Contact

1725141600
200
September 2024
09/01/2024
01 Sep 2024 - 25 Sep 2024
200 Hour Yin Yoga Teacher Training
Dharamsala
€1,500
€1,750
SAVE €100*

Contact

1727301600
200
September 2024
09/26/2024
26 Sep 2024 - 20 Oct 2024
200 Hour Yin Yoga Teacher Training
Dharamsala
€1,500
€1,750
SAVE €100*

Contact

1709247600
100
March 2024
03/01/2024
01 Mar 2024 - 12 Mar 2024
100 Hour Ashtanga Teacher Training
Dharamsala
€800
€925
SAVE €50*

Contact

1710802800
100
March 2024
03/19/2024
19 Mar 2024 - 30 Mar 2024
100 Hour Ashtanga Teacher Training
Dharamsala
€800
€925
SAVE €50*

Contact

1711922400
100
April 2024
04/01/2024
01 Apr 2024 - 12 Apr 2024
100 Hour Ashtanga Teacher Training
Dharamsala
€800
€925
SAVE €50*

Contact

1713477600
100
April 2024
04/19/2024
19 Apr 2024 - 30 Apr 2024
100 Hour Ashtanga Teacher Training
Dharamsala
€800
€925
SAVE €50*

Contact

1714514400
100
May 2024
05/01/2024
01 May 2024 - 12 May 2024
100 Hour Ashtanga Teacher Training
Dharamsala
€800
€925
SAVE €50*

Contact

1716069600
100
May 2024
05/19/2024
19 May 2024 - 30 May 2024
100 Hour Ashtanga Teacher Training
Dharamsala
€800
€925
SAVE €50*

Contact

1717192800
100
June 2024
06/01/2024
01 Jun 2024 - 12 Jun 2024
100 Hour Ashtanga Teacher Training
Dharamsala
€800
€925
SAVE €50*

Contact

1718748000
100
June 2024
06/19/2024
19 Jun 2024 - 30 Jun 2024
100 Hour Ashtanga Teacher Training
Dharamsala
€800
€925
SAVE €50*

Contact

1719784800
100
July 2024
07/01/2024
01 Jul 2024 - 12 Jul 2024
100 Hour Ashtanga Teacher Training
Dharamsala
€800
€925
SAVE €50*

Contact

1721340000
100
July 2024
07/19/2024
19 Jul 2024 - 30 Jul 2024
100 Hour Ashtanga Teacher Training
Dharamsala
€800
€925
SAVE €50*

Contact

1722463200
100
August 2024
08/01/2024
01 Aug 2024 - 12 Aug 2024
100 Hour Ashtanga Teacher Training
Dharamsala
€800
€925
SAVE €50*

Contact

1724018400
100
August 2024
08/19/2024
19 Aug 2024 - 30 Aug 2024
100 Hour Ashtanga Teacher Training
Dharamsala
€800
€925
SAVE €50*

Contact

1725141600
100
September 2024
09/01/2024
01 Sep 2024 - 12 Sep 2024
100 Hour Ashtanga Teacher Training
Dharamsala
€800
€925
SAVE €50*

Contact

1726696800
100
September 2024
09/19/2024
19 Sep 2024 - 30 Sep 2024
100 Hour Ashtanga Teacher Training
Dharamsala
€800
€925
SAVE €50*

Contact

1727733600
100
October 2024
10/01/2024
01 Oct 2024 - 12 Oct 2024
100 Hour Ashtanga Teacher Training
Dharamsala
€800
€925
SAVE €50*

Contact

1729288800
100
October 2024
10/19/2024
19 Oct 2024 - 30 Oct 2024
100 Hour Ashtanga Teacher Training
Dharamsala
€800
€925
SAVE €50*

Contact

1709247600
100
March 2024
03/01/2024
01 Mar 2024 - 12 Mar 2024
100 Hour Hatha Teacher Training
Dharamsala
€800
€925
SAVE €50*

Contact

1710802800
100
March 2024
03/19/2024
19 Mar 2024 - 30 Mar 2024
100 Hour Hatha Teacher Training
Dharamsala
€800
€925
SAVE €50*

Contact

1711922400
100
April 2024
04/01/2024
01 Apr 2024 - 12 Apr 2024
100 Hour Hatha Teacher Training
Dharamsala
€800
€925
SAVE €50*

Contact

1713477600
100
April 2024
04/19/2024
19 Apr 2024 - 30 Apr 2024
100 Hour Hatha Teacher Training
Dharamsala
€800
€925
SAVE €50*

Contact

1714514400
100
May 2024
05/01/2024
01 May 2024 - 12 May 2024
100 Hour Hatha Teacher Training
Dharamsala
€800
€925
SAVE €50*

Contact

1716069600
100
May 2024
05/19/2024
19 May 2024 - 30 May 2024
100 Hour Hatha Teacher Training
Dharamsala
€800
€925
SAVE €50*

Contact

1717192800
100
June 2024
06/01/2024
01 Jun 2024 - 12 Jun 2024
100 Hour Hatha Teacher Training
Dharamsala
€800
€925
SAVE €50*

Contact

1718748000
100
June 2024
06/19/2024
19 Jun 2024 - 30 Jun 2024
100 Hour Hatha Teacher Training
Dharamsala
€800
€925
SAVE €50*

Contact

1719784800
100
July 2024
07/01/2024
01 Jul 2024 - 12 Jul 2024
100 Hour Hatha Teacher Training
Dharamsala
€800
€925
SAVE €50*

Contact

1721340000
100
July 2024
07/19/2024
19 Jul 2024 - 30 Jul 2024
100 Hour Hatha Teacher Training
Dharamsala
€800
€925
SAVE €50*

Contact

1722463200
100
August 2024
08/01/2024
01 Aug 2024 - 12 Aug 2024
100 Hour Hatha Teacher Training
Dharamsala
€800
€925
SAVE €50*

Contact

1724018400
100
August 2024
08/19/2024
19 Aug 2024 - 30 Aug 2024
100 Hour Hatha Teacher Training
Dharamsala
€800
€925
SAVE €50*

Contact

1725141600
100
September 2024
09/01/2024
01 Sep 2024 - 12 Sep 2024
100 Hour Hatha Teacher Training
Dharamsala
€800
€925
SAVE €50*

Contact

1726696800
100
September 2024
09/19/2024
19 Sep 2024 - 30 Sep 2024
100 Hour Hatha Teacher Training
Dharamsala
€800
€925
SAVE €50*

Contact

1727733600
100
October 2024
10/01/2024
01 Oct 2024 - 12 Oct 2024
100 Hour Hatha Teacher Training
Dharamsala
€800
€925
SAVE €50*

Contact

1729288800
100
October 2024
10/19/2024
19 Oct 2024 - 30 Oct 2024
100 Hour Hatha Teacher Training
Dharamsala
€800
€925
SAVE €50*

Contact

1709247600
100
March 2024
03/01/2024
01 Mar 2024 - 12 Mar 2024
100 Hour Vinyasa Teacher Training
Dharamsala
€800
€925
SAVE €50*

Contact

1710802800
100
March 2024
03/19/2024
19 Mar 2024 - 30 Mar 2024
100 Hour Vinyasa Teacher Training
Dharamsala
€800
€925
SAVE €50*

Contact

1711922400
100
April 2024
04/01/2024
01 Apr 2024 - 12 Apr 2024
100 Hour Vinyasa Teacher Training
Dharamsala
€800
€925
SAVE €50*

Contact

1713477600
100
April 2024
04/19/2024
19 Apr 2024 - 30 Apr 2024
100 Hour Vinyasa Teacher Training
Dharamsala
€800
€925
SAVE €50*

Contact

1714514400
100
May 2024
05/01/2024
01 May 2024 - 12 May 2024
100 Hour Vinyasa Teacher Training
Dharamsala
€800
€925
SAVE €50*

Contact

1716069600
100
May 2024
05/19/2024
19 May 2024 - 30 May 2024
100 Hour Vinyasa Teacher Training
Dharamsala
€800
€925
SAVE €50*

Contact

1717192800
100
June 2024
06/01/2024
01 Jun 2024 - 12 Jun 2024
100 Hour Vinyasa Teacher Training
Dharamsala
€800
€925
SAVE €50*

Contact

1718748000
100
June 2024
06/19/2024
19 Jun 2024 - 30 Jun 2024
100 Hour Vinyasa Teacher Training
Dharamsala
€800
€925
SAVE €50*

Contact

1719784800
100
July 2024
07/01/2024
01 Jul 2024 - 12 Jul 2024
100 Hour Vinyasa Teacher Training
Dharamsala
€800
€925
SAVE €50*

Contact

1721340000
100
July 2024
07/19/2024
19 Jul 2024 - 30 Jul 2024
100 Hour Vinyasa Teacher Training
Dharamsala
€800
€925
SAVE €50*

Contact

1722463200
100
August 2024
08/01/2024
01 Aug 2024 - 12 Aug 2024
100 Hour Vinyasa Teacher Training
Dharamsala
€800
€925
SAVE €50*

Contact

1724018400
100
August 2024
08/19/2024
19 Aug 2024 - 30 Aug 2024
100 Hour Vinyasa Teacher Training
Dharamsala
€800
€925
SAVE €50*

Contact

1725141600
100
September 2024
09/01/2024
01 Sep 2024 - 12 Sep 2024
100 Hour Vinyasa Teacher Training
Dharamsala
€800
€925
SAVE €50*

Contact

1726696800
100
September 2024
09/19/2024
19 Sep 2024 - 30 Sep 2024
100 Hour Vinyasa Teacher Training
Dharamsala
€800
€925
SAVE €50*

Contact

1727733600
100
October 2024
10/01/2024
01 Oct 2024 - 12 Oct 2024
100 Hour Vinyasa Teacher Training
Dharamsala
€800
€925
SAVE €50*

Contact

1729288800
100
October 2024
10/19/2024
19 Oct 2024 - 30 Oct 2024
100 Hour Vinyasa Teacher Training
Dharamsala
€800
€925
SAVE €50*

Contact

1709247600
100
March 2024
03/01/2024
01 Mar 2024 - 12 Mar 2024
100 Hour Restorative Teacher Training
Dharamsala
€800
€925
SAVE €50*

Contact

1710802800
100
March 2024
03/19/2024
19 Mar 2024 - 30 Mar 2024
100 Hour Restorative Teacher Training
Dharamsala
€800
€925
SAVE €50*

Contact

1711922400
100
April 2024
04/01/2024
01 Apr 2024 - 12 Apr 2024
100 Hour Restorative Teacher Training
Dharamsala
€800
€925
SAVE €50*

Contact

1713477600
100
April 2024
04/19/2024
19 Apr 2024 - 30 Apr 2024
100 Hour Restorative Teacher Training
Dharamsala
€800
€925
SAVE €50*

Contact

1714514400
100
May 2024
05/01/2024
01 May 2024 - 12 May 2024
100 Hour Restorative Teacher Training
Dharamsala
€800
€925
SAVE €50*

Contact

1716069600
100
May 2024
05/19/2024
19 May 2024 - 30 May 2024
100 Hour Restorative Teacher Training
Dharamsala
€800
€925
SAVE €50*

Contact

1717192800
100
June 2024
06/01/2024
01 Jun 2024 - 12 Jun 2024
100 Hour Restorative Teacher Training
Dharamsala
€800
€925
SAVE €50*

Contact

1718748000
100
June 2024
06/19/2024
19 Jun 2024 - 30 Jun 2024
100 Hour Restorative Teacher Training
Dharamsala
€800
€925
SAVE €50*

Contact

1719784800
100
July 2024
07/01/2024
01 Jul 2024 - 12 Jul 2024
100 Hour Restorative Teacher Training
Dharamsala
€800
€925
SAVE €50*

Contact

1721340000
100
July 2024
07/19/2024
19 Jul 2024 - 30 Jul 2024
100 Hour Restorative Teacher Training
Dharamsala
€800
€925
SAVE €50*

Contact

1722463200
100
August 2024
08/01/2024
01 Aug 2024 - 12 Aug 2024
100 Hour Restorative Teacher Training
Dharamsala
€800
€925
SAVE €50*

Contact

1724018400
100
August 2024
08/19/2024
19 Aug 2024 - 30 Aug 2024
100 Hour Restorative Teacher Training
Dharamsala
€800
€925
SAVE €50*

Contact

1725141600
100
September 2024
09/01/2024
01 Sep 2024 - 12 Sep 2024
100 Hour Restorative Teacher Training
Dharamsala
€800
€925
SAVE €50*

Contact

1726696800
100
September 2024
09/19/2024
19 Sep 2024 - 30 Sep 2024
100 Hour Restorative Teacher Training
Dharamsala
€800
€925
SAVE €50*

Contact

1727733600
100
October 2024
10/01/2024
01 Oct 2024 - 12 Oct 2024
100 Hour Restorative Teacher Training
Dharamsala
€800
€925
SAVE €50*

Contact

1729288800
100
October 2024
10/19/2024
19 Oct 2024 - 30 Oct 2024
100 Hour Restorative Teacher Training
Dharamsala
€800
€925
SAVE €50*

Contact

1709247600
100
March 2024
03/01/2024
01 Mar 2024 - 12 Mar 2024
100 Hour Therapeutic Teacher Training
Dharamsala
€800
€925
SAVE €50*

Contact

1710802800
100
March 2024
03/19/2024
19 Mar 2024 - 30 Mar 2024
100 Hour Therapeutic Teacher Training
Dharamsala
€800
€925
SAVE €50*

Contact

1711922400
100
April 2024
04/01/2024
01 Apr 2024 - 12 Apr 2024
100 Hour Therapeutic Teacher Training
Dharamsala
€800
€925
SAVE €50*

Contact

1713477600
100
April 2024
04/19/2024
19 Apr 2024 - 30 Apr 2024
100 Hour Therapeutic Teacher Training
Dharamsala
€800
€925
SAVE €50*

Contact

1714514400
100
May 2024
05/01/2024
01 May 2024 - 12 May 2024
100 Hour Therapeutic Teacher Training
Dharamsala
€800
€925
SAVE €50*

Contact

1716069600
100
May 2024
05/19/2024
19 May 2024 - 30 May 2024
100 Hour Therapeutic Teacher Training
Dharamsala
€800
€925
SAVE €50*

Contact

1717192800
100
June 2024
06/01/2024
01 Jun 2024 - 12 Jun 2024
100 Hour Therapeutic Teacher Training
Dharamsala
€800
€925
SAVE €50*

Contact

1718748000
100
June 2024
06/19/2024
19 Jun 2024 - 30 Jun 2024
100 Hour Therapeutic Teacher Training
Dharamsala
€800
€925
SAVE €50*

Contact

1719784800
100
July 2024
07/01/2024
01 Jul 2024 - 12 Jul 2024
100 Hour Therapeutic Teacher Training
Dharamsala
€800
€925
SAVE €50*

Contact

1721340000
100
July 2024
07/19/2024
19 Jul 2024 - 30 Jul 2024
100 Hour Therapeutic Teacher Training
Dharamsala
€800
€925
SAVE €50*

Contact

1722463200
100
August 2024
08/01/2024
01 Aug 2024 - 12 Aug 2024
100 Hour Therapeutic Teacher Training
Dharamsala
€800
€925
SAVE €50*

Contact

1724018400
100
August 2024
08/19/2024
19 Aug 2024 - 30 Aug 2024
100 Hour Therapeutic Teacher Training
Dharamsala
€800
€925
SAVE €50*

Contact

1725141600
100
September 2024
09/01/2024
01 Sep 2024 - 12 Sep 2024
100 Hour Therapeutic Teacher Training
Dharamsala
€800
€925
SAVE €50*

Contact

1726696800
100
September 2024
09/19/2024
19 Sep 2024 - 30 Sep 2024
100 Hour Therapeutic Teacher Training
Dharamsala
€800
€925
SAVE €50*

Contact

1727733600
100
October 2024
10/01/2024
01 Oct 2024 - 12 Oct 2024
100 Hour Therapeutic Teacher Training
Dharamsala
€800
€925
SAVE €50*

Contact

1729288800
100
October 2024
10/19/2024
19 Oct 2024 - 30 Oct 2024
100 Hour Therapeutic Teacher Training
Dharamsala
€800
€925
SAVE €50*

Contact

1709247600
100
March 2024
03/01/2024
01 Mar 2024 - 12 Mar 2024
100 Hour Yin Yoga Teacher Training
Dharamsala
€800
€925
SAVE €50*

Contact

1710802800
100
March 2024
03/19/2024
19 Mar 2024 - 30 Mar 2024
100 Hour Yin Yoga Teacher Training
Dharamsala
€800
€925
SAVE €50*

Contact

1711922400
100
April 2024
04/01/2024
01 Apr 2024 - 12 Apr 2024
100 Hour Yin Yoga Teacher Training
Dharamsala
€800
€925
SAVE €50*

Contact

1713477600
100
April 2024
04/19/2024
19 Apr 2024 - 30 Apr 2024
100 Hour Yin Yoga Teacher Training
Dharamsala
€800
€925
SAVE €50*

Contact

1714514400
100
May 2024
05/01/2024
01 May 2024 - 12 May 2024
100 Hour Yin Yoga Teacher Training
Dharamsala
€800
€925
SAVE €50*

Contact

1716069600
100
May 2024
05/19/2024
19 May 2024 - 30 May 2024
100 Hour Yin Yoga Teacher Training
Dharamsala
€800
€925
SAVE €50*

Contact

1717192800
100
June 2024
06/01/2024
01 Jun 2024 - 12 Jun 2024
100 Hour Yin Yoga Teacher Training
Dharamsala
€800
€925
SAVE €50*

Contact

1718748000
100
June 2024
06/19/2024
19 Jun 2024 - 30 Jun 2024
100 Hour Yin Yoga Teacher Training
Dharamsala
€800
€925
SAVE €50*

Contact

1719784800
100
July 2024
07/01/2024
01 Jul 2024 - 12 Jul 2024
100 Hour Yin Yoga Teacher Training
Dharamsala
€800
€925
SAVE €50*

Contact

1721340000
100
July 2024
07/19/2024
19 Jul 2024 - 30 Jul 2024
100 Hour Yin Yoga Teacher Training
Dharamsala
€800
€925
SAVE €50*

Contact

1722463200
100
August 2024
08/01/2024
01 Aug 2024 - 12 Aug 2024
100 Hour Yin Yoga Teacher Training
Dharamsala
€800
€925
SAVE €50*

Contact

1724018400
100
August 2024
08/19/2024
19 Aug 2024 - 30 Aug 2024
100 Hour Yin Yoga Teacher Training
Dharamsala
€800
€925
SAVE €50*

Contact

1725141600
100
September 2024
09/01/2024
01 Sep 2024 - 12 Sep 2024
100 Hour Yin Yoga Teacher Training
Dharamsala
€800
€925
SAVE €50*

Contact

1726696800
100
September 2024
09/19/2024
19 Sep 2024 - 30 Sep 2024
100 Hour Yin Yoga Teacher Training
Dharamsala
€800
€925
SAVE €50*

Contact

1727733600
100
October 2024
10/01/2024
01 Oct 2024 - 12 Oct 2024
100 Hour Yin Yoga Teacher Training
Dharamsala
€800
€925
SAVE €50*

Contact

1729288800
100
October 2024
10/19/2024
19 Oct 2024 - 30 Oct 2024
100 Hour Yin Yoga Teacher Training
Dharamsala
€800
€925
SAVE €50*

Contact

50
January 2024,February 2024,March 2024,April 2024,May 2024,June 2024,July 2024,August 2024,September 2024,October 2023,November 2023,December 2023
Every Monday to Saturday
50 Hour Yin Yoga Teacher Training
Dharamsala
€550
€675
SAVE €50*

Contact

50
January 2024,February 2024,March 2024,April 2024,May 2024,June 2024,July 2024,August 2024,September 2024,October 2023,November 2023,December 2023
Every Monday to Saturday
50 Hour Yoga Nidra Teacher Training
Dharamsala
€550
€675
SAVE €50*

Contact

1695679200
500
September 2023
09/26/2023
26 Sep 2023 - 19 Nov 2023
500 Hour Ashtanga Yoga Teacher Training
Gokarna
€3,300
€3,600
SAVE €200*

Contact

1697839200
500
October 2023
10/21/2023
21 Oct 2023 - 14 Dec 2023
500 Hour Ashtanga Yoga Teacher Training
Gokarna
€3,300
€3,600
SAVE €200*

Contact

1700002800
500
November 2023
11/15/2023
15 Nov 2023 - 08 Jan 2024
500 Hour Ashtanga Yoga Teacher Training
Gokarna
€3,300
€3,600
SAVE €200*

Contact

1702162800
500
December 2023
12/10/2023
10 Dec 2023 - 02 Feb 2024
500 Hour Ashtanga Yoga Teacher Training
Gokarna
€3,300
€3,600
SAVE €200*

Contact

1704322800
500
January 2024
01/04/2024
04 Jan 2024 - 27 Feb 2024
500 Hour Ashtanga Yoga Teacher Training
Gokarna
€3,300
€3,600
SAVE €200*

Contact

1706482800
500
January 2024
01/29/2024
29 Jan 2024 - 23 Mar 2024
500 Hour Ashtanga Yoga Teacher Training
Gokarna
€3,300
€3,600
SAVE €200*

Contact

1708642800
500
February 2024
02/23/2024
23 Feb 2024 - 17 Apr 2024
500 Hour Ashtanga Yoga Teacher Training
Gokarna
€3,300
€3,600
SAVE €200*

Contact

1725141600
500
September 2024
09/01/2024
01 Sep 2024 - 25 Oct 2024
500 Hour Ashtanga Yoga Teacher Training
Gokarna
€3,300
€3,600
SAVE €200*

Contact

1727301600
500
September 2024
09/26/2024
26 Sep 2024 - 19 Nov 2024
500 Hour Ashtanga Yoga Teacher Training
Gokarna
€3,300
€3,600
SAVE €200*

Contact

1729461600
500
October 2024
10/21/2024
21 Oct 2024 - 14 Dec 2024
500 Hour Ashtanga Yoga Teacher Training
Gokarna
€3,300
€3,600
SAVE €200*

Contact

1731625200
500
November 2024
11/15/2024
15 Nov 2024 - 08 Jan 2025
500 Hour Ashtanga Yoga Teacher Training
Gokarna
€3,300
€3,600
SAVE €200*

Contact

1733785200
500
December 2024
12/10/2024
10 Dec 2024 - 02 Feb 2025
500 Hour Ashtanga Yoga Teacher Training
Gokarna
€3,300
€3,600
SAVE €200*

Contact

1735945200
500
January 2025
01/04/2025
04 Jan 2025 - 27 Feb 2025
500 Hour Ashtanga Yoga Teacher Training
Gokarna
€3,300
€3,600
SAVE €200*

Contact

1738105200
500
January 2025
01/29/2025
29 Jan 2025 - 24 Mar 2025
500 Hour Ashtanga Yoga Teacher Training
Gokarna
€3,300
€3,600
SAVE €200*

Contact

1740265200
500
February 2025
02/23/2025
23 Feb 2025 - 18 Apr 2025
500 Hour Ashtanga Yoga Teacher Training
Gokarna
€3,300
€3,600
SAVE €200*

Contact

1695679200
500
September 2023
09/26/2023
26 Sep 2023 - 19 Nov 2023
500 Hour Hatha Yoga Teacher Training
Gokarna
€3,300
€3,600
SAVE €200*

Contact

1697839200
500
October 2023
10/21/2023
21 Oct 2023 - 14 Dec 2023
500 Hour Hatha Yoga Teacher Training
Gokarna
€3,300
€3,600
SAVE €200*

Contact

1700002800
500
November 2023
11/15/2023
15 Nov 2023 - 08 Jan 2024
500 Hour Hatha Yoga Teacher Training
Gokarna
€3,300
€3,600
SAVE €200*

Contact

1702162800
500
December 2023
12/10/2023
10 Dec 2023 - 02 Feb 2024
500 Hour Hatha Yoga Teacher Training
Gokarna
€3,300
€3,600
SAVE €200*

Contact

1704322800
500
January 2024
01/04/2024
04 Jan 2024 - 27 Feb 2024
500 Hour Hatha Yoga Teacher Training
Gokarna
€3,300
€3,600
SAVE €200*

Contact

1706482800
500
January 2024
01/29/2024
29 Jan 2024 - 23 Mar 2024
500 Hour Hatha Yoga Teacher Training
Gokarna
€3,300
€3,600
SAVE €200*

Contact

1708642800
500
February 2024
02/23/2024
23 Feb 2024 - 17 Apr 2024
500 Hour Hatha Yoga Teacher Training
Gokarna
€3,300
€3,600
SAVE €200*

Contact

1725141600
500
September 2024
09/01/2024
01 Sep 2024 - 25 Oct 2024
500 Hour Hatha Yoga Teacher Training
Gokarna
€3,300
€3,600
SAVE €200*

Contact

1727301600
500
September 2024
09/26/2024
26 Sep 2024 - 19 Nov 2024
500 Hour Hatha Yoga Teacher Training
Gokarna
€3,300
€3,600
SAVE €200*

Contact

1729461600
500
October 2024
10/21/2024
21 Oct 2024 - 14 Dec 2024
500 Hour Hatha Yoga Teacher Training
Gokarna
€3,300
€3,600
SAVE €200*

Contact

1731625200
500
November 2024
11/15/2024
15 Nov 2024 - 08 Jan 2025
500 Hour Hatha Yoga Teacher Training
Gokarna
€3,300
€3,600
SAVE €200*

Contact

1733785200
500
December 2024
12/10/2024
10 Dec 2024 - 02 Feb 2025
500 Hour Hatha Yoga Teacher Training
Gokarna
€3,300
€3,600
SAVE €200*

Contact

1735945200
500
January 2025
01/04/2025
04 Jan 2025 - 27 Feb 2025
500 Hour Hatha Yoga Teacher Training
Gokarna
€3,300
€3,600
SAVE €200*

Contact

1738105200
500
January 2025
01/29/2025
29 Jan 2025 - 24 Mar 2025
500 Hour Hatha Yoga Teacher Training
Gokarna
€3,300
€3,600
SAVE €200*

Contact

1740265200
500
February 2025
02/23/2025
23 Feb 2025 - 18 Apr 2025
500 Hour Hatha Yoga Teacher Training
Gokarna
€3,300
€3,600
SAVE €200*

Contact

1695679200
500
September 2023
09/26/2023
26 Sep 2023 - 19 Nov 2023
500 Hour Multistyle Yoga Teacher Training
Gokarna
€3,300
€3,600
SAVE €200*

Contact

1697839200
500
October 2023
10/21/2023
21 Oct 2023 - 14 Dec 2023
500 Hour Multistyle Yoga Teacher Training
Gokarna
€3,300
€3,600
SAVE €200*

Contact

1700002800
500
November 2023
11/15/2023
15 Nov 2023 - 08 Jan 2024
500 Hour Multistyle Yoga Teacher Training
Gokarna
€3,300
€3,600
SAVE €200*

Contact

1702162800
500
December 2023
12/10/2023
10 Dec 2023 - 02 Feb 2024
500 Hour Multistyle Yoga Teacher Training
Gokarna
€3,300
€3,600
SAVE €200*

Contact

1704322800
500
January 2024
01/04/2024
04 Jan 2024 - 27 Feb 2024
500 Hour Multistyle Yoga Teacher Training
Gokarna
€3,300
€3,600
SAVE €200*

Contact

1706482800
500
January 2024
01/29/2024
29 Jan 2024 - 23 Mar 2024
500 Hour Multistyle Yoga Teacher Training
Gokarna
€3,300
€3,600
SAVE €200*

Contact

1708642800
500
February 2024
02/23/2024
23 Feb 2024 - 17 Apr 2024
500 Hour Multistyle Yoga Teacher Training
Gokarna
€3,300
€3,600
SAVE €200*

Contact

1725141600
500
September 2024
09/01/2024
01 Sep 2024 - 25 Oct 2024
500 Hour Multistyle Yoga Teacher Training
Gokarna
€3,300
€3,600
SAVE €200*

Contact

1727301600
500
September 2024
09/26/2024
26 Sep 2024 - 19 Nov 2024
500 Hour Multistyle Yoga Teacher Training
Gokarna
€3,300
€3,600
SAVE €200*

Contact

1729461600
500
October 2024
10/21/2024
21 Oct 2024 - 14 Dec 2024
500 Hour Multistyle Yoga Teacher Training
Gokarna
€3,300
€3,600
SAVE €200*

Contact

1731625200
500
November 2024
11/15/2024
15 Nov 2024 - 08 Jan 2025
500 Hour Multistyle Yoga Teacher Training
Gokarna
€3,300
€3,600
SAVE €200*

Contact

1733785200
500
December 2024
12/10/2024
10 Dec 2024 - 02 Feb 2025
500 Hour Multistyle Yoga Teacher Training
Gokarna
€3,300
€3,600
SAVE €200*

Contact

1735945200
500
January 2025
01/04/2025
04 Jan 2025 - 27 Feb 2025
500 Hour Multistyle Yoga Teacher Training
Gokarna
€3,300
€3,600
SAVE €200*

Contact

1738105200
500
January 2025
01/29/2025
29 Jan 2025 - 24 Mar 2025
500 Hour Multistyle Yoga Teacher Training
Gokarna
€3,300
€3,600
SAVE €200*

Contact

1740265200
500
February 2025
02/23/2025
23 Feb 2025 - 18 Apr 2025
500 Hour Multistyle Yoga Teacher Training
Gokarna
€3,300
€3,600
SAVE €200*

Contact

1695679200
500
September 2023
09/26/2023
26 Sep 2023 - 19 Nov 2023
500 Hour Restorative Yoga Teacher Training
Gokarna
€3,300
€3,600
SAVE €200*

Contact

1697839200
500
October 2023
10/21/2023
21 Oct 2023 - 14 Dec 2023
500 Hour Restorative Yoga Teacher Training
Gokarna
€3,300
€3,600
SAVE €200*

Contact

1700002800
500
November 2023
11/15/2023
15 Nov 2023 - 08 Jan 2024
500 Hour Restorative Yoga Teacher Training
Gokarna
€3,300
€3,600
SAVE €200*

Contact

1702162800
500
December 2023
12/10/2023
10 Dec 2023 - 02 Feb 2024
500 Hour Restorative Yoga Teacher Training
Gokarna
€3,300
€3,600
SAVE €200*

Contact

1704322800
500
January 2024
01/04/2024
04 Jan 2024 - 27 Feb 2024
500 Hour Restorative Yoga Teacher Training
Gokarna
€3,300
€3,600
SAVE €200*

Contact

1706482800
500
January 2024
01/29/2024
29 Jan 2024 - 23 Mar 2024
500 Hour Restorative Yoga Teacher Training
Gokarna
€3,300
€3,600
SAVE €200*

Contact

1708642800
500
February 2024
02/23/2024
23 Feb 2024 - 17 Apr 2024
500 Hour Restorative Yoga Teacher Training
Gokarna
€3,300
€3,600
SAVE €200*

Contact

1725141600
500
September 2024
09/01/2024
01 Sep 2024 - 25 Oct 2024
500 Hour Restorative Yoga Teacher Training
Gokarna
€3,300
€3,600
SAVE €200*

Contact

1727301600
500
September 2024
09/26/2024
26 Sep 2024 - 19 Nov 2024
500 Hour Restorative Yoga Teacher Training
Gokarna
€3,300
€3,600
SAVE €200*

Contact

1729461600
500
October 2024
10/21/2024
21 Oct 2024 - 14 Dec 2024
500 Hour Restorative Yoga Teacher Training
Gokarna
€3,300
€3,600
SAVE €200*

Contact

1731625200
500
November 2024
11/15/2024
15 Nov 2024 - 08 Jan 2025
500 Hour Restorative Yoga Teacher Training
Gokarna
€3,300
€3,600
SAVE €200*

Contact

1733785200
500
December 2024
12/10/2024
10 Dec 2024 - 02 Feb 2025
500 Hour Restorative Yoga Teacher Training
Gokarna
€3,300
€3,600
SAVE €200*

Contact

1735945200
500
January 2025
01/04/2025
04 Jan 2025 - 27 Feb 2025
500 Hour Restorative Yoga Teacher Training
Gokarna
€3,300
€3,600
SAVE €200*

Contact

1738105200
500
January 2025
01/29/2025
29 Jan 2025 - 24 Mar 2025
500 Hour Restorative Yoga Teacher Training
Gokarna
€3,300
€3,600
SAVE €200*

Contact

1740265200
500
February 2025
02/23/2025
23 Feb 2025 - 18 Apr 2025
500 Hour Restorative Yoga Teacher Training
Gokarna
€3,300
€3,600
SAVE €200*

Contact

1695679200
500
September 2023
09/26/2023
26 Sep 2023 - 19 Nov 2023
500 Hour Therapeutic Yoga Teacher Training
Gokarna
€3,300
€3,600
SAVE €200*

Contact

1697839200
500
October 2023
10/21/2023
21 Oct 2023 - 14 Dec 2023
500 Hour Therapeutic Yoga Teacher Training
Gokarna
€3,300
€3,600
SAVE €200*

Contact

1700002800
500
November 2023
11/15/2023
15 Nov 2023 - 08 Jan 2024
500 Hour Therapeutic Yoga Teacher Training
Gokarna
€3,300
€3,600
SAVE €200*

Contact

1702162800
500
December 2023
12/10/2023
10 Dec 2023 - 02 Feb 2024
500 Hour Therapeutic Yoga Teacher Training
Gokarna
€3,300
€3,600
SAVE €200*

Contact

1704322800
500
January 2024
01/04/2024
04 Jan 2024 - 27 Feb 2024
500 Hour Therapeutic Yoga Teacher Training
Gokarna
€3,300
€3,600
SAVE €200*

Contact

1706482800
500
January 2024
01/29/2024
29 Jan 2024 - 23 Mar 2024
500 Hour Therapeutic Yoga Teacher Training
Gokarna
€3,300
€3,600
SAVE €200*

Contact

1708642800
500
February 2024
02/23/2024
23 Feb 2024 - 17 Apr 2024
500 Hour Therapeutic Yoga Teacher Training
Gokarna
€3,300
€3,600
SAVE €200*

Contact

1725141600
500
September 2024
09/01/2024
01 Sep 2024 - 25 Oct 2024
500 Hour Therapeutic Yoga Teacher Training
Gokarna
€3,300
€3,600
SAVE €200*

Contact

1727301600
500
September 2024
09/26/2024
26 Sep 2024 - 19 Nov 2024
500 Hour Therapeutic Yoga Teacher Training
Gokarna
€3,300
€3,600
SAVE €200*

Contact

1729461600
500
October 2024
10/21/2024
21 Oct 2024 - 14 Dec 2024
500 Hour Therapeutic Yoga Teacher Training
Gokarna
€3,300
€3,600
SAVE €200*

Contact

1731625200
500
November 2024
11/15/2024
15 Nov 2024 - 08 Jan 2025
500 Hour Therapeutic Yoga Teacher Training
Gokarna
€3,300
€3,600
SAVE €200*

Contact

1733785200
500
December 2024
12/10/2024
10 Dec 2024 - 02 Feb 2025
500 Hour Therapeutic Yoga Teacher Training
Gokarna
€3,300
€3,600
SAVE €200*

Contact

1735945200
500
January 2025
01/04/2025
04 Jan 2025 - 27 Feb 2025
500 Hour Therapeutic Yoga Teacher Training
Gokarna
€3,300
€3,600
SAVE €200*

Contact

1738105200
500
January 2025
01/29/2025
29 Jan 2025 - 24 Mar 2025
500 Hour Therapeutic Yoga Teacher Training
Gokarna
€3,300
€3,600
SAVE €200*

Contact

1740265200
500
February 2025
02/23/2025
23 Feb 2025 - 18 Apr 2025
500 Hour Therapeutic Yoga Teacher Training
Gokarna
€3,300
€3,600
SAVE €200*

Contact

1695679200
500
September 2023
09/26/2023
26 Sep 2023 - 19 Nov 2023
500 Hour Vinyasa Yoga Teacher Training
Gokarna
€3,300
€3,600
SAVE €200*

Contact

1697839200
500
October 2023
10/21/2023
21 Oct 2023 - 14 Dec 2023
500 Hour Vinyasa Yoga Teacher Training
Gokarna
€3,300
€3,600
SAVE €200*

Contact

1700002800
500
November 2023
11/15/2023
15 Nov 2023 - 08 Jan 2024
500 Hour Vinyasa Yoga Teacher Training
Gokarna
€3,300
€3,600
SAVE €200*

Contact

1702162800
500
December 2023
12/10/2023
10 Dec 2023 - 02 Feb 2024
500 Hour Vinyasa Yoga Teacher Training
Gokarna
€3,300
€3,600
SAVE €200*

Contact

1704322800
500
January 2024
01/04/2024
04 Jan 2024 - 27 Feb 2024
500 Hour Vinyasa Yoga Teacher Training
Gokarna
€3,300
€3,600
SAVE €200*

Contact

1706482800
500
January 2024
01/29/2024
29 Jan 2024 - 23 Mar 2024
500 Hour Vinyasa Yoga Teacher Training
Gokarna
€3,300
€3,600
SAVE €200*

Contact

1708642800
500
February 2024
02/23/2024
23 Feb 2024 - 17 Apr 2024
500 Hour Vinyasa Yoga Teacher Training
Gokarna
€3,300
€3,600
SAVE €200*

Contact

1725141600
500
September 2024
09/01/2024
01 Sep 2024 - 25 Oct 2024
500 Hour Vinyasa Yoga Teacher Training
Gokarna
€3,300
€3,600
SAVE €200*

Contact

1727301600
500
September 2024
09/26/2024
26 Sep 2024 - 19 Nov 2024
500 Hour Vinyasa Yoga Teacher Training
Gokarna
€3,300
€3,600
SAVE €200*

Contact

1729461600
500
October 2024
10/21/2024
21 Oct 2024 - 14 Dec 2024
500 Hour Vinyasa Yoga Teacher Training
Gokarna
€3,300
€3,600
SAVE €200*

Contact

1731625200
500
November 2024
11/15/2024
15 Nov 2024 - 08 Jan 2025
500 Hour Vinyasa Yoga Teacher Training
Gokarna
€3,300
€3,600
SAVE €200*

Contact

1733785200
500
December 2024
12/10/2024
10 Dec 2024 - 02 Feb 2025
500 Hour Vinyasa Yoga Teacher Training
Gokarna
€3,300
€3,600
SAVE €200*

Contact

1735945200
500
January 2025
01/04/2025
04 Jan 2025 - 27 Feb 2025
500 Hour Vinyasa Yoga Teacher Training
Gokarna
€3,300
€3,600
SAVE €200*

Contact

1738105200
500
January 2025
01/29/2025
29 Jan 2025 - 24 Mar 2025
500 Hour Vinyasa Yoga Teacher Training
Gokarna
€3,300
€3,600
SAVE €200*

Contact

1740265200
500
February 2025
02/23/2025
23 Feb 2025 - 18 Apr 2025
500 Hour Vinyasa Yoga Teacher Training
Gokarna
€3,300
€3,600
SAVE €200*

Contact

1695679200
500
September 2023
09/26/2023
26 Sep 2023 - 19 Nov 2023
500 Hour Yin Yoga Teacher Training
Gokarna
€3,300
€3,600
SAVE €200*

Contact

1697839200
500
October 2023
10/21/2023
21 Oct 2023 - 14 Dec 2023
500 Hour Yin Yoga Teacher Training
Gokarna
€3,300
€3,600
SAVE €200*

Contact

1700002800
500
November 2023
11/15/2023
15 Nov 2023 - 08 Jan 2024
500 Hour Yin Yoga Teacher Training
Gokarna
€3,300
€3,600
SAVE €200*

Contact

1702162800
500
December 2023
12/10/2023
10 Dec 2023 - 02 Feb 2024
500 Hour Yin Yoga Teacher Training
Gokarna
€3,300
€3,600
SAVE €200*

Contact

1704322800
500
January 2024
01/04/2024
04 Jan 2024 - 27 Feb 2024
500 Hour Yin Yoga Teacher Training
Gokarna
€3,300
€3,600
SAVE €200*

Contact

1706482800
500
January 2024
01/29/2024
29 Jan 2024 - 23 Mar 2024
500 Hour Yin Yoga Teacher Training
Gokarna
€3,300
€3,600
SAVE €200*

Contact

1708642800
500
February 2024
02/23/2024
23 Feb 2024 - 17 Apr 2024
500 Hour Yin Yoga Teacher Training
Gokarna
€3,300
€3,600
SAVE €200*

Contact

1725141600
500
September 2024
09/01/2024
01 Sep 2024 - 25 Oct 2024
500 Hour Yin Yoga Teacher Training
Gokarna
€3,300
€3,600
SAVE €200*

Contact

1727301600
500
September 2024
09/26/2024
26 Sep 2024 - 19 Nov 2024
500 Hour Yin Yoga Teacher Training
Gokarna
€3,300
€3,600
SAVE €200*

Contact

1729461600
500
October 2024
10/21/2024
21 Oct 2024 - 14 Dec 2024
500 Hour Yin Yoga Teacher Training
Gokarna
€3,300
€3,600
SAVE €200*

Contact

1731625200
500
November 2024
11/15/2024
15 Nov 2024 - 08 Jan 2025
500 Hour Yin Yoga Teacher Training
Gokarna
€3,300
€3,600
SAVE €200*

Contact

1733785200
500
December 2024
12/10/2024
10 Dec 2024 - 02 Feb 2025
500 Hour Yin Yoga Teacher Training
Gokarna
€3,300
€3,600
SAVE €200*

Contact

1735945200
500
January 2025
01/04/2025
04 Jan 2025 - 27 Feb 2025
500 Hour Yin Yoga Teacher Training
Gokarna
€3,300
€3,600
SAVE €200*

Contact

1738105200
500
January 2025
01/29/2025
29 Jan 2025 - 24 Mar 2025
500 Hour Yin Yoga Teacher Training
Gokarna
€3,300
€3,600
SAVE €200*

Contact

1740265200
500
February 2025
02/23/2025
23 Feb 2025 - 18 Apr 2025
500 Hour Yin Yoga Teacher Training
Gokarna
€3,300
€3,600
SAVE €200*

Contact

1696111200
300
October 2023
10/01/2023
01 Oct 2023 - 30 Oct 2023
300 Hour Ashtanga Yoga Teacher Training
Gokarna
€2,100
€2,350
SAVE €150*

Contact

1698793200
300
November 2023
11/01/2023
01 Nov 2023 - 30 Nov 2023
300 Hour Ashtanga Yoga Teacher Training
Gokarna
€2,100
€2,350
SAVE €150*

Contact

1701385200
300
December 2023
12/01/2023
01 Dec 2023 - 30 Dec 2023
300 Hour Ashtanga Yoga Teacher Training
Gokarna
€2,100
€2,350
SAVE €150*

Contact

1704063600
300
January 2024
01/01/2024
01 Jan 2024 - 30 Jan 2024
300 Hour Ashtanga Yoga Teacher Training
Gokarna
€2,100
€2,350
SAVE €150*

Contact

1706742000
300
February 2024
02/01/2024
01 Feb 2024 - 01 Mar 2024
300 Hour Ashtanga Yoga Teacher Training
Gokarna
€2,100
€2,350
SAVE €150*

Contact

1709247600
300
March 2024
03/01/2024
01 Mar 2024 - 30 Mar 2024
300 Hour Ashtanga Yoga Teacher Training
Gokarna
€2,100
€2,350
SAVE €150*

Contact

1711922400
300
April 2024
04/01/2024
01 Apr 2024 - 30 Apr 2024
300 Hour Ashtanga Yoga Teacher Training
Gokarna
€2,100
€2,350
SAVE €150*

Contact

1725141600
300
September 2024
09/01/2024
01 Sep 2024 - 30 Sep 2024
300 Hour Ashtanga Yoga Teacher Training
Gokarna
€2,100
€2,350
SAVE €150*

Contact

1727733600
300
October 2024
10/01/2024
01 Oct 2024 - 30 Oct 2024
300 Hour Ashtanga Yoga Teacher Training
Gokarna
€2,100
€2,350
SAVE €150*

Contact

1730415600
300
November 2024
11/01/2024
01 Nov 2024 - 30 Nov 2024
300 Hour Ashtanga Yoga Teacher Training
Gokarna
€2,100
€2,350
SAVE €150*

Contact

1733007600
300
December 2024
12/01/2024
01 Dec 2024 - 30 Dec 2024
300 Hour Ashtanga Yoga Teacher Training
Gokarna
€2,100
€2,350
SAVE €150*

Contact

1735686000
300
January 2025
01/01/2025
01 Jan 2025 - 30 Jan 2025
300 Hour Ashtanga Yoga Teacher Training
Gokarna
€2,100
€2,350
SAVE €150*

Contact

1738364400
300
February 2025
02/01/2025
01 Feb 2025 - 02 Mar 2025
300 Hour Ashtanga Yoga Teacher Training
Gokarna
€2,100
€2,350
SAVE €150*

Contact

1740783600
300
March 2025
03/01/2025
01 Mar 2025 - 30 Mar 2025
300 Hour Ashtanga Yoga Teacher Training
Gokarna
€2,100
€2,350
SAVE €150*

Contact

1743458400
300
April 2025
04/01/2025
01 Apr 2025 - 30 Apr 2025
300 Hour Ashtanga Yoga Teacher Training
Gokarna
€2,100
€2,350
SAVE €150*

Contact

1696111200
300
October 2023
10/01/2023
01 Oct 2023 - 30 Oct 2023
300 Hour Hatha Yoga Teacher Training
Gokarna
€2,100
€2,350
SAVE €150*

Contact

1698793200
300
November 2023
11/01/2023
01 Nov 2023 - 30 Nov 2023
300 Hour Hatha Yoga Teacher Training
Gokarna
€2,100
€2,350
SAVE €150*

Contact

1701385200
300
December 2023
12/01/2023
01 Dec 2023 - 30 Dec 2023
300 Hour Hatha Yoga Teacher Training
Gokarna
€2,100
€2,350
SAVE €150*

Contact

1704063600
300
January 2024
01/01/2024
01 Jan 2024 - 30 Jan 2024
300 Hour Hatha Yoga Teacher Training
Gokarna
€2,100
€2,350
SAVE €150*

Contact

1706742000
300
February 2024
02/01/2024
01 Feb 2024 - 01 Mar 2024
300 Hour Hatha Yoga Teacher Training
Gokarna
€2,100
€2,350
SAVE €150*

Contact

1709247600
300
March 2024
03/01/2024
01 Mar 2024 - 30 Mar 2024
300 Hour Hatha Yoga Teacher Training
Gokarna
€2,100
€2,350
SAVE €150*

Contact

1711922400
300
April 2024
04/01/2024
01 Apr 2024 - 30 Apr 2024
300 Hour Hatha Yoga Teacher Training
Gokarna
€2,100
€2,350
SAVE €150*

Contact

1725141600
300
September 2024
09/01/2024
01 Sep 2024 - 30 Sep 2024
300 Hour Hatha Yoga Teacher Training
Gokarna
€2,100
€2,350
SAVE €150*

Contact

1727733600
300
October 2024
10/01/2024
01 Oct 2024 - 30 Oct 2024
300 Hour Hatha Yoga Teacher Training
Gokarna
€2,100
€2,350
SAVE €150*

Contact

1730415600
300
November 2024
11/01/2024
01 Nov 2024 - 30 Nov 2024
300 Hour Hatha Yoga Teacher Training
Gokarna
€2,100
€2,350
SAVE €150*

Contact

1733007600
300
December 2024
12/01/2024
01 Dec 2024 - 30 Dec 2024
300 Hour Hatha Yoga Teacher Training
Gokarna
€2,100
€2,350
SAVE €150*

Contact

1735686000
300
January 2025
01/01/2025
01 Jan 2025 - 30 Jan 2025
300 Hour Hatha Yoga Teacher Training
Gokarna
€2,100
€2,350
SAVE €150*

Contact

1738364400
300
February 2025
02/01/2025
01 Feb 2025 - 02 Mar 2025
300 Hour Hatha Yoga Teacher Training
Gokarna
€2,100
€2,350
SAVE €150*

Contact

1740783600
300
March 2025
03/01/2025
01 Mar 2025 - 30 Mar 2025
300 Hour Hatha Yoga Teacher Training
Gokarna
€2,100
€2,350
SAVE €150*

Contact

1743458400
300
April 2025
04/01/2025
01 Apr 2025 - 30 Apr 2025
300 Hour Hatha Yoga Teacher Training
Gokarna
€2,100
€2,350
SAVE €150*

Contact

1696111200
300
October 2023
10/01/2023
01 Oct 2023 - 30 Oct 2023
300 Hour Multistyle Yoga Teacher Training
Gokarna
€2,100
€2,350
SAVE €150*

Contact

1698793200
300
November 2023
11/01/2023
01 Nov 2023 - 30 Nov 2023
300 Hour Multistyle Yoga Teacher Training
Gokarna
€2,100
€2,350
SAVE €150*

Contact

1701385200
300
December 2023
12/01/2023
01 Dec 2023 - 30 Dec 2023
300 Hour Multistyle Yoga Teacher Training
Gokarna
€2,100
€2,350
SAVE €150*

Contact

1704063600
300
January 2024
01/01/2024
01 Jan 2024 - 30 Jan 2024
300 Hour Multistyle Yoga Teacher Training
Gokarna
€2,100
€2,350
SAVE €150*

Contact

1706742000
300
February 2024
02/01/2024
01 Feb 2024 - 01 Mar 2024
300 Hour Multistyle Yoga Teacher Training
Gokarna
€2,100
€2,350
SAVE €150*

Contact

1709247600
300
March 2024
03/01/2024
01 Mar 2024 - 30 Mar 2024
300 Hour Multistyle Yoga Teacher Training
Gokarna
€2,100
€2,350
SAVE €150*

Contact

1711922400
300
April 2024
04/01/2024
01 Apr 2024 - 30 Apr 2024
300 Hour Multistyle Yoga Teacher Training
Gokarna
€2,100
€2,350
SAVE €150*

Contact

1725141600
300
September 2024
09/01/2024
01 Sep 2024 - 30 Sep 2024
300 Hour Multistyle Yoga Teacher Training
Gokarna
€2,100
€2,350
SAVE €150*

Contact

1727733600
300
October 2024
10/01/2024
01 Oct 2024 - 30 Oct 2024
300 Hour Multistyle Yoga Teacher Training
Gokarna
€2,100
€2,350
SAVE €150*

Contact

1730415600
300
November 2024
11/01/2024
01 Nov 2024 - 30 Nov 2024
300 Hour Multistyle Yoga Teacher Training
Gokarna
€2,100
€2,350
SAVE €150*

Contact

1733007600
300
December 2024
12/01/2024
01 Dec 2024 - 30 Dec 2024
300 Hour Multistyle Yoga Teacher Training
Gokarna
€2,100
€2,350
SAVE €150*

Contact

1735686000
300
January 2025
01/01/2025
01 Jan 2025 - 30 Jan 2025
300 Hour Multistyle Yoga Teacher Training
Gokarna
€2,100
€2,350
SAVE €150*

Contact

1738364400
300
February 2025
02/01/2025
01 Feb 2025 - 02 Mar 2025
300 Hour Multistyle Yoga Teacher Training
Gokarna
€2,100
€2,350
SAVE €150*

Contact

1740783600
300
March 2025
03/01/2025
01 Mar 2025 - 30 Mar 2025
300 Hour Multistyle Yoga Teacher Training
Gokarna
€2,100
€2,350
SAVE €150*

Contact

1743458400
300
April 2025
04/01/2025
01 Apr 2025 - 30 Apr 2025
300 Hour Multistyle Yoga Teacher Training
Gokarna
€2,100
€2,350
SAVE €150*

Contact

1696111200
300
October 2023
10/01/2023
01 Oct 2023 - 30 Oct 2023
300 Hour Restorative Yoga Teacher Training
Gokarna
€2,100
€2,350
SAVE €150*

Contact

1698793200
300
November 2023
11/01/2023
01 Nov 2023 - 30 Nov 2023
300 Hour Restorative Yoga Teacher Training
Gokarna
€2,100
€2,350
SAVE €150*

Contact

1701385200
300
December 2023
12/01/2023
01 Dec 2023 - 30 Dec 2023
300 Hour Restorative Yoga Teacher Training
Gokarna
€2,100
€2,350
SAVE €150*

Contact

1704063600
300
January 2024
01/01/2024
01 Jan 2024 - 30 Jan 2024
300 Hour Restorative Yoga Teacher Training
Gokarna
€2,100
€2,350
SAVE €150*

Contact

1706742000
300
February 2024
02/01/2024
01 Feb 2024 - 01 Mar 2024
300 Hour Restorative Yoga Teacher Training
Gokarna
€2,100
€2,350
SAVE €150*

Contact

1709247600
300
March 2024
03/01/2024
01 Mar 2024 - 30 Mar 2024
300 Hour Restorative Yoga Teacher Training
Gokarna
€2,100
€2,350
SAVE €150*

Contact

1711922400
300
April 2024
04/01/2024
01 Apr 2024 - 30 Apr 2024
300 Hour Restorative Yoga Teacher Training
Gokarna
€2,100
€2,350
SAVE €150*

Contact

1725141600
300
September 2024
09/01/2024
01 Sep 2024 - 30 Sep 2024
300 Hour Restorative Yoga Teacher Training
Gokarna
€2,100
€2,350
SAVE €150*

Contact

1727733600
300
October 2024
10/01/2024
01 Oct 2024 - 30 Oct 2024
300 Hour Restorative Yoga Teacher Training
Gokarna
€2,100
€2,350
SAVE €150*

Contact

1730415600
300
November 2024
11/01/2024
01 Nov 2024 - 30 Nov 2024
300 Hour Restorative Yoga Teacher Training
Gokarna
€2,100
€2,350
SAVE €150*

Contact

1733007600
300
December 2024
12/01/2024
01 Dec 2024 - 30 Dec 2024
300 Hour Restorative Yoga Teacher Training
Gokarna
€2,100
€2,350
SAVE €150*

Contact

1735686000
300
January 2025
01/01/2025
01 Jan 2025 - 30 Jan 2025
300 Hour Restorative Yoga Teacher Training
Gokarna
€2,100
€2,350
SAVE €150*

Contact

1738364400
300
February 2025
02/01/2025
01 Feb 2025 - 02 Mar 2025
300 Hour Restorative Yoga Teacher Training
Gokarna
€2,100
€2,350
SAVE €150*

Contact

1740783600
300
March 2025
03/01/2025
01 Mar 2025 - 30 Mar 2025
300 Hour Restorative Yoga Teacher Training
Gokarna
€2,100
€2,350
SAVE €150*

Contact

1743458400
300
April 2025
04/01/2025
01 Apr 2025 - 30 Apr 2025
300 Hour Restorative Yoga Teacher Training
Gokarna
€2,100
€2,350
SAVE €150*

Contact

1696111200
300
October 2023
10/01/2023
01 Oct 2023 - 30 Oct 2023
300 Hour Therapeutic Yoga Teacher Training
Gokarna
€2,100
€2,350
SAVE €150*

Contact

1698793200
300
November 2023
11/01/2023
01 Nov 2023 - 30 Nov 2023
300 Hour Therapeutic Yoga Teacher Training
Gokarna
€2,100
€2,350
SAVE €150*

Contact

1701385200
300
December 2023
12/01/2023
01 Dec 2023 - 30 Dec 2023
300 Hour Therapeutic Yoga Teacher Training
Gokarna
€2,100
€2,350
SAVE €150*

Contact

1704063600
300
January 2024
01/01/2024
01 Jan 2024 - 30 Jan 2024
300 Hour Therapeutic Yoga Teacher Training
Gokarna
€2,100
€2,350
SAVE €150*

Contact

1706742000
300
February 2024
02/01/2024
01 Feb 2024 - 01 Mar 2024
300 Hour Therapeutic Yoga Teacher Training
Gokarna
€2,100
€2,350
SAVE €150*

Contact

1709247600
300
March 2024
03/01/2024
01 Mar 2024 - 30 Mar 2024
300 Hour Therapeutic Yoga Teacher Training
Gokarna
€2,100
€2,350
SAVE €150*

Contact

1711922400
300
April 2024
04/01/2024
01 Apr 2024 - 30 Apr 2024
300 Hour Therapeutic Yoga Teacher Training
Gokarna
€2,100
€2,350
SAVE €150*

Contact

1725141600
300
September 2024
09/01/2024
01 Sep 2024 - 30 Sep 2024
300 Hour Therapeutic Yoga Teacher Training
Gokarna
€2,100
€2,350
SAVE €150*

Contact

1727733600
300
October 2024
10/01/2024
01 Oct 2024 - 30 Oct 2024
300 Hour Therapeutic Yoga Teacher Training
Gokarna
€2,100
€2,350
SAVE €150*

Contact

1730415600
300
November 2024
11/01/2024
01 Nov 2024 - 30 Nov 2024
300 Hour Therapeutic Yoga Teacher Training
Gokarna
€2,100
€2,350
SAVE €150*

Contact

1733007600
300
December 2024
12/01/2024
01 Dec 2024 - 30 Dec 2024
300 Hour Therapeutic Yoga Teacher Training
Gokarna
€2,100
€2,350
SAVE €150*

Contact

1735686000
300
January 2025
01/01/2025
01 Jan 2025 - 30 Jan 2025
300 Hour Therapeutic Yoga Teacher Training
Gokarna
€2,100
€2,350
SAVE €150*

Contact

1738364400
300
February 2025
02/01/2025
01 Feb 2025 - 02 Mar 2025
300 Hour Therapeutic Yoga Teacher Training
Gokarna
€2,100
€2,350
SAVE €150*

Contact

1740783600
300
March 2025
03/01/2025
01 Mar 2025 - 30 Mar 2025
300 Hour Therapeutic Yoga Teacher Training
Gokarna
€2,100
€2,350
SAVE €150*

Contact

1743458400
300
April 2025
04/01/2025
01 Apr 2025 - 30 Apr 2025
300 Hour Therapeutic Yoga Teacher Training
Gokarna
€2,100
€2,350
SAVE €150*

Contact

1696111200
300
October 2023
10/01/2023
01 Oct 2023 - 30 Oct 2023
300 Hour Vinyasa Yoga Teacher Training
Gokarna
€2,100
€2,350
SAVE €150*

Contact

1698793200
300
November 2023
11/01/2023
01 Nov 2023 - 30 Nov 2023
300 Hour Vinyasa Yoga Teacher Training
Gokarna
€2,100
€2,350
SAVE €150*

Contact

1701385200
300
December 2023
12/01/2023
01 Dec 2023 - 30 Dec 2023
300 Hour Vinyasa Yoga Teacher Training
Gokarna
€2,100
€2,350
SAVE €150*

Contact

1704063600
300
January 2024
01/01/2024
01 Jan 2024 - 30 Jan 2024
300 Hour Vinyasa Yoga Teacher Training
Gokarna
€2,100
€2,350
SAVE €150*

Contact

1706742000
300
February 2024
02/01/2024
01 Feb 2024 - 01 Mar 2024
300 Hour Vinyasa Yoga Teacher Training
Gokarna
€2,100
€2,350
SAVE €150*

Contact

1709247600
300
March 2024
03/01/2024
01 Mar 2024 - 30 Mar 2024
300 Hour Vinyasa Yoga Teacher Training
Gokarna
€2,100
€2,350
SAVE €150*

Contact

1711922400
300
April 2024
04/01/2024
01 Apr 2024 - 30 Apr 2024
300 Hour Vinyasa Yoga Teacher Training
Gokarna
€2,100
€2,350
SAVE €150*

Contact

1725141600
300
September 2024
09/01/2024
01 Sep 2024 - 30 Sep 2024
300 Hour Vinyasa Yoga Teacher Training
Gokarna
€2,100
€2,350
SAVE €150*

Contact

1727733600
300
October 2024
10/01/2024
01 Oct 2024 - 30 Oct 2024
300 Hour Vinyasa Yoga Teacher Training
Gokarna
€2,100
€2,350
SAVE €150*

Contact

1730415600
300
November 2024
11/01/2024
01 Nov 2024 - 30 Nov 2024
300 Hour Vinyasa Yoga Teacher Training
Gokarna
€2,100
€2,350
SAVE €150*

Contact

1733007600
300
December 2024
12/01/2024
01 Dec 2024 - 30 Dec 2024
300 Hour Vinyasa Yoga Teacher Training
Gokarna
€2,100
€2,350
SAVE €150*

Contact

1735686000
300
January 2025
01/01/2025
01 Jan 2025 - 30 Jan 2025
300 Hour Vinyasa Yoga Teacher Training
Gokarna
€2,100
€2,350
SAVE €150*

Contact

1738364400
300
February 2025
02/01/2025
01 Feb 2025 - 02 Mar 2025
300 Hour Vinyasa Yoga Teacher Training
Gokarna
€2,100
€2,350
SAVE €150*

Contact

1740783600
300
March 2025
03/01/2025
01 Mar 2025 - 30 Mar 2025
300 Hour Vinyasa Yoga Teacher Training
Gokarna
€2,100
€2,350
SAVE €150*

Contact

1743458400
300
April 2025
04/01/2025
01 Apr 2025 - 30 Apr 2025
300 Hour Vinyasa Yoga Teacher Training
Gokarna
€2,100
€2,350
SAVE €150*

Contact

1696111200
300
October 2023
10/01/2023
01 Oct 2023 - 30 Oct 2023
300 Hour Yin Yoga Teacher Training
Gokarna
€2,100
€2,350
SAVE €150*

Contact

1698793200
300
November 2023
11/01/2023
01 Nov 2023 - 30 Nov 2023
300 Hour Yin Yoga Teacher Training
Gokarna
€2,100
€2,350
SAVE €150*

Contact

1701385200
300
December 2023
12/01/2023
01 Dec 2023 - 30 Dec 2023
300 Hour Yin Yoga Teacher Training
Gokarna
€2,100
€2,350
SAVE €150*

Contact

1704063600
300
January 2024
01/01/2024
01 Jan 2024 - 30 Jan 2024
300 Hour Yin Yoga Teacher Training
Gokarna
€2,100
€2,350
SAVE €150*

Contact

1706742000
300
February 2024
02/01/2024
01 Feb 2024 - 01 Mar 2024
300 Hour Yin Yoga Teacher Training
Gokarna
€2,100
€2,350
SAVE €150*

Contact

1709247600
300
March 2024
03/01/2024
01 Mar 2024 - 30 Mar 2024
300 Hour Yin Yoga Teacher Training
Gokarna
€2,100
€2,350
SAVE €150*

Contact

1711922400
300
April 2024
04/01/2024
01 Apr 2024 - 30 Apr 2024
300 Hour Yin Yoga Teacher Training
Gokarna
€2,100
€2,350
SAVE €150*

Contact

1725141600
300
September 2024
09/01/2024
01 Sep 2024 - 30 Sep 2024
300 Hour Yin Yoga Teacher Training
Gokarna
€2,100
€2,350
SAVE €150*

Contact

1727733600
300
October 2024
10/01/2024
01 Oct 2024 - 30 Oct 2024
300 Hour Yin Yoga Teacher Training
Gokarna
€2,100
€2,350
SAVE €150*

Contact

1730415600
300
November 2024
11/01/2024
01 Nov 2024 - 30 Nov 2024
300 Hour Yin Yoga Teacher Training
Gokarna
€2,100
€2,350
SAVE €150*

Contact

1733007600
300
December 2024
12/01/2024
01 Dec 2024 - 30 Dec 2024
300 Hour Yin Yoga Teacher Training
Gokarna
€2,100
€2,350
SAVE €150*

Contact

1735686000
300
January 2025
01/01/2025
01 Jan 2025 - 30 Jan 2025
300 Hour Yin Yoga Teacher Training
Gokarna
€2,100
€2,350
SAVE €150*

Contact

1738364400
300
February 2025
02/01/2025
01 Feb 2025 - 02 Mar 2025
300 Hour Yin Yoga Teacher Training
Gokarna
€2,100
€2,350
SAVE €150*

Contact

1740783600
300
March 2025
03/01/2025
01 Mar 2025 - 30 Mar 2025
300 Hour Yin Yoga Teacher Training
Gokarna
€2,100
€2,350
SAVE €150*

Contact

1743458400
300
April 2025
04/01/2025
01 Apr 2025 - 30 Apr 2025
300 Hour Yin Yoga Teacher Training
Gokarna
€2,100
€2,350
SAVE €150*

Contact

1695679200
200
September 2023
09/26/2023
26 Sep 2023 - 20 Oct 2023
200 Hour Ashtanga Teacher Training
Gokarna
€1,500
€1,750
SAVE €100*

Contact

1697839200
200
October 2023
10/21/2023
21 Oct 2023 - 14 Nov 2023
200 Hour Ashtanga Teacher Training
Gokarna
€1,500
€1,750
SAVE €100*

Contact

1700002800
200
November 2023
11/15/2023
15 Nov 2023 - 09 Dec 2023
200 Hour Ashtanga Teacher Training
Gokarna
€1,500
€1,750
SAVE €100*

Contact

1702162800
200
December 2023
12/10/2023
10 Dec 2023 - 03 Jan 2024
200 Hour Ashtanga Teacher Training
Gokarna
€1,500
€1,750
SAVE €100*

Contact

1704322800
200
January 2024
01/04/2024
04 Jan 2024 - 28 Jan 2024
200 Hour Ashtanga Teacher Training
Gokarna
€1,500
€1,750
SAVE €100*

Contact

1706482800
200
January 2024
01/29/2024
29 Jan 2024 - 22 Feb 2024
200 Hour Ashtanga Teacher Training
Gokarna
€1,500
€1,750
SAVE €100*

Contact

1708642800
200
February 2024
02/23/2024
23 Feb 2024 - 18 Mar 2024
200 Hour Ashtanga Teacher Training
Gokarna
€1,500
€1,750
SAVE €100*

Contact

1710889200
200
March 2024
03/20/2024
20 Mar 2024 - 13 Apr 2024
200 Hour Ashtanga Teacher Training
Gokarna
€1,500
€1,750
SAVE €100*

Contact

1725141600
200
September 2024
09/01/2024
01 Sep 2024 - 25 Sep 2024
200 Hour Ashtanga Teacher Training
Gokarna
€1,500
€1,750
SAVE €100*

Contact

1727301600
200
September 2024
09/26/2024
26 Sep 2024 - 20 Oct 2024
200 Hour Ashtanga Teacher Training
Gokarna
€1,500
€1,750
SAVE €100*

Contact

1729461600
200
October 2024
10/21/2024
21 Oct 2024 - 14 Nov 2024
200 Hour Ashtanga Teacher Training
Gokarna
€1,500
€1,750
SAVE €100*

Contact

1731625200
200
November 2024
11/15/2024
15 Nov 2024 - 09 Dec 2024
200 Hour Ashtanga Teacher Training
Gokarna
€1,500
€1,750
SAVE €100*

Contact

1733785200
200
December 2024
12/10/2024
10 Dec 2024 - 03 Jan 2025
200 Hour Ashtanga Teacher Training
Gokarna
€1,500
€1,750
SAVE €100*

Contact

1735945200
200
January 2025
01/04/2025
04 Jan 2025 - 28 Jan 2025
200 Hour Ashtanga Teacher Training
Gokarna
€1,500
€1,750
SAVE €100*

Contact

1738105200
200
January 2025
01/29/2025
29 Jan 2025 - 22 Feb 2025
200 Hour Ashtanga Teacher Training
Gokarna
€1,500
€1,750
SAVE €100*

Contact

1740265200
200
February 2025
02/23/2025
23 Feb 2025 - 19 Mar 2025
200 Hour Ashtanga Teacher Training
Gokarna
€1,500
€1,750
SAVE €100*

Contact

1742425200
200
March 2025
03/20/2025
20 Mar 2025 - 13 Apr 2025
200 Hour Ashtanga Teacher Training
Gokarna
€1,500
€1,750
SAVE €100*

Contact

1695679200
200
September 2023
09/26/2023
26 Sep 2023 - 20 Oct 2023
200 Hour Hatha Teacher Training
Gokarna
€1,500
€1,750
SAVE €100*

Contact

1697839200
200
October 2023
10/21/2023
21 Oct 2023 - 14 Nov 2023
200 Hour Hatha Teacher Training
Gokarna
€1,500
€1,750
SAVE €100*

Contact

1700002800
200
November 2023
11/15/2023
15 Nov 2023 - 09 Dec 2023
200 Hour Hatha Teacher Training
Gokarna
€1,500
€1,750
SAVE €100*

Contact

1702162800
200
December 2023
12/10/2023
10 Dec 2023 - 03 Jan 2024
200 Hour Hatha Teacher Training
Gokarna
€1,500
€1,750
SAVE €100*

Contact

1704322800
200
January 2024
01/04/2024
04 Jan 2024 - 28 Jan 2024
200 Hour Hatha Teacher Training
Gokarna
€1,500
€1,750
SAVE €100*

Contact

1706482800
200
January 2024
01/29/2024
29 Jan 2024 - 22 Feb 2024
200 Hour Hatha Teacher Training
Gokarna
€1,500
€1,750
SAVE €100*

Contact

1708642800
200
February 2024
02/23/2024
23 Feb 2024 - 18 Mar 2024
200 Hour Hatha Teacher Training
Gokarna
€1,500
€1,750
SAVE €100*

Contact

1710889200
200
March 2024
03/20/2024
20 Mar 2024 - 13 Apr 2024
200 Hour Hatha Teacher Training
Gokarna
€1,500
€1,750
SAVE €100*

Contact

1725141600
200
September 2024
09/01/2024
01 Sep 2024 - 25 Sep 2024
200 Hour Hatha Teacher Training
Gokarna
€1,500
€1,750
SAVE €100*

Contact

1727301600
200
September 2024
09/26/2024
26 Sep 2024 - 20 Oct 2024
200 Hour Hatha Teacher Training
Gokarna
€1,500
€1,750
SAVE €100*

Contact

1729461600
200
October 2024
10/21/2024
21 Oct 2024 - 14 Nov 2024
200 Hour Hatha Teacher Training
Gokarna
€1,500
€1,750
SAVE €100*

Contact

1731625200
200
November 2024
11/15/2024
15 Nov 2024 - 09 Dec 2024
200 Hour Hatha Teacher Training
Gokarna
€1,500
€1,750
SAVE €100*

Contact

1733785200
200
December 2024
12/10/2024
10 Dec 2024 - 03 Jan 2025
200 Hour Hatha Teacher Training
Gokarna
€1,500
€1,750
SAVE €100*

Contact

1735945200
200
January 2025
01/04/2025
04 Jan 2025 - 28 Jan 2025
200 Hour Hatha Teacher Training
Gokarna
€1,500
€1,750
SAVE €100*

Contact

1738105200
200
January 2025
01/29/2025
29 Jan 2025 - 22 Feb 2025
200 Hour Hatha Teacher Training
Gokarna
€1,500
€1,750
SAVE €100*

Contact

1740265200
200
February 2025
02/23/2025
23 Feb 2025 - 19 Mar 2025
200 Hour Hatha Teacher Training
Gokarna
€1,500
€1,750
SAVE €100*

Contact

1742425200
200
March 2025
03/20/2025
20 Mar 2025 - 13 Apr 2025
200 Hour Hatha Teacher Training
Gokarna
€1,500
€1,750
SAVE €100*

Contact

1695679200
200
September 2023
09/26/2023
26 Sep 2023 - 20 Oct 2023
200 Hour Multistyle Teacher Training
Gokarna
€1,500
€1,750
SAVE €100*

Contact

1697839200
200
October 2023
10/21/2023
21 Oct 2023 - 14 Nov 2023
200 Hour Multistyle Teacher Training
Gokarna
€1,500
€1,750
SAVE €100*

Contact

1700002800
200
November 2023
11/15/2023
15 Nov 2023 - 09 Dec 2023
200 Hour Multistyle Teacher Training
Gokarna
€1,500
€1,750
SAVE €100*

Contact

1702162800
200
December 2023
12/10/2023
10 Dec 2023 - 03 Jan 2024
200 Hour Multistyle Teacher Training
Gokarna
€1,500
€1,750
SAVE €100*

Contact

1704322800
200
January 2024
01/04/2024
04 Jan 2024 - 28 Jan 2024
200 Hour Multistyle Teacher Training
Gokarna
€1,500
€1,750
SAVE €100*

Contact

1706482800
200
January 2024
01/29/2024
29 Jan 2024 - 22 Feb 2024
200 Hour Multistyle Teacher Training
Gokarna
€1,500
€1,750
SAVE €100*

Contact

1708642800
200
February 2024
02/23/2024
23 Feb 2024 - 18 Mar 2024
200 Hour Multistyle Teacher Training
Gokarna
€1,500
€1,750
SAVE €100*

Contact

1710889200
200
March 2024
03/20/2024
20 Mar 2024 - 13 Apr 2024
200 Hour Multistyle Teacher Training
Gokarna
€1,500
€1,750
SAVE €100*

Contact

1725141600
200
September 2024
09/01/2024
01 Sep 2024 - 25 Sep 2024
200 Hour Multistyle Teacher Training
Gokarna
€1,500
€1,750
SAVE €100*

Contact

1727301600
200
September 2024
09/26/2024
26 Sep 2024 - 20 Oct 2024
200 Hour Multistyle Teacher Training
Gokarna
€1,500
€1,750
SAVE €100*

Contact

1729461600
200
October 2024
10/21/2024
21 Oct 2024 - 14 Nov 2024
200 Hour Multistyle Teacher Training
Gokarna
€1,500
€1,750
SAVE €100*

Contact

1731625200
200
November 2024
11/15/2024
15 Nov 2024 - 09 Dec 2024
200 Hour Multistyle Teacher Training
Gokarna
€1,500
€1,750
SAVE €100*

Contact

1733785200
200
December 2024
12/10/2024
10 Dec 2024 - 03 Jan 2025
200 Hour Multistyle Teacher Training
Gokarna
€1,500
€1,750
SAVE €100*

Contact

1735945200
200
January 2025
01/04/2025
04 Jan 2025 - 28 Jan 2025
200 Hour Multistyle Teacher Training
Gokarna
€1,500
€1,750
SAVE €100*

Contact

1738105200
200
January 2025
01/29/2025
29 Jan 2025 - 22 Feb 2025
200 Hour Multistyle Teacher Training
Gokarna
€1,500
€1,750
SAVE €100*

Contact

1740265200
200
February 2025
02/23/2025
23 Feb 2025 - 19 Mar 2025
200 Hour Multistyle Teacher Training
Gokarna
€1,500
€1,750
SAVE €100*

Contact

1742425200
200
March 2025
03/20/2025
20 Mar 2025 - 13 Apr 2025
200 Hour Multistyle Teacher Training
Gokarna
€1,500
€1,750
SAVE €100*

Contact

1695679200
200
September 2023
09/26/2023
26 Sep 2023 - 20 Oct 2023
200 Hour Restorative Teacher Training
Gokarna
€1,500
€1,750
SAVE €100*

Contact

1697839200
200
October 2023
10/21/2023
21 Oct 2023 - 14 Nov 2023
200 Hour Restorative Teacher Training
Gokarna
€1,500
€1,750
SAVE €100*

Contact

1700002800
200
November 2023
11/15/2023
15 Nov 2023 - 09 Dec 2023
200 Hour Restorative Teacher Training
Gokarna
€1,500
€1,750
SAVE €100*

Contact

1702162800
200
December 2023
12/10/2023
10 Dec 2023 - 03 Jan 2024
200 Hour Restorative Teacher Training
Gokarna
€1,500
€1,750
SAVE €100*

Contact

1704322800
200
January 2024
01/04/2024
04 Jan 2024 - 28 Jan 2024
200 Hour Restorative Teacher Training
Gokarna
€1,500
€1,750
SAVE €100*

Contact

1706482800
200
January 2024
01/29/2024
29 Jan 2024 - 22 Feb 2024
200 Hour Restorative Teacher Training
Gokarna
€1,500
€1,750
SAVE €100*

Contact

1708642800
200
February 2024
02/23/2024
23 Feb 2024 - 18 Mar 2024
200 Hour Restorative Teacher Training
Gokarna
€1,500
€1,750
SAVE €100*

Contact

1710889200
200
March 2024
03/20/2024
20 Mar 2024 - 13 Apr 2024
200 Hour Restorative Teacher Training
Gokarna
€1,500
€1,750
SAVE €100*

Contact

1725141600
200
September 2024
09/01/2024
01 Sep 2024 - 25 Sep 2024
200 Hour Restorative Teacher Training
Gokarna
€1,500
€1,750
SAVE €100*

Contact

1727301600
200
September 2024
09/26/2024
26 Sep 2024 - 20 Oct 2024
200 Hour Restorative Teacher Training
Gokarna
€1,500
€1,750
SAVE €100*

Contact

1729461600
200
October 2024
10/21/2024
21 Oct 2024 - 14 Nov 2024
200 Hour Restorative Teacher Training
Gokarna
€1,500
€1,750
SAVE €100*

Contact

1731625200
200
November 2024
11/15/2024
15 Nov 2024 - 09 Dec 2024
200 Hour Restorative Teacher Training
Gokarna
€1,500
€1,750
SAVE €100*

Contact

1733785200
200
December 2024
12/10/2024
10 Dec 2024 - 03 Jan 2025
200 Hour Restorative Teacher Training
Gokarna
€1,500
€1,750
SAVE €100*

Contact

1735945200
200
January 2025
01/04/2025
04 Jan 2025 - 28 Jan 2025
200 Hour Restorative Teacher Training
Gokarna
€1,500
€1,750
SAVE €100*

Contact

1738105200
200
January 2025
01/29/2025
29 Jan 2025 - 22 Feb 2025
200 Hour Restorative Teacher Training
Gokarna
€1,500
€1,750
SAVE €100*

Contact

1740265200
200
February 2025
02/23/2025
23 Feb 2025 - 19 Mar 2025
200 Hour Restorative Teacher Training
Gokarna
€1,500
€1,750
SAVE €100*

Contact

1742425200
200
March 2025
03/20/2025
20 Mar 2025 - 13 Apr 2025
200 Hour Restorative Teacher Training
Gokarna
€1,500
€1,750
SAVE €100*

Contact

1695679200
200
September 2023
09/26/2023
26 Sep 2023 - 20 Oct 2023
200 Hour Therapeutic Teacher Training
Gokarna
€1,500
€1,750
SAVE €100*

Contact

1697839200
200
October 2023
10/21/2023
21 Oct 2023 - 14 Nov 2023
200 Hour Therapeutic Teacher Training
Gokarna
€1,500
€1,750
SAVE €100*

Contact

1700002800
200
November 2023
11/15/2023
15 Nov 2023 - 09 Dec 2023
200 Hour Therapeutic Teacher Training
Gokarna
€1,500
€1,750
SAVE €100*

Contact

1702162800
200
December 2023
12/10/2023
10 Dec 2023 - 03 Jan 2024
200 Hour Therapeutic Teacher Training
Gokarna
€1,500
€1,750
SAVE €100*

Contact

1704322800
200
January 2024
01/04/2024
04 Jan 2024 - 28 Jan 2024
200 Hour Therapeutic Teacher Training
Gokarna
€1,500
€1,750
SAVE €100*

Contact

1706482800
200
January 2024
01/29/2024
29 Jan 2024 - 22 Feb 2024
200 Hour Therapeutic Teacher Training
Gokarna
€1,500
€1,750
SAVE €100*

Contact

1708642800
200
February 2024
02/23/2024
23 Feb 2024 - 18 Mar 2024
200 Hour Therapeutic Teacher Training
Gokarna
€1,500
€1,750
SAVE €100*

Contact

1710889200
200
March 2024
03/20/2024
20 Mar 2024 - 13 Apr 2024
200 Hour Therapeutic Teacher Training
Gokarna
€1,500
€1,750
SAVE €100*

Contact

1725141600
200
September 2024
09/01/2024
01 Sep 2024 - 25 Sep 2024
200 Hour Therapeutic Teacher Training
Gokarna
€1,500
€1,750
SAVE €100*

Contact

1727301600
200
September 2024
09/26/2024
26 Sep 2024 - 20 Oct 2024
200 Hour Therapeutic Teacher Training
Gokarna
€1,500
€1,750
SAVE €100*

Contact

1729461600
200
October 2024
10/21/2024
21 Oct 2024 - 14 Nov 2024
200 Hour Therapeutic Teacher Training
Gokarna
€1,500
€1,750
SAVE €100*

Contact

1731625200
200
November 2024
11/15/2024
15 Nov 2024 - 09 Dec 2024
200 Hour Therapeutic Teacher Training
Gokarna
€1,500
€1,750
SAVE €100*

Contact

1733785200
200
December 2024
12/10/2024
10 Dec 2024 - 03 Jan 2025
200 Hour Therapeutic Teacher Training
Gokarna
€1,500
€1,750
SAVE €100*

Contact

1735945200
200
January 2025
01/04/2025
04 Jan 2025 - 28 Jan 2025
200 Hour Therapeutic Teacher Training
Gokarna
€1,500
€1,750
SAVE €100*

Contact

1738105200
200
January 2025
01/29/2025
29 Jan 2025 - 22 Feb 2025
200 Hour Therapeutic Teacher Training
Gokarna
€1,500
€1,750
SAVE €100*

Contact

1740265200
200
February 2025
02/23/2025
23 Feb 2025 - 19 Mar 2025
200 Hour Therapeutic Teacher Training
Gokarna
€1,500
€1,750
SAVE €100*

Contact

1742425200
200
March 2025
03/20/2025
20 Mar 2025 - 13 Apr 2025
200 Hour Therapeutic Teacher Training
Gokarna
€1,500
€1,750
SAVE €100*

Contact

1695679200
200
September 2023
09/26/2023
26 Sep 2023 - 20 Oct 2023
200 Hour Vinyasa Teacher Training
Gokarna
€1,500
€1,750
SAVE €100*

Contact

1697839200
200
October 2023
10/21/2023
21 Oct 2023 - 14 Nov 2023
200 Hour Vinyasa Teacher Training
Gokarna
€1,500
€1,750
SAVE €100*

Contact

1700002800
200
November 2023
11/15/2023
15 Nov 2023 - 09 Dec 2023
200 Hour Vinyasa Teacher Training
Gokarna
€1,500
€1,750
SAVE €100*

Contact

1702162800
200
December 2023
12/10/2023
10 Dec 2023 - 03 Jan 2024
200 Hour Vinyasa Teacher Training
Gokarna
€1,500
€1,750
SAVE €100*

Contact

1704322800
200
January 2024
01/04/2024
04 Jan 2024 - 28 Jan 2024
200 Hour Vinyasa Teacher Training
Gokarna
€1,500
€1,750
SAVE €100*

Contact

1706482800
200
January 2024
01/29/2024
29 Jan 2024 - 22 Feb 2024
200 Hour Vinyasa Teacher Training
Gokarna
€1,500
€1,750
SAVE €100*

Contact

1708642800
200
February 2024
02/23/2024
23 Feb 2024 - 18 Mar 2024
200 Hour Vinyasa Teacher Training
Gokarna
€1,500
€1,750
SAVE €100*

Contact

1710889200
200
March 2024
03/20/2024
20 Mar 2024 - 13 Apr 2024
200 Hour Vinyasa Teacher Training
Gokarna
€1,500
€1,750
SAVE €100*

Contact

1725141600
200
September 2024
09/01/2024
01 Sep 2024 - 25 Sep 2024
200 Hour Vinyasa Teacher Training
Gokarna
€1,500
€1,750
SAVE €100*

Contact

1727301600
200
September 2024
09/26/2024
26 Sep 2024 - 20 Oct 2024
200 Hour Vinyasa Teacher Training
Gokarna
€1,500
€1,750
SAVE €100*

Contact

1729461600
200
October 2024
10/21/2024
21 Oct 2024 - 14 Nov 2024
200 Hour Vinyasa Teacher Training
Gokarna
€1,500
€1,750
SAVE €100*

Contact

1731625200
200
November 2024
11/15/2024
15 Nov 2024 - 09 Dec 2024
200 Hour Vinyasa Teacher Training
Gokarna
€1,500
€1,750
SAVE €100*

Contact

1733785200
200
December 2024
12/10/2024
10 Dec 2024 - 03 Jan 2025
200 Hour Vinyasa Teacher Training
Gokarna
€1,500
€1,750
SAVE €100*

Contact

1735945200
200
January 2025
01/04/2025
04 Jan 2025 - 28 Jan 2025
200 Hour Vinyasa Teacher Training
Gokarna
€1,500
€1,750
SAVE €100*

Contact

1738105200
200
January 2025
01/29/2025
29 Jan 2025 - 22 Feb 2025
200 Hour Vinyasa Teacher Training
Gokarna
€1,500
€1,750
SAVE €100*

Contact

1740265200
200
February 2025
02/23/2025
23 Feb 2025 - 19 Mar 2025
200 Hour Vinyasa Teacher Training
Gokarna
€1,500
€1,750
SAVE €100*

Contact

1742425200
200
March 2025
03/20/2025
20 Mar 2025 - 13 Apr 2025
200 Hour Vinyasa Teacher Training
Gokarna
€1,500
€1,750
SAVE €100*

Contact

1695679200
200
September 2023
09/26/2023
26 Sep 2023 - 20 Oct 2023
200 Hour Yin Yoga Teacher Training
Gokarna
€1,500
€1,750
SAVE €100*

Contact

1697839200
200
October 2023
10/21/2023
21 Oct 2023 - 14 Nov 2023
200 Hour Yin Yoga Teacher Training
Gokarna
€1,500
€1,750
SAVE €100*

Contact

1700002800
200
November 2023
11/15/2023
15 Nov 2023 - 09 Dec 2023
200 Hour Yin Yoga Teacher Training
Gokarna
€1,500
€1,750
SAVE €100*

Contact

1702162800
200
December 2023
12/10/2023
10 Dec 2023 - 03 Jan 2024
200 Hour Yin Yoga Teacher Training
Gokarna
€1,500
€1,750
SAVE €100*

Contact

1704322800
200
January 2024
01/04/2024
04 Jan 2024 - 28 Jan 2024
200 Hour Yin Yoga Teacher Training
Gokarna
€1,500
€1,750
SAVE €100*

Contact

1706482800
200
January 2024
01/29/2024
29 Jan 2024 - 22 Feb 2024
200 Hour Yin Yoga Teacher Training
Gokarna
€1,500
€1,750
SAVE €100*

Contact

1708642800
200
February 2024
02/23/2024
23 Feb 2024 - 18 Mar 2024
200 Hour Yin Yoga Teacher Training
Gokarna
€1,500
€1,750
SAVE €100*

Contact

1710889200
200
March 2024
03/20/2024
20 Mar 2024 - 13 Apr 2024
200 Hour Yin Yoga Teacher Training
Gokarna
€1,500
€1,750
SAVE €100*

Contact

1725141600
200
September 2024
09/01/2024
01 Sep 2024 - 25 Sep 2024
200 Hour Yin Yoga Teacher Training
Gokarna
€1,500
€1,750
SAVE €100*

Contact

1727301600
200
September 2024
09/26/2024
26 Sep 2024 - 20 Oct 2024
200 Hour Yin Yoga Teacher Training
Gokarna
€1,500
€1,750
SAVE €100*

Contact

1729461600
200
October 2024
10/21/2024
21 Oct 2024 - 14 Nov 2024
200 Hour Yin Yoga Teacher Training
Gokarna
€1,500
€1,750
SAVE €100*

Contact

1731625200
200
November 2024
11/15/2024
15 Nov 2024 - 09 Dec 2024
200 Hour Yin Yoga Teacher Training
Gokarna
€1,500
€1,750
SAVE €100*

Contact

1733785200
200
December 2024
12/10/2024
10 Dec 2024 - 03 Jan 2025
200 Hour Yin Yoga Teacher Training
Gokarna
€1,500
€1,750
SAVE €100*

Contact

1735945200
200
January 2025
01/04/2025
04 Jan 2025 - 28 Jan 2025
200 Hour Yin Yoga Teacher Training
Gokarna
€1,500
€1,750
SAVE €100*

Contact

1738105200
200
January 2025
01/29/2025
29 Jan 2025 - 22 Feb 2025
200 Hour Yin Yoga Teacher Training
Gokarna
€1,500
€1,750
SAVE €100*

Contact

1740265200
200
February 2025
02/23/2025
23 Feb 2025 - 19 Mar 2025
200 Hour Yin Yoga Teacher Training
Gokarna
€1,500
€1,750
SAVE €100*

Contact

1742425200
200
March 2025
03/20/2025
20 Mar 2025 - 13 Apr 2025
200 Hour Yin Yoga Teacher Training
Gokarna
€1,500
€1,750
SAVE €100*

Contact

1693519200
100
September 2023
09/01/2023
01 Sep 2023 - 12 Sep 2023
100 Hour Ashtanga Teacher Training
Gokarna
€800
€925
SAVE €50*

Contact

1695074400
100
September 2023
09/19/2023
19 Sep 2023 - 30 Sep 2023
100 Hour Ashtanga Teacher Training
Gokarna
€800
€925
SAVE €50*

Contact

1696111200
100
October 2023
10/01/2023
01 Oct 2023 - 12 Oct 2023
100 Hour Ashtanga Teacher Training
Gokarna
€800
€925
SAVE €50*

Contact

1697666400
100
October 2023
10/19/2023
19 Oct 2023 - 30 Oct 2023
100 Hour Ashtanga Teacher Training
Gokarna
€800
€925
SAVE €50*

Contact

1698793200
100
November 2023
11/01/2023
01 Nov 2023 - 12 Nov 2023
100 Hour Ashtanga Teacher Training
Gokarna
€800
€925
SAVE €50*

Contact

1700348400
100
November 2023
11/19/2023
19 Nov 2023 - 30 Nov 2023
100 Hour Ashtanga Teacher Training
Gokarna
€800
€925
SAVE €50*

Contact

1701385200
100
December 2023
12/01/2023
01 Dec 2023 - 12 Dec 2023
100 Hour Ashtanga Teacher Training
Gokarna
€800
€925
SAVE €50*

Contact

1702940400
100
December 2023
12/19/2023
19 Dec 2023 - 30 Dec 2023
100 Hour Ashtanga Teacher Training
Gokarna
€800
€925
SAVE €50*

Contact

1704063600
100
January 2024
01/01/2024
01 Jan 2024 - 12 Jan 2024
100 Hour Ashtanga Teacher Training
Gokarna
€800
€925
SAVE €50*

Contact

1705618800
100
January 2024
01/19/2024
19 Jan 2024 - 30 Jan 2024
100 Hour Ashtanga Teacher Training
Gokarna
€800
€925
SAVE €50*

Contact

1706742000
100
February 2024
02/01/2024
01 Feb 2024 - 12 Feb 2024
100 Hour Ashtanga Teacher Training
Gokarna
€800
€925
SAVE €50*

Contact

1708297200
100
February 2024
02/19/2024
19 Feb 2024 - 01 Mar 2024
100 Hour Ashtanga Teacher Training
Gokarna
€800
€925
SAVE €50*

Contact

1709247600
100
March 2024
03/01/2024
01 Mar 2024 - 12 Mar 2024
100 Hour Ashtanga Teacher Training
Gokarna
€800
€925
SAVE €50*

Contact

1710802800
100
March 2024
03/19/2024
19 Mar 2024 - 30 Mar 2024
100 Hour Ashtanga Teacher Training
Gokarna
€800
€925
SAVE €50*

Contact

1711922400
100
April 2024
04/01/2024
01 Apr 2024 - 12 Apr 2024
100 Hour Ashtanga Teacher Training
Gokarna
€800
€925
SAVE €50*

Contact

1713477600
100
April 2024
04/19/2024
19 Apr 2024 - 30 Apr 2024
100 Hour Ashtanga Teacher Training
Gokarna
€800
€925
SAVE €50*

Contact

1693519200
100
September 2023
09/01/2023
01 Sep 2023 - 12 Sep 2023
100 Hour Hatha Teacher Training
Gokarna
€800
€925
SAVE €50*

Contact

1695074400
100
September 2023
09/19/2023
19 Sep 2023 - 30 Sep 2023
100 Hour Hatha Teacher Training
Gokarna
€800
€925
SAVE €50*

Contact

1696111200
100
October 2023
10/01/2023
01 Oct 2023 - 12 Oct 2023
100 Hour Hatha Teacher Training
Gokarna
€800
€925
SAVE €50*

Contact

1697666400
100
October 2023
10/19/2023
19 Oct 2023 - 30 Oct 2023
100 Hour Hatha Teacher Training
Gokarna
€800
€925
SAVE €50*

Contact

1698793200
100
November 2023
11/01/2023
01 Nov 2023 - 12 Nov 2023
100 Hour Hatha Teacher Training
Gokarna
€800
€925
SAVE €50*

Contact

1700348400
100
November 2023
11/19/2023
19 Nov 2023 - 30 Nov 2023
100 Hour Hatha Teacher Training
Gokarna
€800
€925
SAVE €50*

Contact

1701385200
100
December 2023
12/01/2023
01 Dec 2023 - 12 Dec 2023
100 Hour Hatha Teacher Training
Gokarna
€800
€925
SAVE €50*

Contact

1702940400
100
December 2023
12/19/2023
19 Dec 2023 - 30 Dec 2023
100 Hour Hatha Teacher Training
Gokarna
€800
€925
SAVE €50*

Contact

1704063600
100
January 2024
01/01/2024
01 Jan 2024 - 12 Jan 2024
100 Hour Hatha Teacher Training
Gokarna
€800
€925
SAVE €50*

Contact

1705618800
100
January 2024
01/19/2024
19 Jan 2024 - 30 Jan 2024
100 Hour Hatha Teacher Training
Gokarna
€800
€925
SAVE €50*

Contact

1706742000
100
February 2024
02/01/2024
01 Feb 2024 - 12 Feb 2024
100 Hour Hatha Teacher Training
Gokarna
€800
€925
SAVE €50*

Contact

1708297200
100
February 2024
02/19/2024
19 Feb 2024 - 01 Mar 2024
100 Hour Hatha Teacher Training
Gokarna
€800
€925
SAVE €50*

Contact

1709247600
100
March 2024
03/01/2024
01 Mar 2024 - 12 Mar 2024
100 Hour Hatha Teacher Training
Gokarna
€800
€925
SAVE €50*

Contact

1710802800
100
March 2024
03/19/2024
19 Mar 2024 - 30 Mar 2024
100 Hour Hatha Teacher Training
Gokarna
€800
€925
SAVE €50*

Contact

1711922400
100
April 2024
04/01/2024
01 Apr 2024 - 12 Apr 2024
100 Hour Hatha Teacher Training
Gokarna
€800
€925
SAVE €50*

Contact

1713477600
100
April 2024
04/19/2024
19 Apr 2024 - 30 Apr 2024
100 Hour Hatha Teacher Training
Gokarna
€800
€925
SAVE €50*

Contact

1693519200
100
September 2023
09/01/2023
01 Sep 2023 - 12 Sep 2023
100 Hour Vinyasa Teacher Training
Gokarna
€800
€925
SAVE €50*

Contact

1695074400
100
September 2023
09/19/2023
19 Sep 2023 - 30 Sep 2023
100 Hour Vinyasa Teacher Training
Gokarna
€800
€925
SAVE €50*

Contact

1696111200
100
October 2023
10/01/2023
01 Oct 2023 - 12 Oct 2023
100 Hour Vinyasa Teacher Training
Gokarna
€800
€925
SAVE €50*

Contact

1697666400
100
October 2023
10/19/2023
19 Oct 2023 - 30 Oct 2023
100 Hour Vinyasa Teacher Training
Gokarna
€800
€925
SAVE €50*

Contact

1698793200
100
November 2023
11/01/2023
01 Nov 2023 - 12 Nov 2023
100 Hour Vinyasa Teacher Training
Gokarna
€800
€925
SAVE €50*

Contact

1700348400
100
November 2023
11/19/2023
19 Nov 2023 - 30 Nov 2023
100 Hour Vinyasa Teacher Training
Gokarna
€800
€925
SAVE €50*

Contact

1701385200
100
December 2023
12/01/2023
01 Dec 2023 - 12 Dec 2023
100 Hour Vinyasa Teacher Training
Gokarna
€800
€925
SAVE €50*

Contact

1702940400
100
December 2023
12/19/2023
19 Dec 2023 - 30 Dec 2023
100 Hour Vinyasa Teacher Training
Gokarna
€800
€925
SAVE €50*

Contact

1704063600
100
January 2024
01/01/2024
01 Jan 2024 - 12 Jan 2024
100 Hour Vinyasa Teacher Training
Gokarna
€800
€925
SAVE €50*

Contact

1705618800
100
January 2024
01/19/2024
19 Jan 2024 - 30 Jan 2024
100 Hour Vinyasa Teacher Training
Gokarna
€800
€925
SAVE €50*

Contact

1706742000
100
February 2024
02/01/2024
01 Feb 2024 - 12 Feb 2024
100 Hour Vinyasa Teacher Training
Gokarna
€800
€925
SAVE €50*

Contact

1708297200
100
February 2024
02/19/2024
19 Feb 2024 - 01 Mar 2024
100 Hour Vinyasa Teacher Training
Gokarna
€800
€925
SAVE €50*

Contact

1709247600
100
March 2024
03/01/2024
01 Mar 2024 - 12 Mar 2024
100 Hour Vinyasa Teacher Training
Gokarna
€800
€925
SAVE €50*

Contact

1710802800
100
March 2024
03/19/2024
19 Mar 2024 - 30 Mar 2024
100 Hour Vinyasa Teacher Training
Gokarna
€800
€925
SAVE €50*

Contact

1711922400
100
April 2024
04/01/2024
01 Apr 2024 - 12 Apr 2024
100 Hour Vinyasa Teacher Training
Gokarna
€800
€925
SAVE €50*

Contact

1713477600
100
April 2024
04/19/2024
19 Apr 2024 - 30 Apr 2024
100 Hour Vinyasa Teacher Training
Gokarna
€800
€925
SAVE €50*

Contact

1693519200
100
September 2023
09/01/2023
01 Sep 2023 - 12 Sep 2023
100 Hour Restorative Teacher Training
Gokarna
€800
€925
SAVE €50*

Contact

1695074400
100
September 2023
09/19/2023
19 Sep 2023 - 30 Sep 2023
100 Hour Restorative Teacher Training
Gokarna
€800
€925
SAVE €50*

Contact

1696111200
100
October 2023
10/01/2023
01 Oct 2023 - 12 Oct 2023
100 Hour Restorative Teacher Training
Gokarna
€800
€925
SAVE €50*

Contact

1697666400
100
October 2023
10/19/2023
19 Oct 2023 - 30 Oct 2023
100 Hour Restorative Teacher Training
Gokarna
€800
€925
SAVE €50*

Contact

1698793200
100
November 2023
11/01/2023
01 Nov 2023 - 12 Nov 2023
100 Hour Restorative Teacher Training
Gokarna
€800
€925
SAVE €50*

Contact

1700348400
100
November 2023
11/19/2023
19 Nov 2023 - 30 Nov 2023
100 Hour Restorative Teacher Training
Gokarna
€800
€925
SAVE €50*

Contact

1701385200
100
December 2023
12/01/2023
01 Dec 2023 - 12 Dec 2023
100 Hour Restorative Teacher Training
Gokarna
€800
€925
SAVE €50*

Contact

1702940400
100
December 2023
12/19/2023
19 Dec 2023 - 30 Dec 2023
100 Hour Restorative Teacher Training
Gokarna
€800
€925
SAVE €50*

Contact

1704063600
100
January 2024
01/01/2024
01 Jan 2024 - 12 Jan 2024
100 Hour Restorative Teacher Training
Gokarna
€800
€925
SAVE €50*

Contact

1705618800
100
January 2024
01/19/2024
19 Jan 2024 - 30 Jan 2024
100 Hour Restorative Teacher Training
Gokarna
€800
€925
SAVE €50*

Contact

1706742000
100
February 2024
02/01/2024
01 Feb 2024 - 12 Feb 2024
100 Hour Restorative Teacher Training
Gokarna
€800
€925
SAVE €50*

Contact

1708297200
100
February 2024
02/19/2024
19 Feb 2024 - 01 Mar 2024
100 Hour Restorative Teacher Training
Gokarna
€800
€925
SAVE €50*

Contact

1709247600
100
March 2024
03/01/2024
01 Mar 2024 - 12 Mar 2024
100 Hour Restorative Teacher Training
Gokarna
€800
€925
SAVE €50*

Contact

1710802800
100
March 2024
03/19/2024
19 Mar 2024 - 30 Mar 2024
100 Hour Restorative Teacher Training
Gokarna
€800
€925
SAVE €50*

Contact

1711922400
100
April 2024
04/01/2024
01 Apr 2024 - 12 Apr 2024
100 Hour Restorative Teacher Training
Gokarna
€800
€925
SAVE €50*

Contact

1713477600
100
April 2024
04/19/2024
19 Apr 2024 - 30 Apr 2024
100 Hour Restorative Teacher Training
Gokarna
€800
€925
SAVE €50*

Contact

1693519200
100
September 2023
09/01/2023
01 Sep 2023 - 12 Sep 2023
100 Hour Therapeutic Teacher Training
Gokarna
€800
€925
SAVE €50*

Contact

1695074400
100
September 2023
09/19/2023
19 Sep 2023 - 30 Sep 2023
100 Hour Therapeutic Teacher Training
Gokarna
€800
€925
SAVE €50*

Contact

1696111200
100
October 2023
10/01/2023
01 Oct 2023 - 12 Oct 2023
100 Hour Therapeutic Teacher Training
Gokarna
€800
€925
SAVE €50*

Contact

1697666400
100
October 2023
10/19/2023
19 Oct 2023 - 30 Oct 2023
100 Hour Therapeutic Teacher Training
Gokarna
€800
€925
SAVE €50*

Contact

1698793200
100
November 2023
11/01/2023
01 Nov 2023 - 12 Nov 2023
100 Hour Therapeutic Teacher Training
Gokarna
€800
€925
SAVE €50*

Contact

1700348400
100
November 2023
11/19/2023
19 Nov 2023 - 30 Nov 2023
100 Hour Therapeutic Teacher Training
Gokarna
€800
€925
SAVE €50*

Contact

1701385200
100
December 2023
12/01/2023
01 Dec 2023 - 12 Dec 2023
100 Hour Therapeutic Teacher Training
Gokarna
€800
€925
SAVE €50*

Contact

1702940400
100
December 2023
12/19/2023
19 Dec 2023 - 30 Dec 2023
100 Hour Therapeutic Teacher Training
Gokarna
€800
€925
SAVE €50*

Contact

1704063600
100
January 2024
01/01/2024
01 Jan 2024 - 12 Jan 2024
100 Hour Therapeutic Teacher Training
Gokarna
€800
€925
SAVE €50*

Contact

1705618800
100
January 2024
01/19/2024
19 Jan 2024 - 30 Jan 2024
100 Hour Therapeutic Teacher Training
Gokarna
€800
€925
SAVE €50*

Contact

1706742000
100
February 2024
02/01/2024
01 Feb 2024 - 12 Feb 2024
100 Hour Therapeutic Teacher Training
Gokarna
€800
€925
SAVE €50*

Contact

1708297200
100
February 2024
02/19/2024
19 Feb 2024 - 01 Mar 2024
100 Hour Therapeutic Teacher Training
Gokarna
€800
€925
SAVE €50*

Contact

1709247600
100
March 2024
03/01/2024
01 Mar 2024 - 12 Mar 2024
100 Hour Therapeutic Teacher Training
Gokarna
€800
€925
SAVE €50*

Contact

1710802800
100
March 2024
03/19/2024
19 Mar 2024 - 30 Mar 2024
100 Hour Therapeutic Teacher Training
Gokarna
€800
€925
SAVE €50*

Contact

1711922400
100
April 2024
04/01/2024
01 Apr 2024 - 12 Apr 2024
100 Hour Therapeutic Teacher Training
Gokarna
€800
€925
SAVE €50*

Contact

1713477600
100
April 2024
04/19/2024
19 Apr 2024 - 30 Apr 2024
100 Hour Therapeutic Teacher Training
Gokarna
€800
€925
SAVE €50*

Contact

1693519200
100
September 2023
09/01/2023
01 Sep 2023 - 12 Sep 2023
100 Hour Yin Yoga Teacher Training
Gokarna
€800
€925
SAVE €50*

Contact

1695074400
100
September 2023
09/19/2023
19 Sep 2023 - 30 Sep 2023
100 Hour Yin Yoga Teacher Training
Gokarna
€800
€925
SAVE €50*

Contact

1696111200
100
October 2023
10/01/2023
01 Oct 2023 - 12 Oct 2023
100 Hour Yin Yoga Teacher Training
Gokarna
€800
€925
SAVE €50*

Contact

1697666400
100
October 2023
10/19/2023
19 Oct 2023 - 30 Oct 2023
100 Hour Yin Yoga Teacher Training
Gokarna
€800
€925
SAVE €50*

Contact

1698793200
100
November 2023
11/01/2023
01 Nov 2023 - 12 Nov 2023
100 Hour Yin Yoga Teacher Training
Gokarna
€800
€925
SAVE €50*

Contact

1700348400
100
November 2023
11/19/2023
19 Nov 2023 - 30 Nov 2023
100 Hour Yin Yoga Teacher Training
Gokarna
€800
€925
SAVE €50*

Contact

1701385200
100
December 2023
12/01/2023
01 Dec 2023 - 12 Dec 2023
100 Hour Yin Yoga Teacher Training
Gokarna
€800
€925
SAVE €50*

Contact

1702940400
100
December 2023
12/19/2023
19 Dec 2023 - 30 Dec 2023
100 Hour Yin Yoga Teacher Training
Gokarna
€800
€925
SAVE €50*

Contact

1704063600
100
January 2024
01/01/2024
01 Jan 2024 - 12 Jan 2024
100 Hour Yin Yoga Teacher Training
Gokarna
€800
€925
SAVE €50*

Contact

1705618800
100
January 2024
01/19/2024
19 Jan 2024 - 30 Jan 2024
100 Hour Yin Yoga Teacher Training
Gokarna
€800
€925
SAVE €50*

Contact

1706742000
100
February 2024
02/01/2024
01 Feb 2024 - 12 Feb 2024
100 Hour Yin Yoga Teacher Training
Gokarna
€800
€925
SAVE €50*

Contact

1708297200
100
February 2024
02/19/2024
19 Feb 2024 - 01 Mar 2024
100 Hour Yin Yoga Teacher Training
Gokarna
€800
€925
SAVE €50*

Contact

1709247600
100
March 2024
03/01/2024
01 Mar 2024 - 12 Mar 2024
100 Hour Yin Yoga Teacher Training
Gokarna
€800
€925
SAVE €50*

Contact

1710802800
100
March 2024
03/19/2024
19 Mar 2024 - 30 Mar 2024
100 Hour Yin Yoga Teacher Training
Gokarna
€800
€925
SAVE €50*

Contact

1711922400
100
April 2024
04/01/2024
01 Apr 2024 - 12 Apr 2024
100 Hour Yin Yoga Teacher Training
Gokarna
€800
€925
SAVE €50*

Contact

1713477600
100
April 2024
04/19/2024
19 Apr 2024 - 30 Apr 2024
100 Hour Yin Yoga Teacher Training
Gokarna
€800
€925
SAVE €50*

Contact

50
January 2024,February 2024,March 2024,April 2024,May 2024,June 2024,July 2024,August 2024,September 2024,October 2023,November 2023,December 2023
Every Monday to Saturday
50 Hour Yin Yoga Teacher Training
Gokarna
€550
€675
SAVE €50*

Contact

50
January 2024,February 2024,March 2024,April 2024,May 2024,June 2024,July 2024,August 2024,September 2024,October 2023,November 2023,December 2023
Every Monday to Saturday
50 Hour Yoga Nidra Teacher Training
Gokarna
€550
€675
SAVE €50*

Contact

1695679200
500
September 2023
09/26/2023
26 Sep 2023 - 19 Nov 2023
500 Hour Ashtanga Yoga Teacher Training
Goa
€3,300
€3,600
SAVE €200*

Contact

1697839200
500
October 2023
10/21/2023
21 Oct 2023 - 14 Dec 2023
500 Hour Ashtanga Yoga Teacher Training
Goa
€3,300
€3,600
SAVE €200*

Contact

1700002800
500
November 2023
11/15/2023
15 Nov 2023 - 08 Jan 2024
500 Hour Ashtanga Yoga Teacher Training
Goa
€3,300
€3,600
SAVE €200*

Contact

1702162800
500
December 2023
12/10/2023
10 Dec 2023 - 02 Feb 2024
500 Hour Ashtanga Yoga Teacher Training
Goa
€3,300
€3,600
SAVE €200*

Contact

1704322800
500
January 2024
01/04/2024
04 Jan 2024 - 27 Feb 2024
500 Hour Ashtanga Yoga Teacher Training
Goa
€3,300
€3,600
SAVE €200*

Contact

1706482800
500
January 2024
01/29/2024
29 Jan 2024 - 23 Mar 2024
500 Hour Ashtanga Yoga Teacher Training
Goa
€3,300
€3,600
SAVE €200*

Contact

1708642800
500
February 2024
02/23/2024
23 Feb 2024 - 17 Apr 2024
500 Hour Ashtanga Yoga Teacher Training
Goa
€3,300
€3,600
SAVE €200*

Contact

1710802800
500
March 2024
03/19/2024
19 Mar 2024 - 12 May 2024
500 Hour Ashtanga Yoga Teacher Training
Goa
€3,300
€3,600
SAVE €200*

Contact

1712959200
500
April 2024
04/13/2024
13 Apr 2024 - 06 Jun 2024
500 Hour Ashtanga Yoga Teacher Training
Goa
€3,300
€3,600
SAVE €200*

Contact

1715119200
500
May 2024
05/08/2024
08 May 2024 - 01 Jul 2024
500 Hour Ashtanga Yoga Teacher Training
Goa
€3,300
€3,600
SAVE €200*

Contact

1717279200
500
June 2024
06/02/2024
02 Jun 2024 - 26 Jul 2024
500 Hour Ashtanga Yoga Teacher Training
Goa
€3,300
€3,600
SAVE €200*

Contact

1719439200
500
June 2024
06/27/2024
27 Jun 2024 - 20 Aug 2024
500 Hour Ashtanga Yoga Teacher Training
Goa
€3,300
€3,600
SAVE €200*

Contact

1725141600
500
September 2024
09/01/2024
01 Sep 2024 - 25 Oct 2024
500 Hour Ashtanga Yoga Teacher Training
Goa
€3,300
€3,600
SAVE €200*

Contact

1727301600
500
September 2024
09/26/2024
26 Sep 2024 - 19 Nov 2024
500 Hour Ashtanga Yoga Teacher Training
Goa
€3,300
€3,600
SAVE €200*

Contact

1729461600
500
October 2024
10/21/2024
21 Oct 2024 - 14 Dec 2024
500 Hour Ashtanga Yoga Teacher Training
Goa
€3,300
€3,600
SAVE €200*

Contact

1731625200
500
November 2024
11/15/2024
15 Nov 2024 - 08 Jan 2025
500 Hour Ashtanga Yoga Teacher Training
Goa
€3,300
€3,600
SAVE €200*

Contact

1733785200
500
December 2024
12/10/2024
10 Dec 2024 - 02 Feb 2025
500 Hour Ashtanga Yoga Teacher Training
Goa
€3,300
€3,600
SAVE €200*

Contact

1735945200
500
January 2025
01/04/2025
04 Jan 2025 - 27 Feb 2025
500 Hour Ashtanga Yoga Teacher Training
Goa
€3,300
€3,600
SAVE €200*

Contact

1738105200
500
January 2025
01/29/2025
29 Jan 2025 - 24 Mar 2025
500 Hour Ashtanga Yoga Teacher Training
Goa
€3,300
€3,600
SAVE €200*

Contact

1740265200
500
February 2025
02/23/2025
23 Feb 2025 - 18 Apr 2025
500 Hour Ashtanga Yoga Teacher Training
Goa
€3,300
€3,600
SAVE €200*

Contact

1695679200
500
September 2023
09/26/2023
26 Sep 2023 - 19 Nov 2023
500 Hour Hatha Yoga Teacher Training
Goa
€3,300
€3,600
SAVE €200*

Contact

1697839200
500
October 2023
10/21/2023
21 Oct 2023 - 14 Dec 2023
500 Hour Hatha Yoga Teacher Training
Goa
€3,300
€3,600
SAVE €200*

Contact

1700002800
500
November 2023
11/15/2023
15 Nov 2023 - 08 Jan 2024
500 Hour Hatha Yoga Teacher Training
Goa
€3,300
€3,600
SAVE €200*

Contact

1702162800
500
December 2023
12/10/2023
10 Dec 2023 - 02 Feb 2024
500 Hour Hatha Yoga Teacher Training
Goa
€3,300
€3,600
SAVE €200*

Contact

1704322800
500
January 2024
01/04/2024
04 Jan 2024 - 27 Feb 2024
500 Hour Hatha Yoga Teacher Training
Goa
€3,300
€3,600
SAVE €200*

Contact

1706482800
500
January 2024
01/29/2024
29 Jan 2024 - 23 Mar 2024
500 Hour Hatha Yoga Teacher Training
Goa
€3,300
€3,600
SAVE €200*

Contact

1708642800
500
February 2024
02/23/2024
23 Feb 2024 - 17 Apr 2024
500 Hour Hatha Yoga Teacher Training
Goa
€3,300
€3,600
SAVE €200*

Contact

1710802800
500
March 2024
03/19/2024
19 Mar 2024 - 12 May 2024
500 Hour Hatha Yoga Teacher Training
Goa
€3,300
€3,600
SAVE €200*

Contact

1712959200
500
April 2024
04/13/2024
13 Apr 2024 - 06 Jun 2024
500 Hour Hatha Yoga Teacher Training
Goa
€3,300
€3,600
SAVE €200*

Contact

1715119200
500
May 2024
05/08/2024
08 May 2024 - 01 Jul 2024
500 Hour Hatha Yoga Teacher Training
Goa
€3,300
€3,600
SAVE €200*

Contact

1717279200
500
June 2024
06/02/2024
02 Jun 2024 - 26 Jul 2024
500 Hour Hatha Yoga Teacher Training
Goa
€3,300
€3,600
SAVE €200*

Contact

1719439200
500
June 2024
06/27/2024
27 Jun 2024 - 20 Aug 2024
500 Hour Hatha Yoga Teacher Training
Goa
€3,300
€3,600
SAVE €200*

Contact

1725141600
500
September 2024
09/01/2024
01 Sep 2024 - 25 Oct 2024
500 Hour Hatha Yoga Teacher Training
Goa
€3,300
€3,600
SAVE €200*

Contact

1727301600
500
September 2024
09/26/2024
26 Sep 2024 - 19 Nov 2024
500 Hour Hatha Yoga Teacher Training
Goa
€3,300
€3,600
SAVE €200*

Contact

1729461600
500
October 2024
10/21/2024
21 Oct 2024 - 14 Dec 2024
500 Hour Hatha Yoga Teacher Training
Goa
€3,300
€3,600
SAVE €200*

Contact

1731625200
500
November 2024
11/15/2024
15 Nov 2024 - 08 Jan 2025
500 Hour Hatha Yoga Teacher Training
Goa
€3,300
€3,600
SAVE €200*

Contact

1733785200
500
December 2024
12/10/2024
10 Dec 2024 - 02 Feb 2025
500 Hour Hatha Yoga Teacher Training
Goa
€3,300
€3,600
SAVE €200*

Contact

1735945200
500
January 2025
01/04/2025
04 Jan 2025 - 27 Feb 2025
500 Hour Hatha Yoga Teacher Training
Goa
€3,300
€3,600
SAVE €200*

Contact

1738105200
500
January 2025
01/29/2025
29 Jan 2025 - 24 Mar 2025
500 Hour Hatha Yoga Teacher Training
Goa
€3,300
€3,600
SAVE €200*

Contact

1740265200
500
February 2025
02/23/2025
23 Feb 2025 - 18 Apr 2025
500 Hour Hatha Yoga Teacher Training
Goa
€3,300
€3,600
SAVE €200*

Contact

1695679200
500
September 2023
09/26/2023
26 Sep 2023 - 19 Nov 2023
500 Hour Multistyle Yoga Teacher Training
Goa
€3,300
€3,600
SAVE €200*

Contact

1697839200
500
October 2023
10/21/2023
21 Oct 2023 - 14 Dec 2023
500 Hour Multistyle Yoga Teacher Training
Goa
€3,300
€3,600
SAVE €200*

Contact

1700002800
500
November 2023
11/15/2023
15 Nov 2023 - 08 Jan 2024
500 Hour Multistyle Yoga Teacher Training
Goa
€3,300
€3,600
SAVE €200*

Contact

1702162800
500
December 2023
12/10/2023
10 Dec 2023 - 02 Feb 2024
500 Hour Multistyle Yoga Teacher Training
Goa
€3,300
€3,600
SAVE €200*

Contact

1704322800
500
January 2024
01/04/2024
04 Jan 2024 - 27 Feb 2024
500 Hour Multistyle Yoga Teacher Training
Goa
€3,300
€3,600
SAVE €200*

Contact

1706482800
500
January 2024
01/29/2024
29 Jan 2024 - 23 Mar 2024
500 Hour Multistyle Yoga Teacher Training
Goa
€3,300
€3,600
SAVE €200*

Contact

1708642800
500
February 2024
02/23/2024
23 Feb 2024 - 17 Apr 2024
500 Hour Multistyle Yoga Teacher Training
Goa
€3,300
€3,600
SAVE €200*

Contact

1710802800
500
March 2024
03/19/2024
19 Mar 2024 - 12 May 2024
500 Hour Multistyle Yoga Teacher Training
Goa
€3,300
€3,600
SAVE €200*

Contact

1712959200
500
April 2024
04/13/2024
13 Apr 2024 - 06 Jun 2024
500 Hour Multistyle Yoga Teacher Training
Goa
€3,300
€3,600
SAVE €200*

Contact

1715119200
500
May 2024
05/08/2024
08 May 2024 - 01 Jul 2024
500 Hour Multistyle Yoga Teacher Training
Goa
€3,300
€3,600
SAVE €200*

Contact

1717279200
500
June 2024
06/02/2024
02 Jun 2024 - 26 Jul 2024
500 Hour Multistyle Yoga Teacher Training
Goa
€3,300
€3,600
SAVE €200*

Contact

1719439200
500
June 2024
06/27/2024
27 Jun 2024 - 20 Aug 2024
500 Hour Multistyle Yoga Teacher Training
Goa
€3,300
€3,600
SAVE €200*

Contact

1725141600
500
September 2024
09/01/2024
01 Sep 2024 - 25 Oct 2024
500 Hour Multistyle Yoga Teacher Training
Goa
€3,300
€3,600
SAVE €200*

Contact

1727301600
500
September 2024
09/26/2024
26 Sep 2024 - 19 Nov 2024
500 Hour Multistyle Yoga Teacher Training
Goa
€3,300
€3,600
SAVE €200*

Contact

1729461600
500
October 2024
10/21/2024
21 Oct 2024 - 14 Dec 2024
500 Hour Multistyle Yoga Teacher Training
Goa
€3,300
€3,600
SAVE €200*

Contact

1731625200
500
November 2024
11/15/2024
15 Nov 2024 - 08 Jan 2025
500 Hour Multistyle Yoga Teacher Training
Goa
€3,300
€3,600
SAVE €200*

Contact

1733785200
500
December 2024
12/10/2024
10 Dec 2024 - 02 Feb 2025
500 Hour Multistyle Yoga Teacher Training
Goa
€3,300
€3,600
SAVE €200*

Contact

1735945200
500
January 2025
01/04/2025
04 Jan 2025 - 27 Feb 2025
500 Hour Multistyle Yoga Teacher Training
Goa
€3,300
€3,600
SAVE €200*

Contact

1738105200
500
January 2025
01/29/2025
29 Jan 2025 - 24 Mar 2025
500 Hour Multistyle Yoga Teacher Training
Goa
€3,300
€3,600
SAVE €200*

Contact

1740265200
500
February 2025
02/23/2025
23 Feb 2025 - 18 Apr 2025
500 Hour Multistyle Yoga Teacher Training
Goa
€3,300
€3,600
SAVE €200*

Contact

1695679200
500
September 2023
09/26/2023
26 Sep 2023 - 19 Nov 2023
500 Hour Restorative Yoga Teacher Training
Goa
€3,300
€3,600
SAVE €200*

Contact

1697839200
500
October 2023
10/21/2023
21 Oct 2023 - 14 Dec 2023
500 Hour Restorative Yoga Teacher Training
Goa
€3,300
€3,600
SAVE €200*

Contact

1700002800
500
November 2023
11/15/2023
15 Nov 2023 - 08 Jan 2024
500 Hour Restorative Yoga Teacher Training
Goa
€3,300
€3,600
SAVE €200*

Contact

1702162800
500
December 2023
12/10/2023
10 Dec 2023 - 02 Feb 2024
500 Hour Restorative Yoga Teacher Training
Goa
€3,300
€3,600
SAVE €200*

Contact

1704322800
500
January 2024
01/04/2024
04 Jan 2024 - 27 Feb 2024
500 Hour Restorative Yoga Teacher Training
Goa
€3,300
€3,600
SAVE €200*

Contact

1706482800
500
January 2024
01/29/2024
29 Jan 2024 - 23 Mar 2024
500 Hour Restorative Yoga Teacher Training
Goa
€3,300
€3,600
SAVE €200*

Contact

1708642800
500
February 2024
02/23/2024
23 Feb 2024 - 17 Apr 2024
500 Hour Restorative Yoga Teacher Training
Goa
€3,300
€3,600
SAVE €200*

Contact

1710802800
500
March 2024
03/19/2024
19 Mar 2024 - 12 May 2024
500 Hour Restorative Yoga Teacher Training
Goa
€3,300
€3,600
SAVE €200*

Contact

1712959200
500
April 2024
04/13/2024
13 Apr 2024 - 06 Jun 2024
500 Hour Restorative Yoga Teacher Training
Goa
€3,300
€3,600
SAVE €200*

Contact

1715119200
500
May 2024
05/08/2024
08 May 2024 - 01 Jul 2024
500 Hour Restorative Yoga Teacher Training
Goa
€3,300
€3,600
SAVE €200*

Contact

1717279200
500
June 2024
06/02/2024
02 Jun 2024 - 26 Jul 2024
500 Hour Restorative Yoga Teacher Training
Goa
€3,300
€3,600
SAVE €200*

Contact

1719439200
500
June 2024
06/27/2024
27 Jun 2024 - 20 Aug 2024
500 Hour Restorative Yoga Teacher Training
Goa
€3,300
€3,600
SAVE €200*

Contact

1725141600
500
September 2024
09/01/2024
01 Sep 2024 - 25 Oct 2024
500 Hour Restorative Yoga Teacher Training
Goa
€3,300
€3,600
SAVE €200*

Contact

1727301600
500
September 2024
09/26/2024
26 Sep 2024 - 19 Nov 2024
500 Hour Restorative Yoga Teacher Training
Goa
€3,300
€3,600
SAVE €200*

Contact

1729461600
500
October 2024
10/21/2024
21 Oct 2024 - 14 Dec 2024
500 Hour Restorative Yoga Teacher Training
Goa
€3,300
€3,600
SAVE €200*

Contact

1731625200
500
November 2024
11/15/2024
15 Nov 2024 - 08 Jan 2025
500 Hour Restorative Yoga Teacher Training
Goa
€3,300
€3,600
SAVE €200*

Contact

1733785200
500
December 2024
12/10/2024
10 Dec 2024 - 02 Feb 2025
500 Hour Restorative Yoga Teacher Training
Goa
€3,300
€3,600
SAVE €200*

Contact

1735945200
500
January 2025
01/04/2025
04 Jan 2025 - 27 Feb 2025
500 Hour Restorative Yoga Teacher Training
Goa
€3,300
€3,600
SAVE €200*

Contact

1738105200
500
January 2025
01/29/2025
29 Jan 2025 - 24 Mar 2025
500 Hour Restorative Yoga Teacher Training
Goa
€3,300
€3,600
SAVE €200*

Contact

1740265200
500
February 2025
02/23/2025
23 Feb 2025 - 18 Apr 2025
500 Hour Restorative Yoga Teacher Training
Goa
€3,300
€3,600
SAVE €200*

Contact

1695679200
500
September 2023
09/26/2023
26 Sep 2023 - 19 Nov 2023
500 Hour Therapeutic Yoga Teacher Training
Goa
€3,300
€3,600
SAVE €200*

Contact

1697839200
500
October 2023
10/21/2023
21 Oct 2023 - 14 Dec 2023
500 Hour Therapeutic Yoga Teacher Training
Goa
€3,300
€3,600
SAVE €200*

Contact

1700002800
500
November 2023
11/15/2023
15 Nov 2023 - 08 Jan 2024
500 Hour Therapeutic Yoga Teacher Training
Goa
€3,300
€3,600
SAVE €200*

Contact

1702162800
500
December 2023
12/10/2023
10 Dec 2023 - 02 Feb 2024
500 Hour Therapeutic Yoga Teacher Training
Goa
€3,300
€3,600
SAVE €200*

Contact

1704322800
500
January 2024
01/04/2024
04 Jan 2024 - 27 Feb 2024
500 Hour Therapeutic Yoga Teacher Training
Goa
€3,300
€3,600
SAVE €200*

Contact

1706482800
500
January 2024
01/29/2024
29 Jan 2024 - 23 Mar 2024
500 Hour Therapeutic Yoga Teacher Training
Goa
€3,300
€3,600
SAVE €200*

Contact

1708642800
500
February 2024
02/23/2024
23 Feb 2024 - 17 Apr 2024
500 Hour Therapeutic Yoga Teacher Training
Goa
€3,300
€3,600
SAVE €200*

Contact

1710802800
500
March 2024
03/19/2024
19 Mar 2024 - 12 May 2024
500 Hour Therapeutic Yoga Teacher Training
Goa
€3,300
€3,600
SAVE €200*

Contact

1712959200
500
April 2024
04/13/2024
13 Apr 2024 - 06 Jun 2024
500 Hour Therapeutic Yoga Teacher Training
Goa
€3,300
€3,600
SAVE €200*

Contact

1715119200
500
May 2024
05/08/2024
08 May 2024 - 01 Jul 2024
500 Hour Therapeutic Yoga Teacher Training
Goa
€3,300
€3,600
SAVE €200*

Contact

1717279200
500
June 2024
06/02/2024
02 Jun 2024 - 26 Jul 2024
500 Hour Therapeutic Yoga Teacher Training
Goa
€3,300
€3,600
SAVE €200*

Contact

1719439200
500
June 2024
06/27/2024
27 Jun 2024 - 20 Aug 2024
500 Hour Therapeutic Yoga Teacher Training
Goa
€3,300
€3,600
SAVE €200*

Contact

1725141600
500
September 2024
09/01/2024
01 Sep 2024 - 25 Oct 2024
500 Hour Therapeutic Yoga Teacher Training
Goa
€3,300
€3,600
SAVE €200*

Contact

1727301600
500
September 2024
09/26/2024
26 Sep 2024 - 19 Nov 2024
500 Hour Therapeutic Yoga Teacher Training
Goa
€3,300
€3,600
SAVE €200*

Contact

1729461600
500
October 2024
10/21/2024
21 Oct 2024 - 14 Dec 2024
500 Hour Therapeutic Yoga Teacher Training
Goa
€3,300
€3,600
SAVE €200*

Contact

1731625200
500
November 2024
11/15/2024
15 Nov 2024 - 08 Jan 2025
500 Hour Therapeutic Yoga Teacher Training
Goa
€3,300
€3,600
SAVE €200*

Contact

1733785200
500
December 2024
12/10/2024
10 Dec 2024 - 02 Feb 2025
500 Hour Therapeutic Yoga Teacher Training
Goa
€3,300
€3,600
SAVE €200*

Contact

1735945200
500
January 2025
01/04/2025
04 Jan 2025 - 27 Feb 2025
500 Hour Therapeutic Yoga Teacher Training
Goa
€3,300
€3,600
SAVE €200*

Contact

1738105200
500
January 2025
01/29/2025
29 Jan 2025 - 24 Mar 2025
500 Hour Therapeutic Yoga Teacher Training
Goa
€3,300
€3,600
SAVE €200*

Contact

1740265200
500
February 2025
02/23/2025
23 Feb 2025 - 18 Apr 2025
500 Hour Therapeutic Yoga Teacher Training
Goa
€3,300
€3,600
SAVE €200*

Contact

1695679200
500
September 2023
09/26/2023
26 Sep 2023 - 19 Nov 2023
500 Hour Vinyasa Yoga Teacher Training
Goa
€3,300
€3,600
SAVE €200*

Contact

1697839200
500
October 2023
10/21/2023
21 Oct 2023 - 14 Dec 2023
500 Hour Vinyasa Yoga Teacher Training
Goa
€3,300
€3,600
SAVE €200*

Contact

1700002800
500
November 2023
11/15/2023
15 Nov 2023 - 08 Jan 2024
500 Hour Vinyasa Yoga Teacher Training
Goa
€3,300
€3,600
SAVE €200*

Contact

1702162800
500
December 2023
12/10/2023
10 Dec 2023 - 02 Feb 2024
500 Hour Vinyasa Yoga Teacher Training
Goa
€3,300
€3,600
SAVE €200*

Contact

1704322800
500
January 2024
01/04/2024
04 Jan 2024 - 27 Feb 2024
500 Hour Vinyasa Yoga Teacher Training
Goa
€3,300
€3,600
SAVE €200*

Contact

1706482800
500
January 2024
01/29/2024
29 Jan 2024 - 23 Mar 2024
500 Hour Vinyasa Yoga Teacher Training
Goa
€3,300
€3,600
SAVE €200*

Contact

1708642800
500
February 2024
02/23/2024
23 Feb 2024 - 17 Apr 2024
500 Hour Vinyasa Yoga Teacher Training
Goa
€3,300
€3,600
SAVE €200*

Contact

1710802800
500
March 2024
03/19/2024
19 Mar 2024 - 12 May 2024
500 Hour Vinyasa Yoga Teacher Training
Goa
€3,300
€3,600
SAVE €200*

Contact

1712959200
500
April 2024
04/13/2024
13 Apr 2024 - 06 Jun 2024
500 Hour Vinyasa Yoga Teacher Training
Goa
€3,300
€3,600
SAVE €200*

Contact

1715119200
500
May 2024
05/08/2024
08 May 2024 - 01 Jul 2024
500 Hour Vinyasa Yoga Teacher Training
Goa
€3,300
€3,600
SAVE €200*

Contact

1717279200
500
June 2024
06/02/2024
02 Jun 2024 - 26 Jul 2024
500 Hour Vinyasa Yoga Teacher Training
Goa
€3,300
€3,600
SAVE €200*

Contact

1719439200
500
June 2024
06/27/2024
27 Jun 2024 - 20 Aug 2024
500 Hour Vinyasa Yoga Teacher Training
Goa
€3,300
€3,600
SAVE €200*

Contact

1725141600
500
September 2024
09/01/2024
01 Sep 2024 - 25 Oct 2024
500 Hour Vinyasa Yoga Teacher Training
Goa
€3,300
€3,600
SAVE €200*

Contact

1727301600
500
September 2024
09/26/2024
26 Sep 2024 - 19 Nov 2024
500 Hour Vinyasa Yoga Teacher Training
Goa
€3,300
€3,600
SAVE €200*

Contact

1729461600
500
October 2024
10/21/2024
21 Oct 2024 - 14 Dec 2024
500 Hour Vinyasa Yoga Teacher Training
Goa
€3,300
€3,600
SAVE €200*

Contact

1731625200
500
November 2024
11/15/2024
15 Nov 2024 - 08 Jan 2025
500 Hour Vinyasa Yoga Teacher Training
Goa
€3,300
€3,600
SAVE €200*

Contact

1733785200
500
December 2024
12/10/2024
10 Dec 2024 - 02 Feb 2025
500 Hour Vinyasa Yoga Teacher Training
Goa
€3,300
€3,600
SAVE €200*

Contact

1735945200
500
January 2025
01/04/2025
04 Jan 2025 - 27 Feb 2025
500 Hour Vinyasa Yoga Teacher Training
Goa
€3,300
€3,600
SAVE €200*

Contact

1738105200
500
January 2025
01/29/2025
29 Jan 2025 - 24 Mar 2025
500 Hour Vinyasa Yoga Teacher Training
Goa
€3,300
€3,600
SAVE €200*

Contact

1740265200
500
February 2025
02/23/2025
23 Feb 2025 - 18 Apr 2025
500 Hour Vinyasa Yoga Teacher Training
Goa
€3,300
€3,600
SAVE €200*

Contact

1695679200
500
September 2023
09/26/2023
26 Sep 2023 - 19 Nov 2023
500 Hour Yin Yoga Teacher Training
Goa
€3,300
€3,600
SAVE €200*

Contact

1697839200
500
October 2023
10/21/2023
21 Oct 2023 - 14 Dec 2023
500 Hour Yin Yoga Teacher Training
Goa
€3,300
€3,600
SAVE €200*

Contact

1700002800
500
November 2023
11/15/2023
15 Nov 2023 - 08 Jan 2024
500 Hour Yin Yoga Teacher Training
Goa
€3,300
€3,600
SAVE €200*

Contact

1702162800
500
December 2023
12/10/2023
10 Dec 2023 - 02 Feb 2024
500 Hour Yin Yoga Teacher Training
Goa
€3,300
€3,600
SAVE €200*

Contact

1704322800
500
January 2024
01/04/2024
04 Jan 2024 - 27 Feb 2024
500 Hour Yin Yoga Teacher Training
Goa
€3,300
€3,600
SAVE €200*

Contact

1706482800
500
January 2024
01/29/2024
29 Jan 2024 - 23 Mar 2024
500 Hour Yin Yoga Teacher Training
Goa
€3,300
€3,600
SAVE €200*

Contact

1708642800
500
February 2024
02/23/2024
23 Feb 2024 - 17 Apr 2024
500 Hour Yin Yoga Teacher Training
Goa
€3,300
€3,600
SAVE €200*

Contact

1710802800
500
March 2024
03/19/2024
19 Mar 2024 - 12 May 2024
500 Hour Yin Yoga Teacher Training
Goa
€3,300
€3,600
SAVE €200*

Contact

1712959200
500
April 2024
04/13/2024
13 Apr 2024 - 06 Jun 2024
500 Hour Yin Yoga Teacher Training
Goa
€3,300
€3,600
SAVE €200*

Contact

1715119200
500
May 2024
05/08/2024
08 May 2024 - 01 Jul 2024
500 Hour Yin Yoga Teacher Training
Goa
€3,300
€3,600
SAVE €200*

Contact

1717279200
500
June 2024
06/02/2024
02 Jun 2024 - 26 Jul 2024
500 Hour Yin Yoga Teacher Training
Goa
€3,300
€3,600
SAVE €200*

Contact

1719439200
500
June 2024
06/27/2024
27 Jun 2024 - 20 Aug 2024
500 Hour Yin Yoga Teacher Training
Goa
€3,300
€3,600
SAVE €200*

Contact

1725141600
500
September 2024
09/01/2024
01 Sep 2024 - 25 Oct 2024
500 Hour Yin Yoga Teacher Training
Goa
€3,300
€3,600
SAVE €200*

Contact

1727301600
500
September 2024
09/26/2024
26 Sep 2024 - 19 Nov 2024
500 Hour Yin Yoga Teacher Training
Goa
€3,300
€3,600
SAVE €200*

Contact

1729461600
500
October 2024
10/21/2024
21 Oct 2024 - 14 Dec 2024
500 Hour Yin Yoga Teacher Training
Goa
€3,300
€3,600
SAVE €200*

Contact

1731625200
500
November 2024
11/15/2024
15 Nov 2024 - 08 Jan 2025
500 Hour Yin Yoga Teacher Training
Goa
€3,300
€3,600
SAVE €200*

Contact

1733785200
500
December 2024
12/10/2024
10 Dec 2024 - 02 Feb 2025
500 Hour Yin Yoga Teacher Training
Goa
€3,300
€3,600
SAVE €200*

Contact

1735945200
500
January 2025
01/04/2025
04 Jan 2025 - 27 Feb 2025
500 Hour Yin Yoga Teacher Training
Goa
€3,300
€3,600
SAVE €200*

Contact

1738105200
500
January 2025
01/29/2025
29 Jan 2025 - 24 Mar 2025
500 Hour Yin Yoga Teacher Training
Goa
€3,300
€3,600
SAVE €200*

Contact

1740265200
500
February 2025
02/23/2025
23 Feb 2025 - 18 Apr 2025
500 Hour Yin Yoga Teacher Training
Goa
€3,300
€3,600
SAVE €200*

Contact

1696111200
300
October 2023
10/01/2023
01 Oct 2023 - 30 Oct 2023
300 Hour Ashtanga Yoga Teacher Training
Goa
€2,100
€2,350
SAVE €150*

Contact

1698793200
300
November 2023
11/01/2023
01 Nov 2023 - 30 Nov 2023
300 Hour Ashtanga Yoga Teacher Training
Goa
€2,100
€2,350
SAVE €150*

Contact

1701385200
300
December 2023
12/01/2023
01 Dec 2023 - 30 Dec 2023
300 Hour Ashtanga Yoga Teacher Training
Goa
€2,100
€2,350
SAVE €150*

Contact

1704063600
300
January 2024
01/01/2024
01 Jan 2024 - 30 Jan 2024
300 Hour Ashtanga Yoga Teacher Training
Goa
€2,100
€2,350
SAVE €150*

Contact

1706742000
300
February 2024
02/01/2024
01 Feb 2024 - 01 Mar 2024
300 Hour Ashtanga Yoga Teacher Training
Goa
€2,100
€2,350
SAVE €150*

Contact

1709247600
300
March 2024
03/01/2024
01 Mar 2024 - 30 Mar 2024
300 Hour Ashtanga Yoga Teacher Training
Goa
€2,100
€2,350
SAVE €150*

Contact

1711922400
300
April 2024
04/01/2024
01 Apr 2024 - 30 Apr 2024
300 Hour Ashtanga Yoga Teacher Training
Goa
€2,100
€2,350
SAVE €150*

Contact

1714514400
300
May 2024
05/01/2024
01 May 2024 - 30 May 2024
300 Hour Ashtanga Yoga Teacher Training
Goa
€2,100
€2,350
SAVE €150*

Contact

1717192800
300
June 2024
06/01/2024
01 Jun 2024 - 30 Jun 2024
300 Hour Ashtanga Yoga Teacher Training
Goa
€2,100
€2,350
SAVE €150*

Contact

1719784800
300
July 2024
07/01/2024
01 Jul 2024 - 30 Jul 2024
300 Hour Ashtanga Yoga Teacher Training
Goa
€2,100
€2,350
SAVE €150*

Contact

1722463200
300
August 2024
08/01/2024
01 Aug 2024 - 30 Aug 2024
300 Hour Ashtanga Yoga Teacher Training
Goa
€2,100
€2,350
SAVE €150*

Contact

1725141600
300
September 2024
09/01/2024
01 Sep 2024 - 30 Sep 2024
300 Hour Ashtanga Yoga Teacher Training
Goa
€2,100
€2,350
SAVE €150*

Contact

1727733600
300
October 2024
10/01/2024
01 Oct 2024 - 30 Oct 2024
300 Hour Ashtanga Yoga Teacher Training
Goa
€2,100
€2,350
SAVE €150*

Contact

1730415600
300
November 2024
11/01/2024
01 Nov 2024 - 30 Nov 2024
300 Hour Ashtanga Yoga Teacher Training
Goa
€2,100
€2,350
SAVE €150*

Contact

1733007600
300
December 2024
12/01/2024
01 Dec 2024 - 30 Dec 2024
300 Hour Ashtanga Yoga Teacher Training
Goa
€2,100
€2,350
SAVE €150*

Contact

1735686000
300
January 2025
01/01/2025
01 Jan 2025 - 30 Jan 2025
300 Hour Ashtanga Yoga Teacher Training
Goa
€2,100
€2,350
SAVE €150*

Contact

1738364400
300
February 2025
02/01/2025
01 Feb 2025 - 02 Mar 2025
300 Hour Ashtanga Yoga Teacher Training
Goa
€2,100
€2,350
SAVE €150*

Contact

1740783600
300
March 2025
03/01/2025
01 Mar 2025 - 30 Mar 2025
300 Hour Ashtanga Yoga Teacher Training
Goa
€2,100
€2,350
SAVE €150*

Contact

1743458400
300
April 2025
04/01/2025
01 Apr 2025 - 30 Apr 2025
300 Hour Ashtanga Yoga Teacher Training
Goa
€2,100
€2,350
SAVE €150*

Contact

1696111200
300
October 2023
10/01/2023
01 Oct 2023 - 30 Oct 2023
300 Hour Hatha Yoga Teacher Training
Goa
€2,100
€2,350
SAVE €150*

Contact

1698793200
300
November 2023
11/01/2023
01 Nov 2023 - 30 Nov 2023
300 Hour Hatha Yoga Teacher Training
Goa
€2,100
€2,350
SAVE €150*

Contact

1701385200
300
December 2023
12/01/2023
01 Dec 2023 - 30 Dec 2023
300 Hour Hatha Yoga Teacher Training
Goa
€2,100
€2,350
SAVE €150*

Contact

1704063600
300
January 2024
01/01/2024
01 Jan 2024 - 30 Jan 2024
300 Hour Hatha Yoga Teacher Training
Goa
€2,100
€2,350
SAVE €150*

Contact

1706742000
300
February 2024
02/01/2024
01 Feb 2024 - 01 Mar 2024
300 Hour Hatha Yoga Teacher Training
Goa
€2,100
€2,350
SAVE €150*

Contact

1709247600
300
March 2024
03/01/2024
01 Mar 2024 - 30 Mar 2024
300 Hour Hatha Yoga Teacher Training
Goa
€2,100
€2,350
SAVE €150*

Contact

1711922400
300
April 2024
04/01/2024
01 Apr 2024 - 30 Apr 2024
300 Hour Hatha Yoga Teacher Training
Goa
€2,100
€2,350
SAVE €150*

Contact

1714514400
300
May 2024
05/01/2024
01 May 2024 - 30 May 2024
300 Hour Hatha Yoga Teacher Training
Goa
€2,100
€2,350
SAVE €150*

Contact

1717192800
300
June 2024
06/01/2024
01 Jun 2024 - 30 Jun 2024
300 Hour Hatha Yoga Teacher Training
Goa
€2,100
€2,350
SAVE €150*

Contact

1719784800
300
July 2024
07/01/2024
01 Jul 2024 - 30 Jul 2024
300 Hour Hatha Yoga Teacher Training
Goa
€2,100
€2,350
SAVE €150*

Contact

1722463200
300
August 2024
08/01/2024
01 Aug 2024 - 30 Aug 2024
300 Hour Hatha Yoga Teacher Training
Goa
€2,100
€2,350
SAVE €150*

Contact

1725141600
300
September 2024
09/01/2024
01 Sep 2024 - 30 Sep 2024
300 Hour Hatha Yoga Teacher Training
Goa
€2,100
€2,350
SAVE €150*

Contact

1727733600
300
October 2024
10/01/2024
01 Oct 2024 - 30 Oct 2024
300 Hour Hatha Yoga Teacher Training
Goa
€2,100
€2,350
SAVE €150*

Contact

1730415600
300
November 2024
11/01/2024
01 Nov 2024 - 30 Nov 2024
300 Hour Hatha Yoga Teacher Training
Goa
€2,100
€2,350
SAVE €150*

Contact

1733007600
300
December 2024
12/01/2024
01 Dec 2024 - 30 Dec 2024
300 Hour Hatha Yoga Teacher Training
Goa
€2,100
€2,350
SAVE €150*

Contact

1735686000
300
January 2025
01/01/2025
01 Jan 2025 - 30 Jan 2025
300 Hour Hatha Yoga Teacher Training
Goa
€2,100
€2,350
SAVE €150*

Contact

1738364400
300
February 2025
02/01/2025
01 Feb 2025 - 02 Mar 2025
300 Hour Hatha Yoga Teacher Training
Goa
€2,100
€2,350
SAVE €150*

Contact

1740783600
300
March 2025
03/01/2025
01 Mar 2025 - 30 Mar 2025
300 Hour Hatha Yoga Teacher Training
Goa
€2,100
€2,350
SAVE €150*

Contact

1743458400
300
April 2025
04/01/2025
01 Apr 2025 - 30 Apr 2025
300 Hour Hatha Yoga Teacher Training
Goa
€2,100
€2,350
SAVE €150*

Contact

1696111200
300
October 2023
10/01/2023
01 Oct 2023 - 30 Oct 2023
300 Hour Multistyle Yoga Teacher Training
Goa
€2,100
€2,350
SAVE €150*

Contact

1698793200
300
November 2023
11/01/2023
01 Nov 2023 - 30 Nov 2023
300 Hour Multistyle Yoga Teacher Training
Goa
€2,100
€2,350
SAVE €150*

Contact

1701385200
300
December 2023
12/01/2023
01 Dec 2023 - 30 Dec 2023
300 Hour Multistyle Yoga Teacher Training
Goa
€2,100
€2,350
SAVE €150*

Contact

1704063600
300
January 2024
01/01/2024
01 Jan 2024 - 30 Jan 2024
300 Hour Multistyle Yoga Teacher Training
Goa
€2,100
€2,350
SAVE €150*

Contact

1706742000
300
February 2024
02/01/2024
01 Feb 2024 - 01 Mar 2024
300 Hour Multistyle Yoga Teacher Training
Goa
€2,100
€2,350
SAVE €150*

Contact

1709247600
300
March 2024
03/01/2024
01 Mar 2024 - 30 Mar 2024
300 Hour Multistyle Yoga Teacher Training
Goa
€2,100
€2,350
SAVE €150*

Contact

1711922400
300
April 2024
04/01/2024
01 Apr 2024 - 30 Apr 2024
300 Hour Multistyle Yoga Teacher Training
Goa
€2,100
€2,350
SAVE €150*

Contact

1714514400
300
May 2024
05/01/2024
01 May 2024 - 30 May 2024
300 Hour Multistyle Yoga Teacher Training
Goa
€2,100
€2,350
SAVE €150*

Contact

1717192800
300
June 2024
06/01/2024
01 Jun 2024 - 30 Jun 2024
300 Hour Multistyle Yoga Teacher Training
Goa
€2,100
€2,350
SAVE €150*

Contact

1719784800
300
July 2024
07/01/2024
01 Jul 2024 - 30 Jul 2024
300 Hour Multistyle Yoga Teacher Training
Goa
€2,100
€2,350
SAVE €150*

Contact

1722463200
300
August 2024
08/01/2024
01 Aug 2024 - 30 Aug 2024
300 Hour Multistyle Yoga Teacher Training
Goa
€2,100
€2,350
SAVE €150*

Contact

1725141600
300
September 2024
09/01/2024
01 Sep 2024 - 30 Sep 2024
300 Hour Multistyle Yoga Teacher Training
Goa
€2,100
€2,350
SAVE €150*

Contact

1727733600
300
October 2024
10/01/2024
01 Oct 2024 - 30 Oct 2024
300 Hour Multistyle Yoga Teacher Training
Goa
€2,100
€2,350
SAVE €150*

Contact

1730415600
300
November 2024
11/01/2024
01 Nov 2024 - 30 Nov 2024
300 Hour Multistyle Yoga Teacher Training
Goa
€2,100
€2,350
SAVE €150*

Contact

1733007600
300
December 2024
12/01/2024
01 Dec 2024 - 30 Dec 2024
300 Hour Multistyle Yoga Teacher Training
Goa
€2,100
€2,350
SAVE €150*

Contact

1735686000
300
January 2025
01/01/2025
01 Jan 2025 - 30 Jan 2025
300 Hour Multistyle Yoga Teacher Training
Goa
€2,100
€2,350
SAVE €150*

Contact

1738364400
300
February 2025
02/01/2025
01 Feb 2025 - 02 Mar 2025
300 Hour Multistyle Yoga Teacher Training
Goa
€2,100
€2,350
SAVE €150*

Contact

1740783600
300
March 2025
03/01/2025
01 Mar 2025 - 30 Mar 2025
300 Hour Multistyle Yoga Teacher Training
Goa
€2,100
€2,350
SAVE €150*

Contact

1743458400
300
April 2025
04/01/2025
01 Apr 2025 - 30 Apr 2025
300 Hour Multistyle Yoga Teacher Training
Goa
€2,100
€2,350
SAVE €150*

Contact

1696111200
300
October 2023
10/01/2023
01 Oct 2023 - 30 Oct 2023
300 Hour Restorative Yoga Teacher Training
Goa
€2,100
€2,350
SAVE €150*

Contact

1698793200
300
November 2023
11/01/2023
01 Nov 2023 - 30 Nov 2023
300 Hour Restorative Yoga Teacher Training
Goa
€2,100
€2,350
SAVE €150*

Contact

1701385200
300
December 2023
12/01/2023
01 Dec 2023 - 30 Dec 2023
300 Hour Restorative Yoga Teacher Training
Goa
€2,100
€2,350
SAVE €150*

Contact

1704063600
300
January 2024
01/01/2024
01 Jan 2024 - 30 Jan 2024
300 Hour Restorative Yoga Teacher Training
Goa
€2,100
€2,350
SAVE €150*

Contact

1706742000
300
February 2024
02/01/2024
01 Feb 2024 - 01 Mar 2024
300 Hour Restorative Yoga Teacher Training
Goa
€2,100
€2,350
SAVE €150*

Contact

1709247600
300
March 2024
03/01/2024
01 Mar 2024 - 30 Mar 2024
300 Hour Restorative Yoga Teacher Training
Goa
€2,100
€2,350
SAVE €150*

Contact

1711922400
300
April 2024
04/01/2024
01 Apr 2024 - 30 Apr 2024
300 Hour Restorative Yoga Teacher Training
Goa
€2,100
€2,350
SAVE €150*

Contact

1714514400
300
May 2024
05/01/2024
01 May 2024 - 30 May 2024
300 Hour Restorative Yoga Teacher Training
Goa
€2,100
€2,350
SAVE €150*

Contact

1717192800
300
June 2024
06/01/2024
01 Jun 2024 - 30 Jun 2024
300 Hour Restorative Yoga Teacher Training
Goa
€2,100
€2,350
SAVE €150*

Contact

1719784800
300
July 2024
07/01/2024
01 Jul 2024 - 30 Jul 2024
300 Hour Restorative Yoga Teacher Training
Goa
€2,100
€2,350
SAVE €150*

Contact

1722463200
300
August 2024
08/01/2024
01 Aug 2024 - 30 Aug 2024
300 Hour Restorative Yoga Teacher Training
Goa
€2,100
€2,350
SAVE €150*

Contact

1725141600
300
September 2024
09/01/2024
01 Sep 2024 - 30 Sep 2024
300 Hour Restorative Yoga Teacher Training
Goa
€2,100
€2,350
SAVE €150*

Contact

1727733600
300
October 2024
10/01/2024
01 Oct 2024 - 30 Oct 2024
300 Hour Restorative Yoga Teacher Training
Goa
€2,100
€2,350
SAVE €150*

Contact

1730415600
300
November 2024
11/01/2024
01 Nov 2024 - 30 Nov 2024
300 Hour Restorative Yoga Teacher Training
Goa
€2,100
€2,350
SAVE €150*

Contact

1733007600
300
December 2024
12/01/2024
01 Dec 2024 - 30 Dec 2024
300 Hour Restorative Yoga Teacher Training
Goa
€2,100
€2,350
SAVE €150*

Contact

1735686000
300
January 2025
01/01/2025
01 Jan 2025 - 30 Jan 2025
300 Hour Restorative Yoga Teacher Training
Goa
€2,100
€2,350
SAVE €150*

Contact

1738364400
300
February 2025
02/01/2025
01 Feb 2025 - 02 Mar 2025
300 Hour Restorative Yoga Teacher Training
Goa
€2,100
€2,350
SAVE €150*

Contact

1740783600
300
March 2025
03/01/2025
01 Mar 2025 - 30 Mar 2025
300 Hour Restorative Yoga Teacher Training
Goa
€2,100
€2,350
SAVE €150*

Contact

1743458400
300
April 2025
04/01/2025
01 Apr 2025 - 30 Apr 2025
300 Hour Restorative Yoga Teacher Training
Goa
€2,100
€2,350
SAVE €150*

Contact

1696111200
300
October 2023
10/01/2023
01 Oct 2023 - 30 Oct 2023
300 Hour Therapeutic Yoga Teacher Training
Goa
€2,100
€2,350
SAVE €150*

Contact

1698793200
300
November 2023
11/01/2023
01 Nov 2023 - 30 Nov 2023
300 Hour Therapeutic Yoga Teacher Training
Goa
€2,100
€2,350
SAVE €150*

Contact

1701385200
300
December 2023
12/01/2023
01 Dec 2023 - 30 Dec 2023
300 Hour Therapeutic Yoga Teacher Training
Goa
€2,100
€2,350
SAVE €150*

Contact

1704063600
300
January 2024
01/01/2024
01 Jan 2024 - 30 Jan 2024
300 Hour Therapeutic Yoga Teacher Training
Goa
€2,100
€2,350
SAVE €150*

Contact

1706742000
300
February 2024
02/01/2024
01 Feb 2024 - 01 Mar 2024
300 Hour Therapeutic Yoga Teacher Training
Goa
€2,100
€2,350
SAVE €150*

Contact

1709247600
300
March 2024
03/01/2024
01 Mar 2024 - 30 Mar 2024
300 Hour Therapeutic Yoga Teacher Training
Goa
€2,100
€2,350
SAVE €150*

Contact

1711922400
300
April 2024
04/01/2024
01 Apr 2024 - 30 Apr 2024
300 Hour Therapeutic Yoga Teacher Training
Goa
€2,100
€2,350
SAVE €150*

Contact

1714514400
300
May 2024
05/01/2024
01 May 2024 - 30 May 2024
300 Hour Therapeutic Yoga Teacher Training
Goa
€2,100
€2,350
SAVE €150*

Contact

1717192800
300
June 2024
06/01/2024
01 Jun 2024 - 30 Jun 2024
300 Hour Therapeutic Yoga Teacher Training
Goa
€2,100
€2,350
SAVE €150*

Contact

1719784800
300
July 2024
07/01/2024
01 Jul 2024 - 30 Jul 2024
300 Hour Therapeutic Yoga Teacher Training
Goa
€2,100
€2,350
SAVE €150*

Contact

1722463200
300
August 2024
08/01/2024
01 Aug 2024 - 30 Aug 2024
300 Hour Therapeutic Yoga Teacher Training
Goa
€2,100
€2,350
SAVE €150*

Contact

1725141600
300
September 2024
09/01/2024
01 Sep 2024 - 30 Sep 2024
300 Hour Therapeutic Yoga Teacher Training
Goa
€2,100
€2,350
SAVE €150*

Contact

1727733600
300
October 2024
10/01/2024
01 Oct 2024 - 30 Oct 2024
300 Hour Therapeutic Yoga Teacher Training
Goa
€2,100
€2,350
SAVE €150*

Contact

1730415600
300
November 2024
11/01/2024
01 Nov 2024 - 30 Nov 2024
300 Hour Therapeutic Yoga Teacher Training
Goa
€2,100
€2,350
SAVE €150*

Contact

1733007600
300
December 2024
12/01/2024
01 Dec 2024 - 30 Dec 2024
300 Hour Therapeutic Yoga Teacher Training
Goa
€2,100
€2,350
SAVE €150*

Contact

1735686000
300
January 2025
01/01/2025
01 Jan 2025 - 30 Jan 2025
300 Hour Therapeutic Yoga Teacher Training
Goa
€2,100
€2,350
SAVE €150*

Contact

1738364400
300
February 2025
02/01/2025
01 Feb 2025 - 02 Mar 2025
300 Hour Therapeutic Yoga Teacher Training
Goa
€2,100
€2,350
SAVE €150*

Contact

1740783600
300
March 2025
03/01/2025
01 Mar 2025 - 30 Mar 2025
300 Hour Therapeutic Yoga Teacher Training
Goa
€2,100
€2,350
SAVE €150*

Contact

1743458400
300
April 2025
04/01/2025
01 Apr 2025 - 30 Apr 2025
300 Hour Therapeutic Yoga Teacher Training
Goa
€2,100
€2,350
SAVE €150*

Contact

1696111200
300
October 2023
10/01/2023
01 Oct 2023 - 30 Oct 2023
300 Hour Vinyasa Yoga Teacher Training
Goa
€2,100
€2,350
SAVE €150*

Contact

1698793200
300
November 2023
11/01/2023
01 Nov 2023 - 30 Nov 2023
300 Hour Vinyasa Yoga Teacher Training
Goa
€2,100
€2,350
SAVE €150*

Contact

1701385200
300
December 2023
12/01/2023
01 Dec 2023 - 30 Dec 2023
300 Hour Vinyasa Yoga Teacher Training
Goa
€2,100
€2,350
SAVE €150*

Contact

1704063600
300
January 2024
01/01/2024
01 Jan 2024 - 30 Jan 2024
300 Hour Vinyasa Yoga Teacher Training
Goa
€2,100
€2,350
SAVE €150*

Contact

1706742000
300
February 2024
02/01/2024
01 Feb 2024 - 01 Mar 2024
300 Hour Vinyasa Yoga Teacher Training
Goa
€2,100
€2,350
SAVE €150*

Contact

1709247600
300
March 2024
03/01/2024
01 Mar 2024 - 30 Mar 2024
300 Hour Vinyasa Yoga Teacher Training
Goa
€2,100
€2,350
SAVE €150*

Contact

1711922400
300
April 2024
04/01/2024
01 Apr 2024 - 30 Apr 2024
300 Hour Vinyasa Yoga Teacher Training
Goa
€2,100
€2,350
SAVE €150*

Contact

1714514400
300
May 2024
05/01/2024
01 May 2024 - 30 May 2024
300 Hour Vinyasa Yoga Teacher Training
Goa
€2,100
€2,350
SAVE €150*

Contact

1717192800
300
June 2024
06/01/2024
01 Jun 2024 - 30 Jun 2024
300 Hour Vinyasa Yoga Teacher Training
Goa
€2,100
€2,350
SAVE €150*

Contact

1719784800
300
July 2024
07/01/2024
01 Jul 2024 - 30 Jul 2024
300 Hour Vinyasa Yoga Teacher Training
Goa
€2,100
€2,350
SAVE €150*

Contact

1722463200
300
August 2024
08/01/2024
01 Aug 2024 - 30 Aug 2024
300 Hour Vinyasa Yoga Teacher Training
Goa
€2,100
€2,350
SAVE €150*

Contact

1725141600
300
September 2024
09/01/2024
01 Sep 2024 - 30 Sep 2024
300 Hour Vinyasa Yoga Teacher Training
Goa
€2,100
€2,350
SAVE €150*

Contact

1727733600
300
October 2024
10/01/2024
01 Oct 2024 - 30 Oct 2024
300 Hour Vinyasa Yoga Teacher Training
Goa
€2,100
€2,350
SAVE €150*

Contact

1730415600
300
November 2024
11/01/2024
01 Nov 2024 - 30 Nov 2024
300 Hour Vinyasa Yoga Teacher Training
Goa
€2,100
€2,350
SAVE €150*

Contact

1733007600
300
December 2024
12/01/2024
01 Dec 2024 - 30 Dec 2024
300 Hour Vinyasa Yoga Teacher Training
Goa
€2,100
€2,350
SAVE €150*

Contact

1735686000
300
January 2025
01/01/2025
01 Jan 2025 - 30 Jan 2025
300 Hour Vinyasa Yoga Teacher Training
Goa
€2,100
€2,350
SAVE €150*

Contact

1738364400
300
February 2025
02/01/2025
01 Feb 2025 - 02 Mar 2025
300 Hour Vinyasa Yoga Teacher Training
Goa
€2,100
€2,350
SAVE €150*

Contact

1740783600
300
March 2025
03/01/2025
01 Mar 2025 - 30 Mar 2025
300 Hour Vinyasa Yoga Teacher Training
Goa
€2,100
€2,350
SAVE €150*

Contact

1743458400
300
April 2025
04/01/2025
01 Apr 2025 - 30 Apr 2025
300 Hour Vinyasa Yoga Teacher Training
Goa
€2,100
€2,350
SAVE €150*

Contact

1696111200
300
October 2023
10/01/2023
01 Oct 2023 - 30 Oct 2023
300 Hour Yin Yoga Teacher Training
Goa
€2,100
€2,350
SAVE €150*

Contact

1698793200
300
November 2023
11/01/2023
01 Nov 2023 - 30 Nov 2023
300 Hour Yin Yoga Teacher Training
Goa
€2,100
€2,350
SAVE €150*

Contact

1701385200
300
December 2023
12/01/2023
01 Dec 2023 - 30 Dec 2023
300 Hour Yin Yoga Teacher Training
Goa
€2,100
€2,350
SAVE €150*

Contact

1704063600
300
January 2024
01/01/2024
01 Jan 2024 - 30 Jan 2024
300 Hour Yin Yoga Teacher Training
Goa
€2,100
€2,350
SAVE €150*

Contact

1706742000
300
February 2024
02/01/2024
01 Feb 2024 - 01 Mar 2024
300 Hour Yin Yoga Teacher Training
Goa
€2,100
€2,350
SAVE €150*

Contact

1709247600
300
March 2024
03/01/2024
01 Mar 2024 - 30 Mar 2024
300 Hour Yin Yoga Teacher Training
Goa
€2,100
€2,350
SAVE €150*

Contact

1711922400
300
April 2024
04/01/2024
01 Apr 2024 - 30 Apr 2024
300 Hour Yin Yoga Teacher Training
Goa
€2,100
€2,350
SAVE €150*

Contact

1714514400
300
May 2024
05/01/2024
01 May 2024 - 30 May 2024
300 Hour Yin Yoga Teacher Training
Goa
€2,100
€2,350
SAVE €150*

Contact

1717192800
300
June 2024
06/01/2024
01 Jun 2024 - 30 Jun 2024
300 Hour Yin Yoga Teacher Training
Goa
€2,100
€2,350
SAVE €150*

Contact

1719784800
300
July 2024
07/01/2024
01 Jul 2024 - 30 Jul 2024
300 Hour Yin Yoga Teacher Training
Goa
€2,100
€2,350
SAVE €150*

Contact

1722463200
300
August 2024
08/01/2024
01 Aug 2024 - 30 Aug 2024
300 Hour Yin Yoga Teacher Training
Goa
€2,100
€2,350
SAVE €150*

Contact

1725141600
300
September 2024
09/01/2024
01 Sep 2024 - 30 Sep 2024
300 Hour Yin Yoga Teacher Training
Goa
€2,100
€2,350
SAVE €150*

Contact

1727733600
300
October 2024
10/01/2024
01 Oct 2024 - 30 Oct 2024
300 Hour Yin Yoga Teacher Training
Goa
€2,100
€2,350
SAVE €150*

Contact

1730415600
300
November 2024
11/01/2024
01 Nov 2024 - 30 Nov 2024
300 Hour Yin Yoga Teacher Training
Goa
€2,100
€2,350
SAVE €150*

Contact

1733007600
300
December 2024
12/01/2024
01 Dec 2024 - 30 Dec 2024
300 Hour Yin Yoga Teacher Training
Goa
€2,100
€2,350
SAVE €150*

Contact

1735686000
300
January 2025
01/01/2025
01 Jan 2025 - 30 Jan 2025
300 Hour Yin Yoga Teacher Training
Goa
€2,100
€2,350
SAVE €150*

Contact

1738364400
300
February 2025
02/01/2025
01 Feb 2025 - 02 Mar 2025
300 Hour Yin Yoga Teacher Training
Goa
€2,100
€2,350
SAVE €150*

Contact

1740783600
300
March 2025
03/01/2025
01 Mar 2025 - 30 Mar 2025
300 Hour Yin Yoga Teacher Training
Goa
€2,100
€2,350
SAVE €150*

Contact

1743458400
300
April 2025
04/01/2025
01 Apr 2025 - 30 Apr 2025
300 Hour Yin Yoga Teacher Training
Goa
€2,100
€2,350
SAVE €150*

Contact

1695679200
200
September 2023
09/26/2023
26 Sep 2023 - 20 Oct 2023
200 Hour Ashtanga Teacher Training
Goa
€1,500
€1,750
SAVE €100*

Contact

1697839200
200
October 2023
10/21/2023
21 Oct 2023 - 14 Nov 2023
200 Hour Ashtanga Teacher Training
Goa
€1,500
€1,750
SAVE €100*

Contact

1700002800
200
November 2023
11/15/2023
15 Nov 2023 - 09 Dec 2023
200 Hour Ashtanga Teacher Training
Goa
€1,500
€1,750
SAVE €100*

Contact

1702162800
200
December 2023
12/10/2023
10 Dec 2023 - 03 Jan 2024
200 Hour Ashtanga Teacher Training
Goa
€1,500
€1,750
SAVE €100*

Contact

1704322800
200
January 2024
01/04/2024
04 Jan 2024 - 28 Jan 2024
200 Hour Ashtanga Teacher Training
Goa
€1,500
€1,750
SAVE €100*

Contact

1706482800
200
January 2024
01/29/2024
29 Jan 2024 - 22 Feb 2024
200 Hour Ashtanga Teacher Training
Goa
€1,500
€1,750
SAVE €100*

Contact

1708642800
200
February 2024
02/23/2024
23 Feb 2024 - 18 Mar 2024
200 Hour Ashtanga Teacher Training
Goa
€1,500
€1,750
SAVE €100*

Contact

1710802800
200
March 2024
03/19/2024
19 Mar 2024 - 12 Apr 2024
200 Hour Ashtanga Teacher Training
Goa
€1,500
€1,750
SAVE €100*

Contact

1712959200
200
April 2024
04/13/2024
13 Apr 2024 - 07 May 2024
200 Hour Ashtanga Teacher Training
Goa
€1,500
€1,750
SAVE €100*

Contact

1715119200
200
May 2024
05/08/2024
08 May 2024 - 01 Jun 2024
200 Hour Ashtanga Teacher Training
Goa
€1,500
€1,750
SAVE €100*

Contact

1717279200
200
June 2024
06/02/2024
02 Jun 2024 - 26 Jun 2024
200 Hour Ashtanga Teacher Training
Goa
€1,500
€1,750
SAVE €100*

Contact

1719439200
200
June 2024
06/27/2024
27 Jun 2024 - 21 Jul 2024
200 Hour Ashtanga Teacher Training
Goa
€1,500
€1,750
SAVE €100*

Contact

1721599200
200
July 2024
07/22/2024
22 Jul 2024 - 15 Aug 2024
200 Hour Ashtanga Teacher Training
Goa
€1,500
€1,750
SAVE €100*

Contact

1725141600
200
September 2024
09/01/2024
01 Sep 2024 - 25 Sep 2024
200 Hour Ashtanga Teacher Training
Goa
€1,500
€1,750
SAVE €100*

Contact

1727301600
200
September 2024
09/26/2024
26 Sep 2024 - 20 Oct 2024
200 Hour Ashtanga Teacher Training
Goa
€1,500
€1,750
SAVE €100*

Contact

1729461600
200
October 2024
10/21/2024
21 Oct 2024 - 14 Nov 2024
200 Hour Ashtanga Teacher Training
Goa
€1,500
€1,750
SAVE €100*

Contact

1731625200
200
November 2024
11/15/2024
15 Nov 2024 - 09 Dec 2024
200 Hour Ashtanga Teacher Training
Goa
€1,500
€1,750
SAVE €100*

Contact

1733785200
200
December 2024
12/10/2024
10 Dec 2024 - 03 Jan 2025
200 Hour Ashtanga Teacher Training
Goa
€1,500
€1,750
SAVE €100*

Contact

1735945200
200
January 2025
01/04/2025
04 Jan 2025 - 28 Jan 2025
200 Hour Ashtanga Teacher Training
Goa
€1,500
€1,750
SAVE €100*

Contact

1738105200
200
January 2025
01/29/2025
29 Jan 2025 - 22 Feb 2025
200 Hour Ashtanga Teacher Training
Goa
€1,500
€1,750
SAVE €100*

Contact

1740265200
200
February 2025
02/23/2025
23 Feb 2025 - 19 Mar 2025
200 Hour Ashtanga Teacher Training
Goa
€1,500
€1,750
SAVE €100*

Contact

1742425200
200
March 2025
03/20/2025
20 Mar 2025 - 13 Apr 2025
200 Hour Ashtanga Teacher Training
Goa
€1,500
€1,750
SAVE €100*

Contact

1695679200
200
September 2023
09/26/2023
26 Sep 2023 - 20 Oct 2023
200 Hour Hatha Teacher Training
Goa
€1,500
€1,750
SAVE €100*

Contact

1697839200
200
October 2023
10/21/2023
21 Oct 2023 - 14 Nov 2023
200 Hour Hatha Teacher Training
Goa
€1,500
€1,750
SAVE €100*

Contact

1700002800
200
November 2023
11/15/2023
15 Nov 2023 - 09 Dec 2023
200 Hour Hatha Teacher Training
Goa
€1,500
€1,750
SAVE €100*

Contact

1702162800
200
December 2023
12/10/2023
10 Dec 2023 - 03 Jan 2024
200 Hour Hatha Teacher Training
Goa
€1,500
€1,750
SAVE €100*

Contact

1704322800
200
January 2024
01/04/2024
04 Jan 2024 - 28 Jan 2024
200 Hour Hatha Teacher Training
Goa
€1,500
€1,750
SAVE €100*

Contact

1706482800
200
January 2024
01/29/2024
29 Jan 2024 - 22 Feb 2024
200 Hour Hatha Teacher Training
Goa
€1,500
€1,750
SAVE €100*

Contact

1708642800
200
February 2024
02/23/2024
23 Feb 2024 - 18 Mar 2024
200 Hour Hatha Teacher Training
Goa
€1,500
€1,750
SAVE €100*

Contact

1710802800
200
March 2024
03/19/2024
19 Mar 2024 - 12 Apr 2024
200 Hour Hatha Teacher Training
Goa
€1,500
€1,750
SAVE €100*

Contact

1712959200
200
April 2024
04/13/2024
13 Apr 2024 - 07 May 2024
200 Hour Hatha Teacher Training
Goa
€1,500
€1,750
SAVE €100*

Contact

1715119200
200
May 2024
05/08/2024
08 May 2024 - 01 Jun 2024
200 Hour Hatha Teacher Training
Goa
€1,500
€1,750
SAVE €100*

Contact

1717279200
200
June 2024
06/02/2024
02 Jun 2024 - 26 Jun 2024
200 Hour Hatha Teacher Training
Goa
€1,500
€1,750
SAVE €100*

Contact

1719439200
200
June 2024
06/27/2024
27 Jun 2024 - 21 Jul 2024
200 Hour Hatha Teacher Training
Goa
€1,500
€1,750
SAVE €100*

Contact

1721599200
200
July 2024
07/22/2024
22 Jul 2024 - 15 Aug 2024
200 Hour Hatha Teacher Training
Goa
€1,500
€1,750
SAVE €100*

Contact

1725141600
200
September 2024
09/01/2024
01 Sep 2024 - 25 Sep 2024
200 Hour Hatha Teacher Training
Goa
€1,500
€1,750
SAVE €100*

Contact

1727301600
200
September 2024
09/26/2024
26 Sep 2024 - 20 Oct 2024
200 Hour Hatha Teacher Training
Goa
€1,500
€1,750
SAVE €100*

Contact

1729461600
200
October 2024
10/21/2024
21 Oct 2024 - 14 Nov 2024
200 Hour Hatha Teacher Training
Goa
€1,500
€1,750
SAVE €100*

Contact

1731625200
200
November 2024
11/15/2024
15 Nov 2024 - 09 Dec 2024
200 Hour Hatha Teacher Training
Goa
€1,500
€1,750
SAVE €100*

Contact

1733785200
200
December 2024
12/10/2024
10 Dec 2024 - 03 Jan 2025
200 Hour Hatha Teacher Training
Goa
€1,500
€1,750
SAVE €100*

Contact

1735945200
200
January 2025
01/04/2025
04 Jan 2025 - 28 Jan 2025
200 Hour Hatha Teacher Training
Goa
€1,500
€1,750
SAVE €100*

Contact

1738105200
200
January 2025
01/29/2025
29 Jan 2025 - 22 Feb 2025
200 Hour Hatha Teacher Training
Goa
€1,500
€1,750
SAVE €100*

Contact

1740265200
200
February 2025
02/23/2025
23 Feb 2025 - 19 Mar 2025
200 Hour Hatha Teacher Training
Goa
€1,500
€1,750
SAVE €100*

Contact

1742425200
200
March 2025
03/20/2025
20 Mar 2025 - 13 Apr 2025
200 Hour Hatha Teacher Training
Goa
€1,500
€1,750
SAVE €100*

Contact

1695679200
200
September 2023
09/26/2023
26 Sep 2023 - 20 Oct 2023
200 Hour Multistyle Teacher Training
Goa
€1,500
€1,750
SAVE €100*

Contact

1697839200
200
October 2023
10/21/2023
21 Oct 2023 - 14 Nov 2023
200 Hour Multistyle Teacher Training
Goa
€1,500
€1,750
SAVE €100*

Contact

1700002800
200
November 2023
11/15/2023
15 Nov 2023 - 09 Dec 2023
200 Hour Multistyle Teacher Training
Goa
€1,500
€1,750
SAVE €100*

Contact

1702162800
200
December 2023
12/10/2023
10 Dec 2023 - 03 Jan 2024
200 Hour Multistyle Teacher Training
Goa
€1,500
€1,750
SAVE €100*

Contact

1704322800
200
January 2024
01/04/2024
04 Jan 2024 - 28 Jan 2024
200 Hour Multistyle Teacher Training
Goa
€1,500
€1,750
SAVE €100*

Contact

1706482800
200
January 2024
01/29/2024
29 Jan 2024 - 22 Feb 2024
200 Hour Multistyle Teacher Training
Goa
€1,500
€1,750
SAVE €100*

Contact

1708642800
200
February 2024
02/23/2024
23 Feb 2024 - 18 Mar 2024
200 Hour Multistyle Teacher Training
Goa
€1,500
€1,750
SAVE €100*

Contact

1710802800
200
March 2024
03/19/2024
19 Mar 2024 - 12 Apr 2024
200 Hour Multistyle Teacher Training
Goa
€1,500
€1,750
SAVE €100*

Contact

1712959200
200
April 2024
04/13/2024
13 Apr 2024 - 07 May 2024
200 Hour Multistyle Teacher Training
Goa
€1,500
€1,750
SAVE €100*

Contact

1715119200
200
May 2024
05/08/2024
08 May 2024 - 01 Jun 2024
200 Hour Multistyle Teacher Training
Goa
€1,500
€1,750
SAVE €100*

Contact

1717279200
200
June 2024
06/02/2024
02 Jun 2024 - 26 Jun 2024
200 Hour Multistyle Teacher Training
Goa
€1,500
€1,750
SAVE €100*

Contact

1719439200
200
June 2024
06/27/2024
27 Jun 2024 - 21 Jul 2024
200 Hour Multistyle Teacher Training
Goa
€1,500
€1,750
SAVE €100*

Contact

1721599200
200
July 2024
07/22/2024
22 Jul 2024 - 15 Aug 2024
200 Hour Multistyle Teacher Training
Goa
€1,500
€1,750
SAVE €100*

Contact

1725141600
200
September 2024
09/01/2024
01 Sep 2024 - 25 Sep 2024
200 Hour Multistyle Teacher Training
Goa
€1,500
€1,750
SAVE €100*

Contact

1727301600
200
September 2024
09/26/2024
26 Sep 2024 - 20 Oct 2024
200 Hour Multistyle Teacher Training
Goa
€1,500
€1,750
SAVE €100*

Contact

1729461600
200
October 2024
10/21/2024
21 Oct 2024 - 14 Nov 2024
200 Hour Multistyle Teacher Training
Goa
€1,500
€1,750
SAVE €100*

Contact

1731625200
200
November 2024
11/15/2024
15 Nov 2024 - 09 Dec 2024
200 Hour Multistyle Teacher Training
Goa
€1,500
€1,750
SAVE €100*

Contact

1733785200
200
December 2024
12/10/2024
10 Dec 2024 - 03 Jan 2025
200 Hour Multistyle Teacher Training
Goa
€1,500
€1,750
SAVE €100*

Contact

1735945200
200
January 2025
01/04/2025
04 Jan 2025 - 28 Jan 2025
200 Hour Multistyle Teacher Training
Goa
€1,500
€1,750
SAVE €100*

Contact

1738105200
200
January 2025
01/29/2025
29 Jan 2025 - 22 Feb 2025
200 Hour Multistyle Teacher Training
Goa
€1,500
€1,750
SAVE €100*

Contact

1740265200
200
February 2025
02/23/2025
23 Feb 2025 - 19 Mar 2025
200 Hour Multistyle Teacher Training
Goa
€1,500
€1,750
SAVE €100*

Contact

1742425200
200
March 2025
03/20/2025
20 Mar 2025 - 13 Apr 2025
200 Hour Multistyle Teacher Training
Goa
€1,500
€1,750
SAVE €100*

Contact

1695679200
200
September 2023
09/26/2023
26 Sep 2023 - 20 Oct 2023
200 Hour Restorative Teacher Training
Goa
€1,500
€1,750
SAVE €100*

Contact

1697839200
200
October 2023
10/21/2023
21 Oct 2023 - 14 Nov 2023
200 Hour Restorative Teacher Training
Goa
€1,500
€1,750
SAVE €100*

Contact

1700002800
200
November 2023
11/15/2023
15 Nov 2023 - 09 Dec 2023
200 Hour Restorative Teacher Training
Goa
€1,500
€1,750
SAVE €100*

Contact

1702162800
200
December 2023
12/10/2023
10 Dec 2023 - 03 Jan 2024
200 Hour Restorative Teacher Training
Goa
€1,500
€1,750
SAVE €100*

Contact

1704322800
200
January 2024
01/04/2024
04 Jan 2024 - 28 Jan 2024
200 Hour Restorative Teacher Training
Goa
€1,500
€1,750
SAVE €100*

Contact

1706482800
200
January 2024
01/29/2024
29 Jan 2024 - 22 Feb 2024
200 Hour Restorative Teacher Training
Goa
€1,500
€1,750
SAVE €100*

Contact

1708642800
200
February 2024
02/23/2024
23 Feb 2024 - 18 Mar 2024
200 Hour Restorative Teacher Training
Goa
€1,500
€1,750
SAVE €100*

Contact

1710802800
200
March 2024
03/19/2024
19 Mar 2024 - 12 Apr 2024
200 Hour Restorative Teacher Training
Goa
€1,500
€1,750
SAVE €100*

Contact

1712959200
200
April 2024
04/13/2024
13 Apr 2024 - 07 May 2024
200 Hour Restorative Teacher Training
Goa
€1,500
€1,750
SAVE €100*

Contact

1715119200
200
May 2024
05/08/2024
08 May 2024 - 01 Jun 2024
200 Hour Restorative Teacher Training
Goa
€1,500
€1,750
SAVE €100*

Contact

1717279200
200
June 2024
06/02/2024
02 Jun 2024 - 26 Jun 2024
200 Hour Restorative Teacher Training
Goa
€1,500
€1,750
SAVE €100*

Contact

1719439200
200
June 2024
06/27/2024
27 Jun 2024 - 21 Jul 2024
200 Hour Restorative Teacher Training
Goa
€1,500
€1,750
SAVE €100*

Contact

1721599200
200
July 2024
07/22/2024
22 Jul 2024 - 15 Aug 2024
200 Hour Restorative Teacher Training
Goa
€1,500
€1,750
SAVE €100*

Contact

1725141600
200
September 2024
09/01/2024
01 Sep 2024 - 25 Sep 2024
200 Hour Restorative Teacher Training
Goa
€1,500
€1,750
SAVE €100*

Contact

1727301600
200
September 2024
09/26/2024
26 Sep 2024 - 20 Oct 2024
200 Hour Restorative Teacher Training
Goa
€1,500
€1,750
SAVE €100*

Contact

1729461600
200
October 2024
10/21/2024
21 Oct 2024 - 14 Nov 2024
200 Hour Restorative Teacher Training
Goa
€1,500
€1,750
SAVE €100*

Contact

1731625200
200
November 2024
11/15/2024
15 Nov 2024 - 09 Dec 2024
200 Hour Restorative Teacher Training
Goa
€1,500
€1,750
SAVE €100*

Contact

1733785200
200
December 2024
12/10/2024
10 Dec 2024 - 03 Jan 2025
200 Hour Restorative Teacher Training
Goa
€1,500
€1,750
SAVE €100*

Contact

1735945200
200
January 2025
01/04/2025
04 Jan 2025 - 28 Jan 2025
200 Hour Restorative Teacher Training
Goa
€1,500
€1,750
SAVE €100*

Contact

1738105200
200
January 2025
01/29/2025
29 Jan 2025 - 22 Feb 2025
200 Hour Restorative Teacher Training
Goa
€1,500
€1,750
SAVE €100*

Contact

1740265200
200
February 2025
02/23/2025
23 Feb 2025 - 19 Mar 2025
200 Hour Restorative Teacher Training
Goa
€1,500
€1,750
SAVE €100*

Contact

1742425200
200
March 2025
03/20/2025
20 Mar 2025 - 13 Apr 2025
200 Hour Restorative Teacher Training
Goa
€1,500
€1,750
SAVE €100*

Contact

1695679200
200
September 2023
09/26/2023
26 Sep 2023 - 20 Oct 2023
200 Hour Therapeutic Teacher Training
Goa
€1,500
€1,750
SAVE €100*

Contact

1697839200
200
October 2023
10/21/2023
21 Oct 2023 - 14 Nov 2023
200 Hour Therapeutic Teacher Training
Goa
€1,500
€1,750
SAVE €100*

Contact

1700002800
200
November 2023
11/15/2023
15 Nov 2023 - 09 Dec 2023
200 Hour Therapeutic Teacher Training
Goa
€1,500
€1,750
SAVE €100*

Contact

1702162800
200
December 2023
12/10/2023
10 Dec 2023 - 03 Jan 2024
200 Hour Therapeutic Teacher Training
Goa
€1,500
€1,750
SAVE €100*

Contact

1704322800
200
January 2024
01/04/2024
04 Jan 2024 - 28 Jan 2024
200 Hour Therapeutic Teacher Training
Goa
€1,500
€1,750
SAVE €100*

Contact

1706482800
200
January 2024
01/29/2024
29 Jan 2024 - 22 Feb 2024
200 Hour Therapeutic Teacher Training
Goa
€1,500
€1,750
SAVE €100*

Contact

1708642800
200
February 2024
02/23/2024
23 Feb 2024 - 18 Mar 2024
200 Hour Therapeutic Teacher Training
Goa
€1,500
€1,750
SAVE €100*

Contact

1710802800
200
March 2024
03/19/2024
19 Mar 2024 - 12 Apr 2024
200 Hour Therapeutic Teacher Training
Goa
€1,500
€1,750
SAVE €100*

Contact

1712959200
200
April 2024
04/13/2024
13 Apr 2024 - 07 May 2024
200 Hour Therapeutic Teacher Training
Goa
€1,500
€1,750
SAVE €100*

Contact

1715119200
200
May 2024
05/08/2024
08 May 2024 - 01 Jun 2024
200 Hour Therapeutic Teacher Training
Goa
€1,500
€1,750
SAVE €100*

Contact

1717279200
200
June 2024
06/02/2024
02 Jun 2024 - 26 Jun 2024
200 Hour Therapeutic Teacher Training
Goa
€1,500
€1,750
SAVE €100*

Contact

1719439200
200
June 2024
06/27/2024
27 Jun 2024 - 21 Jul 2024
200 Hour Therapeutic Teacher Training
Goa
€1,500
€1,750
SAVE €100*

Contact

1721599200
200
July 2024
07/22/2024
22 Jul 2024 - 15 Aug 2024
200 Hour Therapeutic Teacher Training
Goa
€1,500
€1,750
SAVE €100*

Contact

1725141600
200
September 2024
09/01/2024
01 Sep 2024 - 25 Sep 2024
200 Hour Therapeutic Teacher Training
Goa
€1,500
€1,750
SAVE €100*

Contact

1727301600
200
September 2024
09/26/2024
26 Sep 2024 - 20 Oct 2024
200 Hour Therapeutic Teacher Training
Goa
€1,500
€1,750
SAVE €100*

Contact

1729461600
200
October 2024
10/21/2024
21 Oct 2024 - 14 Nov 2024
200 Hour Therapeutic Teacher Training
Goa
€1,500
€1,750
SAVE €100*

Contact

1731625200
200
November 2024
11/15/2024
15 Nov 2024 - 09 Dec 2024
200 Hour Therapeutic Teacher Training
Goa
€1,500
€1,750
SAVE €100*

Contact

1733785200
200
December 2024
12/10/2024
10 Dec 2024 - 03 Jan 2025
200 Hour Therapeutic Teacher Training
Goa
€1,500
€1,750
SAVE €100*

Contact

1735945200
200
January 2025
01/04/2025
04 Jan 2025 - 28 Jan 2025
200 Hour Therapeutic Teacher Training
Goa
€1,500
€1,750
SAVE €100*

Contact

1738105200
200
January 2025
01/29/2025
29 Jan 2025 - 22 Feb 2025
200 Hour Therapeutic Teacher Training
Goa
€1,500
€1,750
SAVE €100*

Contact

1740265200
200
February 2025
02/23/2025
23 Feb 2025 - 19 Mar 2025
200 Hour Therapeutic Teacher Training
Goa
€1,500
€1,750
SAVE €100*

Contact

1742425200
200
March 2025
03/20/2025
20 Mar 2025 - 13 Apr 2025
200 Hour Therapeutic Teacher Training
Goa
€1,500
€1,750
SAVE €100*

Contact

1695679200
200
September 2023
09/26/2023
26 Sep 2023 - 20 Oct 2023
200 Hour Vinyasa Teacher Training
Goa
€1,500
€1,750
SAVE €100*

Contact

1697839200
200
October 2023
10/21/2023
21 Oct 2023 - 14 Nov 2023
200 Hour Vinyasa Teacher Training
Goa
€1,500
€1,750
SAVE €100*

Contact

1700002800
200
November 2023
11/15/2023
15 Nov 2023 - 09 Dec 2023
200 Hour Vinyasa Teacher Training
Goa
€1,500
€1,750
SAVE €100*

Contact

1702162800
200
December 2023
12/10/2023
10 Dec 2023 - 03 Jan 2024
200 Hour Vinyasa Teacher Training
Goa
€1,500
€1,750
SAVE €100*

Contact

1704322800
200
January 2024
01/04/2024
04 Jan 2024 - 28 Jan 2024
200 Hour Vinyasa Teacher Training
Goa
€1,500
€1,750
SAVE €100*

Contact

1706482800
200
January 2024
01/29/2024
29 Jan 2024 - 22 Feb 2024
200 Hour Vinyasa Teacher Training
Goa
€1,500
€1,750
SAVE €100*

Contact

1708642800
200
February 2024
02/23/2024
23 Feb 2024 - 18 Mar 2024
200 Hour Vinyasa Teacher Training
Goa
€1,500
€1,750
SAVE €100*

Contact

1710802800
200
March 2024
03/19/2024
19 Mar 2024 - 12 Apr 2024
200 Hour Vinyasa Teacher Training
Goa
€1,500
€1,750
SAVE €100*

Contact

1712959200
200
April 2024
04/13/2024
13 Apr 2024 - 07 May 2024
200 Hour Vinyasa Teacher Training
Goa
€1,500
€1,750
SAVE €100*

Contact

1715119200
200
May 2024
05/08/2024
08 May 2024 - 01 Jun 2024
200 Hour Vinyasa Teacher Training
Goa
€1,500
€1,750
SAVE €100*

Contact

1717279200
200
June 2024
06/02/2024
02 Jun 2024 - 26 Jun 2024
200 Hour Vinyasa Teacher Training
Goa
€1,500
€1,750
SAVE €100*

Contact

1719439200
200
June 2024
06/27/2024
27 Jun 2024 - 21 Jul 2024
200 Hour Vinyasa Teacher Training
Goa
€1,500
€1,750
SAVE €100*

Contact

1721599200
200
July 2024
07/22/2024
22 Jul 2024 - 15 Aug 2024
200 Hour Vinyasa Teacher Training
Goa
€1,500
€1,750
SAVE €100*

Contact

1725141600
200
September 2024
09/01/2024
01 Sep 2024 - 25 Sep 2024
200 Hour Vinyasa Teacher Training
Goa
€1,500
€1,750
SAVE €100*

Contact

1727301600
200
September 2024
09/26/2024
26 Sep 2024 - 20 Oct 2024
200 Hour Vinyasa Teacher Training
Goa
€1,500
€1,750
SAVE €100*

Contact

1729461600
200
October 2024
10/21/2024
21 Oct 2024 - 14 Nov 2024
200 Hour Vinyasa Teacher Training
Goa
€1,500
€1,750
SAVE €100*

Contact

1731625200
200
November 2024
11/15/2024
15 Nov 2024 - 09 Dec 2024
200 Hour Vinyasa Teacher Training
Goa
€1,500
€1,750
SAVE €100*

Contact

1733785200
200
December 2024
12/10/2024
10 Dec 2024 - 03 Jan 2025
200 Hour Vinyasa Teacher Training
Goa
€1,500
€1,750
SAVE €100*

Contact

1735945200
200
January 2025
01/04/2025
04 Jan 2025 - 28 Jan 2025
200 Hour Vinyasa Teacher Training
Goa
€1,500
€1,750
SAVE €100*

Contact

1738105200
200
January 2025
01/29/2025
29 Jan 2025 - 22 Feb 2025
200 Hour Vinyasa Teacher Training
Goa
€1,500
€1,750
SAVE €100*

Contact

1740265200
200
February 2025
02/23/2025
23 Feb 2025 - 19 Mar 2025
200 Hour Vinyasa Teacher Training
Goa
€1,500
€1,750
SAVE €100*

Contact

1742425200
200
March 2025
03/20/2025
20 Mar 2025 - 13 Apr 2025
200 Hour Vinyasa Teacher Training
Goa
€1,500
€1,750
SAVE €100*

Contact

1695679200
200
September 2023
09/26/2023
26 Sep 2023 - 20 Oct 2023
200 Hour Yin Yoga Teacher Training
Goa
€1,500
€1,750
SAVE €100*

Contact

1697839200
200
October 2023
10/21/2023
21 Oct 2023 - 14 Nov 2023
200 Hour Yin Yoga Teacher Training
Goa
€1,500
€1,750
SAVE €100*

Contact

1700002800
200
November 2023
11/15/2023
15 Nov 2023 - 09 Dec 2023
200 Hour Yin Yoga Teacher Training
Goa
€1,500
€1,750
SAVE €100*

Contact

1702162800
200
December 2023
12/10/2023
10 Dec 2023 - 03 Jan 2024
200 Hour Yin Yoga Teacher Training
Goa
€1,500
€1,750
SAVE €100*

Contact

1704322800
200
January 2024
01/04/2024
04 Jan 2024 - 28 Jan 2024
200 Hour Yin Yoga Teacher Training
Goa
€1,500
€1,750
SAVE €100*

Contact

1706482800
200
January 2024
01/29/2024
29 Jan 2024 - 22 Feb 2024
200 Hour Yin Yoga Teacher Training
Goa
€1,500
€1,750
SAVE €100*

Contact

1708642800
200
February 2024
02/23/2024
23 Feb 2024 - 18 Mar 2024
200 Hour Yin Yoga Teacher Training
Goa
€1,500
€1,750
SAVE €100*

Contact

1710802800
200
March 2024
03/19/2024
19 Mar 2024 - 12 Apr 2024
200 Hour Yin Yoga Teacher Training
Goa
€1,500
€1,750
SAVE €100*

Contact

1712959200
200
April 2024
04/13/2024
13 Apr 2024 - 07 May 2024
200 Hour Yin Yoga Teacher Training
Goa
€1,500
€1,750
SAVE €100*

Contact

1715119200
200
May 2024
05/08/2024
08 May 2024 - 01 Jun 2024
200 Hour Yin Yoga Teacher Training
Goa
€1,500
€1,750
SAVE €100*

Contact

1717279200
200
June 2024
06/02/2024
02 Jun 2024 - 26 Jun 2024
200 Hour Yin Yoga Teacher Training
Goa
€1,500
€1,750
SAVE €100*

Contact

1719439200
200
June 2024
06/27/2024
27 Jun 2024 - 21 Jul 2024
200 Hour Yin Yoga Teacher Training
Goa
€1,500
€1,750
SAVE €100*

Contact

1721599200
200
July 2024
07/22/2024
22 Jul 2024 - 15 Aug 2024
200 Hour Yin Yoga Teacher Training
Goa
€1,500
€1,750
SAVE €100*

Contact

1725141600
200
September 2024
09/01/2024
01 Sep 2024 - 25 Sep 2024
200 Hour Yin Yoga Teacher Training
Goa
€1,500
€1,750
SAVE €100*

Contact

1727301600
200
September 2024
09/26/2024
26 Sep 2024 - 20 Oct 2024
200 Hour Yin Yoga Teacher Training
Goa
€1,500
€1,750
SAVE €100*

Contact

1729461600
200
October 2024
10/21/2024
21 Oct 2024 - 14 Nov 2024
200 Hour Yin Yoga Teacher Training
Goa
€1,500
€1,750
SAVE €100*

Contact

1731625200
200
November 2024
11/15/2024
15 Nov 2024 - 09 Dec 2024
200 Hour Yin Yoga Teacher Training
Goa
€1,500
€1,750
SAVE €100*

Contact

1733785200
200
December 2024
12/10/2024
10 Dec 2024 - 03 Jan 2025
200 Hour Yin Yoga Teacher Training
Goa
€1,500
€1,750
SAVE €100*

Contact

1735945200
200
January 2025
01/04/2025
04 Jan 2025 - 28 Jan 2025
200 Hour Yin Yoga Teacher Training
Goa
€1,500
€1,750
SAVE €100*

Contact

1738105200
200
January 2025
01/29/2025
29 Jan 2025 - 22 Feb 2025
200 Hour Yin Yoga Teacher Training
Goa
€1,500
€1,750
SAVE €100*

Contact

1740265200
200
February 2025
02/23/2025
23 Feb 2025 - 19 Mar 2025
200 Hour Yin Yoga Teacher Training
Goa
€1,500
€1,750
SAVE €100*

Contact

1742425200
200
March 2025
03/20/2025
20 Mar 2025 - 13 Apr 2025
200 Hour Yin Yoga Teacher Training
Goa
€1,500
€1,750
SAVE €100*

Contact

1693519200
100Special
September 2023
09/01/2023
01 Sep 2023 - 12 Sep 2023
100 Hour Ashtanga Teacher Training
Goa
€800
€925
SAVE €50*

Contact

1695074400
100Special
September 2023
09/19/2023
19 Sep 2023 - 30 Sep 2023
100 Hour Ashtanga Teacher Training
Goa
€800
€925
SAVE €50*

Contact

1696111200
100Special
October 2023
10/01/2023
01 Oct 2023 - 12 Oct 2023
100 Hour Ashtanga Teacher Training
Goa
€800
€925
SAVE €50*

Contact

1697666400
100Special
October 2023
10/19/2023
19 Oct 2023 - 30 Oct 2023
100 Hour Ashtanga Teacher Training
Goa
€800
€925
SAVE €50*

Contact

1698793200
100Special
November 2023
11/01/2023
01 Nov 2023 - 12 Nov 2023
100 Hour Ashtanga Teacher Training
Goa
€800
€925
SAVE €50*

Contact

1700348400
100Special
November 2023
11/19/2023
19 Nov 2023 - 30 Nov 2023
100 Hour Ashtanga Teacher Training
Goa
€800
€925
SAVE €50*

Contact

1701385200
100Special
December 2023
12/01/2023
01 Dec 2023 - 12 Dec 2023
100 Hour Ashtanga Teacher Training
Goa
€800
€925
SAVE €50*

Contact

1702940400
100Special
December 2023
12/19/2023
19 Dec 2023 - 30 Dec 2023
100 Hour Ashtanga Teacher Training
Goa
€800
€925
SAVE €50*

Contact

1704063600
100Special
January 2024
01/01/2024
01 Jan 2024 - 12 Jan 2024
100 Hour Ashtanga Teacher Training
Goa
€800
€925
SAVE €50*

Contact

1705618800
100Special
January 2024
01/19/2024
19 Jan 2024 - 30 Jan 2024
100 Hour Ashtanga Teacher Training
Goa
€800
€925
SAVE €50*

Contact

1706742000
100Special
February 2024
02/01/2024
01 Feb 2024 - 12 Feb 2024
100 Hour Ashtanga Teacher Training
Goa
€800
€925
SAVE €50*

Contact

1708297200
100Special
February 2024
02/19/2024
19 Feb 2024 - 01 Mar 2024
100 Hour Ashtanga Teacher Training
Goa
€800
€925
SAVE €50*

Contact

1709247600
100Special
March 2024
03/01/2024
01 Mar 2024 - 12 Mar 2024
100 Hour Ashtanga Teacher Training
Goa
€800
€925
SAVE €50*

Contact

1710802800
100Special
March 2024
03/19/2024
19 Mar 2024 - 30 Mar 2024
100 Hour Ashtanga Teacher Training
Goa
€800
€925
SAVE €50*

Contact

1711922400
100Special
April 2024
04/01/2024
01 Apr 2024 - 12 Apr 2024
100 Hour Ashtanga Teacher Training
Goa
€800
€925
SAVE €50*

Contact

1713477600
100Special
April 2024
04/19/2024
19 Apr 2024 - 30 Apr 2024
100 Hour Ashtanga Teacher Training
Goa
€800
€925
SAVE €50*

Contact

1714514400
100Special
May 2024
05/01/2024
01 May 2024 - 12 May 2024
100 Hour Ashtanga Teacher Training
Goa
€800
€925
SAVE €50*

Contact

1716069600
100Special
May 2024
05/19/2024
19 May 2024 - 30 May 2024
100 Hour Ashtanga Teacher Training
Goa
€800
€925
SAVE €50*

Contact

1717192800
100Special
June 2024
06/01/2024
01 Jun 2024 - 12 Jun 2024
100 Hour Ashtanga Teacher Training
Goa
€800
€925
SAVE €50*

Contact

1718748000
100Special
June 2024
06/19/2024
19 Jun 2024 - 30 Jun 2024
100 Hour Ashtanga Teacher Training
Goa
€800
€925
SAVE €50*

Contact

1719784800
100Special
July 2024
07/01/2024
01 Jul 2024 - 12 Jul 2024
100 Hour Ashtanga Teacher Training
Goa
€800
€925
SAVE €50*

Contact

1721340000
100Special
July 2024
07/19/2024
19 Jul 2024 - 30 Jul 2024
100 Hour Ashtanga Teacher Training
Goa
€800
€925
SAVE €50*

Contact

1722463200
100Special
August 2024
08/01/2024
01 Aug 2024 - 12 Aug 2024
100 Hour Ashtanga Teacher Training
Goa
€800
€925
SAVE €50*

Contact

1724018400
100Special
August 2024
08/19/2024
19 Aug 2024 - 30 Aug 2024
100 Hour Ashtanga Teacher Training
Goa
€800
€925
SAVE €50*

Contact

1693519200
100Special
September 2023
09/01/2023
01 Sep 2023 - 12 Sep 2023
100 Hour Hatha Teacher Training
Goa
€800
€925
SAVE €50*

Contact

1695074400
100Special
September 2023
09/19/2023
19 Sep 2023 - 30 Sep 2023
100 Hour Hatha Teacher Training
Goa
€800
€925
SAVE €50*

Contact

1696111200
100Special
October 2023
10/01/2023
01 Oct 2023 - 12 Oct 2023
100 Hour Hatha Teacher Training
Goa
€800
€925
SAVE €50*

Contact

1697666400
100Special
October 2023
10/19/2023
19 Oct 2023 - 30 Oct 2023
100 Hour Hatha Teacher Training
Goa
€800
€925
SAVE €50*

Contact

1698793200
100Special
November 2023
11/01/2023
01 Nov 2023 - 12 Nov 2023
100 Hour Hatha Teacher Training
Goa
€800
€925
SAVE €50*

Contact

1700348400
100Special
November 2023
11/19/2023
19 Nov 2023 - 30 Nov 2023
100 Hour Hatha Teacher Training
Goa
€800
€925
SAVE €50*

Contact

1701385200
100Special
December 2023
12/01/2023
01 Dec 2023 - 12 Dec 2023
100 Hour Hatha Teacher Training
Goa
€800
€925
SAVE €50*

Contact

1702940400
100Special
December 2023
12/19/2023
19 Dec 2023 - 30 Dec 2023
100 Hour Hatha Teacher Training
Goa
€800
€925
SAVE €50*

Contact

1704063600
100Special
January 2024
01/01/2024
01 Jan 2024 - 12 Jan 2024
100 Hour Hatha Teacher Training
Goa
€800
€925
SAVE €50*

Contact

1705618800
100Special
January 2024
01/19/2024
19 Jan 2024 - 30 Jan 2024
100 Hour Hatha Teacher Training
Goa
€800
€925
SAVE €50*

Contact

1706742000
100Special
February 2024
02/01/2024
01 Feb 2024 - 12 Feb 2024
100 Hour Hatha Teacher Training
Goa
€800
€925
SAVE €50*

Contact

1708297200
100Special
February 2024
02/19/2024
19 Feb 2024 - 01 Mar 2024
100 Hour Hatha Teacher Training
Goa
€800
€925
SAVE €50*

Contact

1709247600
100Special
March 2024
03/01/2024
01 Mar 2024 - 12 Mar 2024
100 Hour Hatha Teacher Training
Goa
€800
€925
SAVE €50*

Contact

1710802800
100Special
March 2024
03/19/2024
19 Mar 2024 - 30 Mar 2024
100 Hour Hatha Teacher Training
Goa
€800
€925
SAVE €50*

Contact

1711922400
100Special
April 2024
04/01/2024
01 Apr 2024 - 12 Apr 2024
100 Hour Hatha Teacher Training
Goa
€800
€925
SAVE €50*

Contact

1713477600
100Special
April 2024
04/19/2024
19 Apr 2024 - 30 Apr 2024
100 Hour Hatha Teacher Training
Goa
€800
€925
SAVE €50*

Contact

1714514400
100Special
May 2024
05/01/2024
01 May 2024 - 12 May 2024
100 Hour Hatha Teacher Training
Goa
€800
€925
SAVE €50*

Contact

1716069600
100Special
May 2024
05/19/2024
19 May 2024 - 30 May 2024
100 Hour Hatha Teacher Training
Goa
€800
€925
SAVE €50*

Contact

1717192800
100Special
June 2024
06/01/2024
01 Jun 2024 - 12 Jun 2024
100 Hour Hatha Teacher Training
Goa
€800
€925
SAVE €50*

Contact

1718748000
100Special
June 2024
06/19/2024
19 Jun 2024 - 30 Jun 2024
100 Hour Hatha Teacher Training
Goa
€800
€925
SAVE €50*

Contact

1719784800
100Special
July 2024
07/01/2024
01 Jul 2024 - 12 Jul 2024
100 Hour Hatha Teacher Training
Goa
€800
€925
SAVE €50*

Contact

1721340000
100Special
July 2024
07/19/2024
19 Jul 2024 - 30 Jul 2024
100 Hour Hatha Teacher Training
Goa
€800
€925
SAVE €50*

Contact

1722463200
100Special
August 2024
08/01/2024
01 Aug 2024 - 12 Aug 2024
100 Hour Hatha Teacher Training
Goa
€800
€925
SAVE €50*

Contact

1724018400
100Special
August 2024
08/19/2024
19 Aug 2024 - 30 Aug 2024
100 Hour Hatha Teacher Training
Goa
€800
€925
SAVE €50*

Contact

1693519200
100Special
September 2023
09/01/2023
01 Sep 2023 - 12 Sep 2023
100 Hour Vinyasa Teacher Training
Goa
€800
€925
SAVE €50*

Contact

1695074400
100Special
September 2023
09/19/2023
19 Sep 2023 - 30 Sep 2023
100 Hour Vinyasa Teacher Training
Goa
€800
€925
SAVE €50*

Contact

1696111200
100Special
October 2023
10/01/2023
01 Oct 2023 - 12 Oct 2023
100 Hour Vinyasa Teacher Training
Goa
€800
€925
SAVE €50*

Contact

1697666400
100Special
October 2023
10/19/2023
19 Oct 2023 - 30 Oct 2023
100 Hour Vinyasa Teacher Training
Goa
€800
€925
SAVE €50*

Contact

1698793200
100Special
November 2023
11/01/2023
01 Nov 2023 - 12 Nov 2023
100 Hour Vinyasa Teacher Training
Goa
€800
€925
SAVE €50*

Contact

1700348400
100Special
November 2023
11/19/2023
19 Nov 2023 - 30 Nov 2023
100 Hour Vinyasa Teacher Training
Goa
€800
€925
SAVE €50*

Contact

1701385200
100Special
December 2023
12/01/2023
01 Dec 2023 - 12 Dec 2023
100 Hour Vinyasa Teacher Training
Goa
€800
€925
SAVE €50*

Contact

1702940400
100Special
December 2023
12/19/2023
19 Dec 2023 - 30 Dec 2023
100 Hour Vinyasa Teacher Training
Goa
€800
€925
SAVE €50*

Contact

1704063600
100Special
January 2024
01/01/2024
01 Jan 2024 - 12 Jan 2024
100 Hour Vinyasa Teacher Training
Goa
€800
€925
SAVE €50*

Contact

1705618800
100Special
January 2024
01/19/2024
19 Jan 2024 - 30 Jan 2024
100 Hour Vinyasa Teacher Training
Goa
€800
€925
SAVE €50*

Contact

1706742000
100Special
February 2024
02/01/2024
01 Feb 2024 - 12 Feb 2024
100 Hour Vinyasa Teacher Training
Goa
€800
€925
SAVE €50*

Contact

1708297200
100Special
February 2024
02/19/2024
19 Feb 2024 - 01 Mar 2024
100 Hour Vinyasa Teacher Training
Goa
€800
€925
SAVE €50*

Contact

1709247600
100Special
March 2024
03/01/2024
01 Mar 2024 - 12 Mar 2024
100 Hour Vinyasa Teacher Training
Goa
€800
€925
SAVE €50*

Contact

1710802800
100Special
March 2024
03/19/2024
19 Mar 2024 - 30 Mar 2024
100 Hour Vinyasa Teacher Training
Goa
€800
€925
SAVE €50*

Contact

1711922400
100Special
April 2024
04/01/2024
01 Apr 2024 - 12 Apr 2024
100 Hour Vinyasa Teacher Training
Goa
€800
€925
SAVE €50*

Contact

1713477600
100Special
April 2024
04/19/2024
19 Apr 2024 - 30 Apr 2024
100 Hour Vinyasa Teacher Training
Goa
€800
€925
SAVE €50*

Contact

1714514400
100Special
May 2024
05/01/2024
01 May 2024 - 12 May 2024
100 Hour Vinyasa Teacher Training
Goa
€800
€925
SAVE €50*

Contact

1716069600
100Special
May 2024
05/19/2024
19 May 2024 - 30 May 2024
100 Hour Vinyasa Teacher Training
Goa
€800
€925
SAVE €50*

Contact

1717192800
100Special
June 2024
06/01/2024
01 Jun 2024 - 12 Jun 2024
100 Hour Vinyasa Teacher Training
Goa
€800
€925
SAVE €50*

Contact

1718748000
100Special
June 2024
06/19/2024
19 Jun 2024 - 30 Jun 2024
100 Hour Vinyasa Teacher Training
Goa
€800
€925
SAVE €50*

Contact

1719784800
100Special
July 2024
07/01/2024
01 Jul 2024 - 12 Jul 2024
100 Hour Vinyasa Teacher Training
Goa
€800
€925
SAVE €50*

Contact

1721340000
100Special
July 2024
07/19/2024
19 Jul 2024 - 30 Jul 2024
100 Hour Vinyasa Teacher Training
Goa
€800
€925
SAVE €50*

Contact

1722463200
100Special
August 2024
08/01/2024
01 Aug 2024 - 12 Aug 2024
100 Hour Vinyasa Teacher Training
Goa
€800
€925
SAVE €50*

Contact

1724018400
100Special
August 2024
08/19/2024
19 Aug 2024 - 30 Aug 2024
100 Hour Vinyasa Teacher Training
Goa
€800
€925
SAVE €50*

Contact

1693519200
100
September 2023
09/01/2023
01 Sep 2023 - 12 Sep 2023
100 Hour Restorative Teacher Training
Goa
€800
€925
SAVE €50*

Contact

1695074400
100
September 2023
09/19/2023
19 Sep 2023 - 30 Sep 2023
100 Hour Restorative Teacher Training
Goa
€800
€925
SAVE €50*

Contact

1696111200
100
October 2023
10/01/2023
01 Oct 2023 - 12 Oct 2023
100 Hour Restorative Teacher Training
Goa
€800
€925
SAVE €50*

Contact

1697666400
100
October 2023
10/19/2023
19 Oct 2023 - 30 Oct 2023
100 Hour Restorative Teacher Training
Goa
€800
€925
SAVE €50*

Contact

1698793200
100
November 2023
11/01/2023
01 Nov 2023 - 12 Nov 2023
100 Hour Restorative Teacher Training
Goa
€800
€925
SAVE €50*

Contact

1700348400
100
November 2023
11/19/2023
19 Nov 2023 - 30 Nov 2023
100 Hour Restorative Teacher Training
Goa
€800
€925
SAVE €50*

Contact

1701385200
100
December 2023
12/01/2023
01 Dec 2023 - 12 Dec 2023
100 Hour Restorative Teacher Training
Goa
€800
€925
SAVE €50*

Contact

1702940400
100
December 2023
12/19/2023
19 Dec 2023 - 30 Dec 2023
100 Hour Restorative Teacher Training
Goa
€800
€925
SAVE €50*

Contact

1704063600
100
January 2024
01/01/2024
01 Jan 2024 - 12 Jan 2024
100 Hour Restorative Teacher Training
Goa
€800
€925
SAVE €50*

Contact

1705618800
100
January 2024
01/19/2024
19 Jan 2024 - 30 Jan 2024
100 Hour Restorative Teacher Training
Goa
€800
€925
SAVE €50*

Contact

1706742000
100
February 2024
02/01/2024
01 Feb 2024 - 12 Feb 2024
100 Hour Restorative Teacher Training
Goa
€800
€925
SAVE €50*

Contact

1708297200
100
February 2024
02/19/2024
19 Feb 2024 - 01 Mar 2024
100 Hour Restorative Teacher Training
Goa
€800
€925
SAVE €50*

Contact

1709247600
100
March 2024
03/01/2024
01 Mar 2024 - 12 Mar 2024
100 Hour Restorative Teacher Training
Goa
€800
€925
SAVE €50*

Contact

1710802800
100
March 2024
03/19/2024
19 Mar 2024 - 30 Mar 2024
100 Hour Restorative Teacher Training
Goa
€800
€925
SAVE €50*

Contact

1711922400
100
April 2024
04/01/2024
01 Apr 2024 - 12 Apr 2024
100 Hour Restorative Teacher Training
Goa
€800
€925
SAVE €50*

Contact

1713477600
100
April 2024
04/19/2024
19 Apr 2024 - 30 Apr 2024
100 Hour Restorative Teacher Training
Goa
€800
€925
SAVE €50*

Contact

1693519200
100
September 2023
09/01/2023
01 Sep 2023 - 12 Sep 2023
100 Hour Therapeutic Teacher Training
Goa
€800
€925
SAVE €50*

Contact

1695074400
100
September 2023
09/19/2023
19 Sep 2023 - 30 Sep 2023
100 Hour Therapeutic Teacher Training
Goa
€800
€925
SAVE €50*

Contact

1696111200
100
October 2023
10/01/2023
01 Oct 2023 - 12 Oct 2023
100 Hour Therapeutic Teacher Training
Goa
€800
€925
SAVE €50*

Contact

1697666400
100
October 2023
10/19/2023
19 Oct 2023 - 30 Oct 2023
100 Hour Therapeutic Teacher Training
Goa
€800
€925
SAVE €50*

Contact

1698793200
100
November 2023
11/01/2023
01 Nov 2023 - 12 Nov 2023
100 Hour Therapeutic Teacher Training
Goa
€800
€925
SAVE €50*

Contact

1700348400
100
November 2023
11/19/2023
19 Nov 2023 - 30 Nov 2023
100 Hour Therapeutic Teacher Training
Goa
€800
€925
SAVE €50*

Contact

1701385200
100
December 2023
12/01/2023
01 Dec 2023 - 12 Dec 2023
100 Hour Therapeutic Teacher Training
Goa
€800
€925
SAVE €50*

Contact

1702940400
100
December 2023
12/19/2023
19 Dec 2023 - 30 Dec 2023
100 Hour Therapeutic Teacher Training
Goa
€800
€925
SAVE €50*

Contact

1704063600
100
January 2024
01/01/2024
01 Jan 2024 - 12 Jan 2024
100 Hour Therapeutic Teacher Training
Goa
€800
€925
SAVE €50*

Contact

1705618800
100
January 2024
01/19/2024
19 Jan 2024 - 30 Jan 2024
100 Hour Therapeutic Teacher Training
Goa
€800
€925
SAVE €50*

Contact

1706742000
100
February 2024
02/01/2024
01 Feb 2024 - 12 Feb 2024
100 Hour Therapeutic Teacher Training
Goa
€800
€925
SAVE €50*

Contact

1708297200
100
February 2024
02/19/2024
19 Feb 2024 - 01 Mar 2024
100 Hour Therapeutic Teacher Training
Goa
€800
€925
SAVE €50*

Contact

1709247600
100
March 2024
03/01/2024
01 Mar 2024 - 12 Mar 2024
100 Hour Therapeutic Teacher Training
Goa
€800
€925
SAVE €50*

Contact

1710802800
100
March 2024
03/19/2024
19 Mar 2024 - 30 Mar 2024
100 Hour Therapeutic Teacher Training
Goa
€800
€925
SAVE €50*

Contact

1711922400
100
April 2024
04/01/2024
01 Apr 2024 - 12 Apr 2024
100 Hour Therapeutic Teacher Training
Goa
€800
€925
SAVE €50*

Contact

1713477600
100
April 2024
04/19/2024
19 Apr 2024 - 30 Apr 2024
100 Hour Therapeutic Teacher Training
Goa
€800
€925
SAVE €50*

Contact

1693519200
100
September 2023
09/01/2023
01 Sep 2023 - 12 Sep 2023
100 Hour Yin Yoga Teacher Training
Goa
€800
€925
SAVE €50*

Contact

1695074400
100
September 2023
09/19/2023
19 Sep 2023 - 30 Sep 2023
100 Hour Yin Yoga Teacher Training
Goa
€800
€925
SAVE €50*

Contact

1696111200
100
October 2023
10/01/2023
01 Oct 2023 - 12 Oct 2023
100 Hour Yin Yoga Teacher Training
Goa
€800
€925
SAVE €50*

Contact

1697666400
100
October 2023
10/19/2023
19 Oct 2023 - 30 Oct 2023
100 Hour Yin Yoga Teacher Training
Goa
€800
€925
SAVE €50*

Contact

1698793200
100
November 2023
11/01/2023
01 Nov 2023 - 12 Nov 2023
100 Hour Yin Yoga Teacher Training
Goa
€800
€925
SAVE €50*

Contact

1700348400
100
November 2023
11/19/2023
19 Nov 2023 - 30 Nov 2023
100 Hour Yin Yoga Teacher Training